AllergicChild's history of Nut-Free Zone signs
When my son, Morgan, started kindergarten, we wanted to keep him safe in the school cafeteria by marking his "Peanut Free Zone" on the lunchroom table. This was in 2001, and I couldn't find any signs available to fit our desires. So I created one!
Then, I realized that we might need to be worried about more than just peanut butter & jelly sandwiches, and maybe we should have a  "Nut Free Zone" poster to ensure that no one sat next to Morgan with an almond butter sandwich! I created another sign.
These signs were so loved by the school staff that they put them up not only in the cafeteria, but also on the classroom doors. I saw the need for one sign to cover both peanuts & other nuts, and created another sign!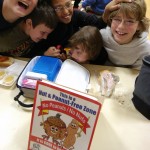 In 5th grade, Morgan was featured in a story about food allergies in our local Colorado Springs paper, the Gazette. A photographer came to school to take his picture, and got this great shot of Morgan enjoying  lunch with his friends. They always watched out for him, and brought safe foods so that they could sit with him at lunch. There's nothing like good friends!
Once Morgan went to middle school, he decided that all of the posters that I had created were way too young looking! He wanted something that looked more mature. Once again, I created a sign to fit the purpose.
This firey man sign was placed on classroom doors and on the peanut-free table in the cafeteria. In Morgan's middle school, all the students had to sit with the other kids on their "team" EXCEPT if you needed to sit at the peanut-free table because of allergies. And every kid with allergies was allowed to have friends with safe lunches sit with them regardless of what team they were on. Suddenly, Morgan had more friends than he knew what to do with! There were 6 other kids in his grade with peanut allergies, and there ended up not being enough space some days at the peanut-free table to sit down. Morgan called those days "half-cheek" days. I'm sure you can figure out why!
By his 8th grade year, Morgan no longer needed or wanted a nut-free zone in the cafeteria. He was able to sit with friends at lunch who were eating safe foods. He continued to have posters up in his classrooms.
In high school, he began taking Spanish, so it was time to create another poster!
He wasn't willing to have any of the other English posters put on his classroom doors. It's just difficult in High School to point out where you're different! He relies upon his teachers to give out the rules that are outlined in his 504 Plan about having an allergen free classroom. There is rarely a party in the classroom, and by now most of the kids know what he's allergic to since he's gone to school with the same kids since 6th grade – and many since kindergarten!
If you're in need of marking a peanut or nut-free zone in your child's school or camp, please check out these posters on Amazon.com! The links are available by clicking on any one of the posters. Or you can visit our website under "Products" to find them there!