If you are managing food allergies in a young child, it's very difficult to socialize with other families who don't have to worry about food allergies. I can remember being fearful to go to anyone's home knowing that they ate all the foods our son is allergic to. And, I didn't know how to keep Morgan from touching things and having contact reactions. To top it off, his severe pet allergies meant that he couldn't even walk into a home that had cats or dogs without having an allergic reaction.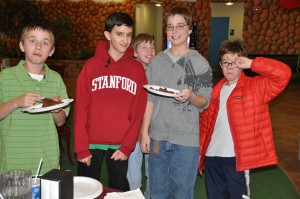 Things have gotten a lot better since then! For one, Morgan is older now and HE gets to manage his socializing. Also, his allergy shots have made his pet allergies manageable and he can go into friend's homes that have pets. Lastly, we have years of experience of knowing how to bring food to parties, make great allergen-free foods, how to read labels, and how to avoid cross contamination.
All of these topics are covered in the links on the right.
Enjoy!