AllergicChild.com is the creation of Robert and Nicole Smith, the parents of a severely food allergic son, Morgan, diagnosed at the age of 9 months old in 1996 and a daughter, Michaela, diagnosed with celiac disease and a mast cell disorder several years ago. We'd like to share our experience with you to help you keep your food allergic child safe, healthy and living as close to a 'normal' life as possible.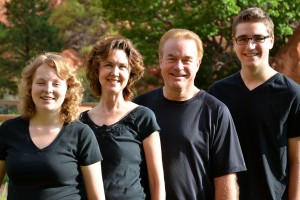 Nicole Smith is the author of Allie the Allergic Elephant: A Children's Story of Peanut Allergies and Cody the Allergic Cow: A Children's Story of Milk Allergies and Chad the Allergic Chipmunk: A Children's Story of Nut Allergies.
She and her husband, Robert, own Allergic Child Publishing Group, the publishing company for Allie, Cody and Chad.
Nicole has helped school districts across the United States manage food allergies and create safe environments for food allergic children. She was a founding member of her school district's Food Allergy Task Force in 2007, which continues its mission today to assist students and families managing life threatening food allergies in Academy School District 20.
In Colorado, Nicole was the driving force to get Senate Bill 09-226 introduced and passed into law requiring all school districts to have a policy to keep food allergic children safe at school. Two years of meeting with senators, representatives and board members of the Department of Education culminated in the bill being signed into law by Governor Bill Ritter during Food Allergy Awareness Week in 2009.
Nicole served as Treasurer for the non-profit organization, Kids With Food Allergies, Inc. She also served on the Food Allergy Initiative (FAI) Advocacy Steering Committee to help build a strong nationwide presence for the food allergy community in the public policy arena, and to actively seek to increase federal funding for food allergy research. Additionally, she participated in the Food Allergy & Anaphylaxis Network (FAAN) Support Group Advisory Council and the Food Allergy Research & Education (FARE) Executive Council. She was an Anaphylaxis Community Expert for Allergy & Asthma Network/Mothers of Asthmatics, and was the Vice President of Government Relations for FAACT – Food Allergy & Anaphylaxis Connection Team.
Nicole has written extensively on the subject of food allergies for Allergic Living magazine and Everyday Health; she has been interviewed by numerous media outlets including, Health, ChalkBeat Colorado, Neocate's Blog, Scouting Magazine, Living Without magazine and  NBC Nightly News about managing food allergies. You can view the NBC interview below:
Morgan has been a member of the FAAN Teen Advisory Board and the FAACT Teen Advisory Board. He and Nicole have spoken at numerous FAAN conferences, Teen Summits, Support Group Meetings, and Academy School District Food Allergy Summits through the years. His testimony in the Colorado legislature was the key component in obtaining passage of Senate Bill 09-226. Legislators got a first person account, from a teenager, of what it's like to go to school with food allergies.