There's a brand new book out called Allergic: Our Irritated Bodies in a Changing World by Theresa MacPhail. Theresa is a medical anthropologist – who knew there was such a thing ?! – and has done an admirable job covering topics from the medical discovery of allergies, diagnoses, where allergies might source from, treatments, research and more. I've just finished reading the book, and I've enjoyed reading it, and thought that my AllergicChild readers might benefit from what I found helpful in the book.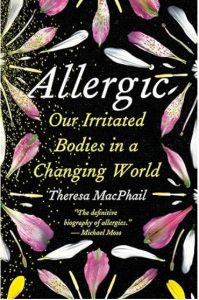 I've been in the Allergy World all my adult life, and have had years of experience with my own allergies and those of each of my children. Yet, I still learned more about the immune system and how it operates by reading this book. I also learned more about Dupixent and how it came into being. That was a fascinating part of the book to me. I've been wondering if it would be a good drug for me to try to combat my Eosinophilic Esophagitis (EoE) diagnosis. This book gave me more details than I've been able to find elsewhere. And my conclusion is that the price of the drug is still prohibitive for me!
Ms. MacPhail has interviewed literally dozens of the most esteemed allergists, scientists and researchers for the various topics she covers in this book. If you've been part of the Allergy World, you will likely recognize almost all of these individuals. It felt comforting to me that she went to the experts who shared their experience and specific research.
And beyond just the experts, she also interviews parents and advocates who have created groups and non-profits that help individuals in the Allergy World. I liked reading about these individuals, especially since I know them and have met them at food allergy conferences through the years. I respect them tremendously, and reading about them in the book only made me have even more appreciation for them and everything they have done for our community.
If you're looking to learn more about food allergies, pollen allergies, your immune system and treatments that are on the horizon, I'd definitely suggest you read this book!
(PS – I'm not receiving any remuneration to provide you this review, nor do I know the author. But I would love to have more conversations with her if I ever did get to speak with her!)