As Albert Einstein stated, "No problem can be solved from the same level of consciousness that created it." Therefore, I'd like to present researched treatment which corrects many of the behaviors in the immune system that cause allergies – – Traditional Chinese Medicine (TCM.) And, in my opinion, it has the best chance to truly CURE food allergies.
I recently wrote a blog post about TCM, "TRADITIONAL CHINESE MEDICINE: THE "CURE" FOR FOOD ALLERGIES?" wherein Henry Ehrlich details information from his book, "Food Allergies: Traditional Chinese Medicine, Western Science, and the Search for a Cure". Henry's new book, Traditional Chinese Medicine, Western Science, and the Fight Against Allergic Disease, will be released in May 2016.
I have been a patient in Dr. Li's private practice and am currently using a TCM cream to lower the inflammation in my body to help heal my Eosinophilic Esophagitis and Mast Cell Disorder. I am thrilled with the results so far, and have seen a much higher level of energy for myself and less medication needed to manage my symptoms.
Dr. Xiu-Min Li is the only doctor in the US practicing both Traditional Chinese Medicine, although her work is confined to immune conditions such as allergies, not the full range treated by other herbalists and acupuncturists, and doing research on TCM to cure food allergies, eczema, asthma, etc.
Dr. Li has been involved in the medical field since the late 1970's when she got an MD in both Chinese and Western medicine at a Chinese medical school in Zhengzhou, China. She went on to study integrative clinical pediatric immunology in Beijing, and then clinical immunology at Johns Hopkins Medical School in the US. It was here that she worked with Dr. Hugh Sampson, a foremost food allergy researcher. Dr. Sampson's support of Dr. Li's research has been key in moving it forward.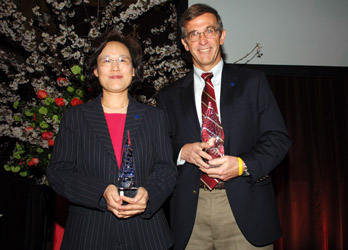 It is the combination of her knowledge of Chinese medicine and the Western medicine of allergy and immunology that is creating groundbreaking research toward curing food allergies.
There have been multiple research reports regarding Dr. Li's research in the Journal of Allergy & Clinical Immunology. You can see a partial list of her research here.
In addition to her research, Dr. Li has a private practice with patients, infant to adult, using creams, herbs, and teas, in combination or individually, depending upon the specific allergic issues that are presented. With my sensitive gut, I was not able to tolerate swallowing any teas at first. Therefore I am using a cream, which I apply to my entire body daily. I laugh when I tell people that I am like the witch Elphaba from Wicked – an entire body of green! I will soon graduate to soaking in herbs and then swallowing the tea.
Since my experience with Dr. Li's protocol is more recent, I've interviewed two Moms, Selena Bluntzer and Deirdre Olsen, who discuss why they chose Chinese Herbal Medicine treatment and their daughter's progress under Dr. Li's care:
Selena, What made you and your child choose to pursue treatment with Dr. Xiu-Min Li?
My daughter has multiple food allergies, asthma, and eczema. I had researched various treatment options for years, and after a friend of mine made plans to have her children see Dr. Li, I realized it could actually be a reality for us, as well. We live in Texas, so it wasn't an obvious thought for me to pursue treatment so far away. However, Dr. Li's research and treatments had been the only ones that gave me a real sense of a possible future cure. There is no other researcher/practitioner in this space, to my knowledge, whose work encompasses the "whole condition" – addressing all of the stages of the "allergic march" – eczema, asthma, allergic rhinitis, food allergies, etc.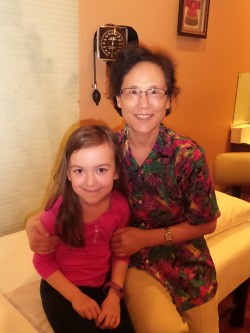 My daughter sees Dr. Li in her private practice clinic, which she manages independently of her work at Mt. Sinai. While Dr. Li is a researcher at Mt. Sinai and manages a full scale lab plus a production site for her medicine, she is also the only food allergy researcher that has a clinical practice. Patient data from her clinical care is used to fuel her research endeavors, the same way that other researchers use the findings from their closed clinical studies. She is constantly innovating and refining her numerous treatments. She is able to treat her patients as patients, not as study participants, so she can improve her medicine as she helps us. We are definitely receiving personalized medicine, as our protocol is tailored to my daughter's specific needs. My daughter likes and trusts Dr. Li, which really helps with the treatment process.
Deirdre, What made you and your child want to participate in the Chinese Medicine research?
Our daughter (now 13) was diagnosed by 24 months with severe food allergies, eczema and asthma. It was very overwhelming. We were constantly going to the dermatologist and pediatrician to keep her skin and lungs under control.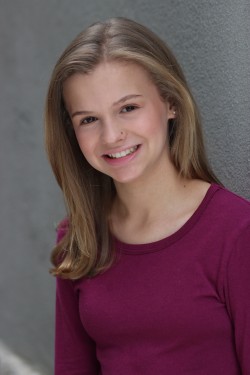 We live in NYC and after seeing a number of dermatologists and allergists we finally met Dr. Paul Ehrlich. During a visit after another skin flare up, he looked at my husband and I and said, "I really would like you to consider seeing Dr. Xiu-Min Li."  We were in a vicious circle of flare up, steroid cream, calm, then it would start all over again. Jaclyn had allergic dark circles under her eyes, and her skin as well as her entire immune system was always "on alert" ready to attack. We spent many years like this.
We met with Dr. Li for two hours on the first visit. We took copious notes and hung on every word she said- and still do! Our daughter (then 9) took to Dr. Li who has a sweet, patient and loving demeanor. After spending so much time with us, we decided to start TCM with Dr. Li.
When did Jaclyn begin using TCM?
Jaclyn started 5 years ago and has had amazing results. Her quality of life has increased immensely. Her once off the charts IgE at 6600 is now hovering just below 800. She is able to eat a number of foods that she couldn't 5 years ago. She is cleared for food challenges to egg, hazelnut, coconut and brazil nut in the upcoming months.  She rarely, if ever, needs a puffer. She rarely gets sick now. Her skin is clear and smooth for 4 1/2 years.
Has Jaclyn had any type of reaction?
Jaclyn has not had any adverse reaction to the herbs. A few times she felt nauseous after a bath or starting a new capsule. In this case we contacted Dr. Li and she dialed back the dose or eliminated it.
Have you noticed any decrease in reactions to her allergens? Or any changes in overall health?
Jaclyn had contact eczema. Everywhere we went we put down a towel or sheet so she would not break out. We have not done this in 4 1/2 years.  Where she used to get 4 colds a winter, she is down to 1 a season now.  Jaclyn's seasonal allergies are also much better. She still is allergic to a number of trees and pollen but no where near where she was.
Jaclyn's overall health is much better. She is rarely sick. She eats well and is comfortable in her own skin.
Thanks Selena and Deirdre for sharing your experience!
If you're interested in learning more about Traditional Chinese Medicine, please check out the TCM website here. There is also a Facebook page, Chinese Herbs for Allergies for anyone interested in the TCM treatments.
Lastly, if you would like to find out more about Dr. Li's specific programs and studies currently open to funding, you can speak to either: Susan Weissman, a parent of a patient who volunteers her time as her fundraising coordinator. You can reach her at Susan@SusanWeissman.com; or Erica Edwards at Mount Sinai who can be reached by phone at: 212-659-8500.
For those of you ready to donate to find a cure for food allergies, you can support Dr. Li's research at Mt. Sinai by making a check payable to the Icahn School of Medicine at Mount Sinai.
In the memo portion, make sure to write Dr. Li – Chinese Medicine for Food in Jaffe
Mail check to the following address:
The Mount Sinai Development Office
Attn: Erica Edwards
One Gustave L. Levy Place, Box 1049
New York, NY 10029-6574