If you haven't heard of Traditional Chinese Medicine, you're in for a treat! And if you have, you know that Henry is the author of "Food Allergies: Traditional Chinese Medicine, Western Science, and the Search for a Cure". Henry graciously offered to answer a few questions about this treatment option for eczema, food allergies, mast cells and even Eosinophilic Esophagitis!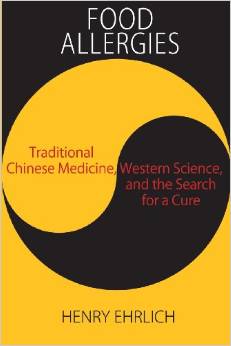 Henry, what made you interested in writing a book about Dr. Xiu-Min Li's research regarding Traditional Chinese Medicine (TCM) and her search for a cure for food allergies?
First of all, Nicole, thanks for giving me this opportunity to communicate with your readers. I hope they will find it informative.
The six most obnoxious words in the English language are "as I say in my book" so at the expense of stealing my own thunder…. I met Dr. Li when I went up to her office at Mount Sinai at the suggestion of my cousin and co-author of an earlier book, Dr. Paul Ehrlich, a prominent pediatric allergist. We also had a new website, AsthmaAllergiesChildren.com,  and he told me, "I have been practicing for over 30 years and this is the first thing that sounds new and hopeful to me." So I met Dr. Li. When she showed me photographs of the dramatic changes her therapy had made on really bad atopic dermatitis, I knew something was up. I mean, these were bleeding, sores on the feet of a ten-year-old girl. Within a few months, the skin was clear and she was painting her nails. I have a daughter. That means something to me.
How is Oral Immunotherapy (OIT) different from TCM?
OIT, like all immunotherapy, works by essentially over-stimulating the part of the immune system that produces allergic antibodies—allergen-specific IgE—by feeding progressively larger doses of the allergen until it can't keep up with demand, allowing the part that produces tolerogenic antibodies—IgG—to gain the upper hand. Instead of allergen-specific IgE occupying the receptors on mast cells and basophils, IgG starts to occupy them instead. Allergens that once triggered reactions by connecting with IgE on those cells are rendered harmless.
Traditional Chinese medicine as practiced by Dr. Li works on modulating the immune system. There are two kinds of helper cells involved, Th1, which helps fight infections, and Th2, which is associated with allergies. In a normal immune system, IgE is a tiny fraction of IgG. But for various reasons, Th2 and IgE gain a disproportionate share of immune response. Dr. Li's therapies restore Th1 and Th2 to their natural equilibrium. Oh, and one thing I have to stress is that Dr. Li also treats digestion so that the gut has a better chance of breaking down allergenic proteins before they can be absorbed into the blood stream and find their way to different parts of the body.
Let me add that immunotherapy and TCM are not competitive or mutually exclusive. TCM patients are also receiving OIT, just as they are receiving shots and sub-lingual immunotherapy. There's no single therapy that will help every patient in the long run.
How long has Traditional Chinese Medicine (TCM) been used by Dr. Li to treat patients for food allergies?
Her private, independent clinic got started to treat recalcitrant eczema while she did more conventional research in her "day job". However, in the mid-1990s, food allergy mothers she met at a fundraiser for the Jaffe Food Allergy Institute, where she was doing research, upon hearing of her success with eczema, told her their kids' stories and she was so moved she set out trying to find ways to help, backed by Dr. Hugh Sampson, her boss. It was a very bold move. Dr. Li was trained in both western medicine and TCM. She looked to the classical TCM formulary for answers, and started to find them, starting with a treatment for intestinal parasites. It is important for your readers to understand that while Dr. Li is following all the NIH protocols for her investigational drugs, she is also allowed to use versions of these medicines as supplements in her clinic.
Is she working on having fewer pills to take/teas to drink as part of her protocol?
Yes, Nicole. One of the problems with these treatments is that because they are derived from plants, therapeutic doses require lots and lots for prolonged periods. Compliance is a challenge for all of us, whether we have diabetes, asthma, or even just take a low-dose aspirin (as I'm supposed to do—don't tell my doctor). Dr. Li works with her own lab and scientists in China to refine the medicines and reduce the burden on patients. Her food allergy herbal formula-2 had a dosage of 10 pills, three times a day for a phase-2 trial. Lots of subjects had trouble. The next trial will use B-FAHF-2–refined with butanol, a form of alcohol—that will take the dose down to six or eight pills a day total. Much easier.
Have there been any patients on TCM long enough to say that their immune system has been remodeled, and they are no longer allergic to foods?
Yes there have, although most of her patients have complex co-morbidities—and it's a work in progress for many of them. I suggest your readers also check out an article published last year in a Canadian journal about three cases of frequent severe food anaphylaxis to see how dramatic the changes can be.
In a video at last year's Food Allergy Bloggers Conference, you and Dr. Li were interviewed for a podcast. Dr. Li mentioned using TCM for patients with Mast Cell Activation Disorder (MCAD). Has she had any success with patients with this condition?
In the new book that Dr. Li and I have co-written, there is case of this, also called mast cell activation syndrome. Just so you know, MCAD or MCAS for mast cell activation syndrome is disease in which mast cell degranulation is triggered by all kinds of things, from foods, to exercise, to heat…really lots of things. It didn't even have a name till 2010 or a practice parameter till 2011. It can be IgE mediated or not. We have one whole chapter in our book devoted to one case of a girl of 14 who suffered for 5 years without a diagnosis even, and almost died. Dr. Anne Maitland, a colleague of Dr. Li's, is gaining a reputation as an MCAS specialist, and the two of them are doing great work. The case we write about it the book will tug your heart strings.
What about children with Eosinophilic Esophagitis (EoE) – are they able to tolerate the herbs? Have any children been 'cured' of their EoE?
The short answers are "yes" and "yes". In my first book I have a case of a boy who was successfully treated, and according to his mother now has the enviable position of being able to eat pizza every day with his friends. Before he couldn't tolerate dairy.
Let me add a key point here—all Dr. Li's treatments are highly individualized. You don't go in and get the food allergy pill, or the asthma pill, or the EoE pill. You get a combination of things that help with the multiple organ systems that are involved. The herbs overlap, and so do their effects.
And one more critical point: Dr. Li is a full-time scientist and a part-time healer. The scope and ambition of her research is breathtaking. Her chemists and biologists love working for her. A month doesn't go by when I don't hear about something new emanating from her lab or suggested by researchers elsewhere who have been following her work.
Tell us about the new book you are writing – when should we expect it? What's the topic?
Think The Godfather and The Godfather Part 2, where the sequel is as good as the original. This book updates the food allergy research from the last book but also goes into greater detail on ASHMI—anti-asthma herbal medical intervention, which I only wrote about briefly the last time. But it's huge for people with this condition. It also goes into the atopic dermatitis treatment at length, Crohn's Disease, MCAS, and some other things. I wrote the first one the way I did because I was learning the science on the fly, but this story is much bigger than any single allergic disease. Dr. Li is getting an award next year from the Future of Health Technology Institute, which is normally very high-tech and where the people obviously see this as very important for the way we understand and treat disease. The new book will be out some time in 2016. After writing two books in three years, don't expect a third one any time soon, although I know if there is it will be better than Godfather Part 3.
(For more information about Dr. Li's practice, see liintegrativehealth.com.)
For more information, please also see Henry's book, Asthma Allergies Children: A Parent's Guide and the Facebook page, Chinese Herbs for Allergies. 
Henry Ehrlich is the editor of asthmaallergieschildren.com and co-author of Asthma Allergies Children: a parent's guide and half a dozen other books. He was a long-time professional speechwriter, with three grown children and one granddaughter.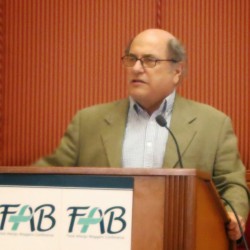 Henry at the 2014 Food Allergy Bloggers Conference speaking about Chinese Herbs for Allergies along with Dr. Li.