There have been several events across the USA this Spring – the Shelter in Place in Boston, the tornadoes in Oklahoma City and the fires here in Colorado – that bring to mind the need for each food allergy family to have an Emergency Plan.
Your child no doubt has an Allergy Care Plan (or some similar name) for school. Does your family have an Emergency Plan for any of the possible emergencies that your community could face? You may be required to remain in your home, as those residents in Boston, MA had to do after the bombings. Or you could face the destruction of tornadoes or fires where you will have to evacuate your home – either temporarily or permanently.
Until last year in Colorado Springs, we never thought we would have to evacuate our home for any reason. We have had to prepare for blizzards, where we ensure that we always have enough safe food for at least 3 days to last out the storm. However, we don't have earthquakes, hurricanes, or tornadoes. And until last year, we never had a major fire in our area. Now, two years in a row, we've had life altering fires where hundreds of people have lost their home and thousands have been evacuated. At least three families who lost their home in the Waldo Canyon Fire in 2012, moved to Black Forest, and lost their home again in that fire this past week!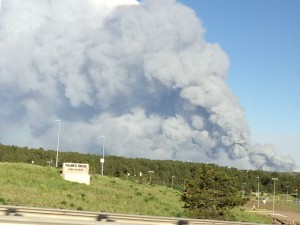 The Black Forest Fire within 3 hours of starting to burn
We have come to realize the importance of having an emergency plan for our family. In the case of the recent Black Forest fire, all roads in the area were closed within 2 hours of the fire beginning. Once evacuation orders were put in place, the fire was bearing down on people so quickly that they only had 10 minutes or less to grab their essential items.
Would you know what to grab in that amount of time? Do you have a safe place to be able to take your family? When you vacation, do you know the possible threats facing the area where you are staying? These questions and more need to be part of your plan.
We have a 'grab and go' large folder for our "10 minutes and out the door plan". This folder contains: our wills, recent tax returns, account numbers listing, passports, safe deposit box key, cash and other important paperwork.
If we have more time, we've learned to bring and do the following:
Understand Evacuation Terminology.  These definitions have been used throughout the fire evacuations in Colorado. We've learned to tune in to the radio and local news reports, Facebook and/or Twitter to keep up with the advancing evacuation notices AND to remain at home if we are placed on pre-evacuation with all items packed and ready to go.
Pre-Evacuation – No immediate threat, but the danger may be moving closer; Prepare for possible evacuation.  Pre-evacuation means there is no immediate danger to your home, family, or business, but the threat may be moving toward you.
Voluntary Evacuation – The danger is moving closer and a mandatory order may be issued at any time. Officials say you do not need to wait for a mandatory order before leaving.
Mandatory Evacuation – Leave now. You will not be allowed to return until after the threat has passed.
The 5 P's: People, Pets, Photos, Prescriptions and Papers.  We don't have pets, but if you do many evacuation centers won't allow your pets to stay if you aren't there with them. Hotels may not allow pets. For us, prescriptions were our big deal. Some prescriptions are very expensive, and we didn't want to lose this investment when we evacuated last year. We also grabbed Morgan's 504 Plan paperwork file and his Allergy Testing history file.  Sure these could be recreated, but what a lot of work that would have been! If your child's asthma care plan isn't committed to memory, you might also want to bring that with you.
Have a written list of evacuation items in addition to the 5 P's. Have everything written on a list of what you would bring should you need to be evacuated. It's so difficult to think of everything you need to bring in the middle  of a crisis. This list could include clothes, computers, hard drive back ups, phone chargers, checkbooks, purse.
Plan for your relocation. Know where you can go and what type of an arrangement you will need. Can you go to a shelter and have your child safely eat their food? Are you comfortable eating out every meal by going to a hotel? If not, what types of condos or extended stay hotels are in your area? Or within 100 miles of your area? Is it safe to stay with a family member?
Bring Food with you. If you have ordered special food online, you certainly want to bring it with you because you likely won't be able to have it mailed to you in time wherever you are staying. Even businesses, like specific grocery stores, can be in an evacuation zone. So if you get food from just certain stores, keep some on hand at all times.
Be prepared to be gone for more than 72 hours. The officials told everyone here to pack enough clothes and supplies for 72 hours. Obviously those with burned homes won't be back in a rebuilt home for probably a year or more. And others in the neighborhood won't be allowed back in for months because of the gas and electric lines needing repairs. Many of them only packed for 72 hours and have had to get clothing, prescriptions and other supplies while they wait to be able to go home.
Bring your nebulizer and peak flow meter even if they haven't been needed recently. We learned this one the hard way last year! It would have been much easier to have had these items with us than to have to race off to the doctor's office. Lesson learned!
Plan for a rendezvous point. If your family members become separated, have an established location where you will meet.
Having a plan in place will help you and your family to prepare for the worst, and hope for the best – that you'll never have to put your plan to use!