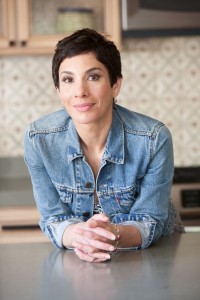 CYBELE PASCAL is the author of two bestselling cookbooks, The Allergen-Free Baker's Handbook and The Whole Foods Allergy Cookbook, and the forthcoming Allergy-Free and Easy Cooking (12/4/12). She has appeared on The Martha Stewart Show, the Food Network, the Today show, Good Morning America Health, PBS, and NPR. She is a leading blogger in the field with an award-winning website, and lectures and teaches nationally. Pascal serves as a Celebrity Ambassador Who Cares for FAAN (Food Allergy and Anaphylaxis Network) and is the founder and president of Cybele's Free-to-Eat, a line of gluten-free foods that are free of the top eight allergens. For more information, visit www.cybelepascal.com
Cybele, what food allergies do you manage for your son?
Both my sons are allergic to shellfish.  My son Lennon also has a tree nut allergy and is allergic to kiwi. Lennon used to be severely allergic to dairy and soy, but outgrew those allergies by the age of 6, thankfully. Monte also used to be allergic to eggs, which he outgrew by one. He also suffers from allergic asthma, and when it flairs, he has to avoid dairy. It should be noted that I also have food allergies.
Did you wake up one morning and say, "I'm going to become a top 8 allergen-free cook!" or has it been a gradual process?
I never planned to be a cookbook author. In hindsight it all makes sense that I've ended up here, because I'd actually done a lot to prepare myself for this career, but it wasn't conscious or planned. I was a professional writer, who'd cooked in restaurants for a living, but I never dreamed of being a culinary professional. It was a survival job, that I also happened to enjoy. I only started writing allergy-friendly recipes out of necessity. and it all came together. It's been a very serendipitous process. Lennon was diagnosed with multiple food allergies in 2002, I wrote my first cookbook to literally answer our need for top-8-free recipes to keep him nourished and safe, and in the process I discovered how many others out there needed allergen-free recipes. Once I published my first cookbook, the Whole Foods Allergy Cookbook, I realized how extensive the need was, people started asking me for more recipes, to write columns, more books, and I realized I needed to commit myself to helping as many people as possible by providing safe and delicious food for those on restricted diets.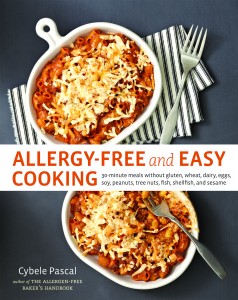 Tell us about your new book coming out in December, Allergy-Free and Easy Cooking: 30-Minute Meals without Gluten, Wheat, Dairy, Eggs, Soy, Peanuts, Tree Nuts, Fish, Shellfish, and Sesame
I'm extremely excited about my new book, because it's a collection of 75 30-minute meals!  "Make it safe, make simple, make it fast" is my new motto! and most of all, make it delicious. I am too busy to spend hours in the kitchen, and I think most of you are too.  so I decided to write a collection of the recipes I wished I had, allergy-free and easy. This book was so fun to write, in part because it saved me so much time making dinner!
What kitchen equipment is a must-have for a family managing food allergies?
Plastic cutting boards that can be washed at high temps in the dishwasher to sanitize them; stainless steel cookware that is non-porous and therefore won't hold onto traces of food proteins. Depending on the severity of the food allergy within your household, you may need a separate set of cookware, serving utensils, etc so you can avoid cross contact by simply having a designated "safe" set. In terms of items that will simplify your life just to make cooking easier, I highly recommend the Vidalia chop wizard, which is prominently featured in my new cookbook. I have a whole section devoted to recommended kitchen items, so please check it out!
Rumor has it that you are baking cookies that can be purchased in some Kroger stores? Tell us about this wonderful news!
This has been a labor of love that is finally coming to fruition. I've been working on launching a line of allergy-friendly foods called Cybele's free-to-eat for a little over a year. I am starting out with three reader favorites from the Allergen-Free Baker's Handbook – my three most popular cookies, chocolate chip, oatmeal raisin (gluten-free) and chocolate chunk brownie cookies. They are baked in a dedicated gluten-free allergy-friendly facility, are certified gluten-free, kosher, and vegan, and free of the top 8 allergens. Yes, you have heard right, I'm thrilled to have been picked up by Kroger, and to start out we'll be available in Ralph's in Southern CA, Kroger, and King Soopers.
Which food(s) that you make are your sons' favorites?
They love shepherd's pie, chicken nuggets, chicken tenders, hot wings with ranch dressing, chicken fried rice, (obviously they love chicken, right?) gnocchi, and Lennon's favorite recipe in the new book is the chili mac, which I chose to put on the cover.
When I've tried baking gluten-free, I make hockey pucks instead of bread! What tips can you give to those of us who don't have your chef touch?
I think the key is your flour mix. I'm a huge fan of making a flour mix with superfine brown rice flour as the base, at least for more delicate baked goods like cookies and cakes.  Authentic Foods Superfine Brown Rice Flour is really the cream of the crop. For bread, I think the key is using rapid rise yeast. You don't need conventional yeast with gluten-free bread, because you don't have any gluten to coax in the multiple rises. One rise with gluten free bread is enough, and rapid rise yeast will do that.
Thank you Cybele!