At the recent FARE (Food Allergy Research & Education) walk in Denver, my son, Morgan, and I had the opportunity to have a long chat with Dr. David Fleischer of Children's Hospital of Colorado. The conversation brought up a lot topics around living with severe food allergies.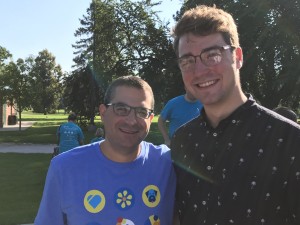 When Morgan was 14 years old, he was sent by our allergist in Colorado Springs to see Dr. Fleischer, who was then at National Jewish Health in Denver. Morgan was going to have a food challenge to eggs and to pinto beans, and she didn't want to have the challenge in her office because of Morgan's past severe reactions and anaphylaxis to foods.
Morgan had to go through a battery of tests – a skin prick test and a blood test to ensure that his levels to both foods was low enough to warrant a food challenge, an asthma FENO (Fractional exhaled nitric oxide) test and numerous other breathing tests – before undergoing the food challenges. I was very impressed with the thoroughness of Dr. Fleischer, and the fact that the hospital prepared all the food to ensure proper dosing for the challenge.
He passed both challenges, which were done on separate days. Now 7 years later, we run into Dr. Fleischer at anything food allergy related in Colorado, and he always remembers Morgan and me. He's very committed to assisting children with food allergy, eczema, and asthma and their families.
During our conversation at the FARE walk, we covered many topics. The most interesting topic was all of the ongoing research to find a cure for food allergies.
Morgan has never had an interest in participating in any of the studies, and at this point he is likely too old to do so under the guidelines of many research studies.  At 21 years old, Morgan is accustomed to living with allergies to peanuts, tree nuts, sesame, fish and shellfish. He's not interested in eating any of these foods, and he's definitely not worried about cross contact to the point of limiting his activities. He is appropriately vigilant, and takes the time to prepare for any events that include food, and always carries his Auvi-Q's.
For other food allergy families, who aren't interested in trying out treatments, or participating in research studies, our family "gets it".
Dr. Fleischer had commented that for Morgan, life is easier managing food allergies than being a study participant in the hopes of gaining tolerance. It was nice to get affirmation from Dr. Fleischer that Morgan can live a complete life, with all kinds of opportunities and adventures, managing his food allergies throughout adulthood.