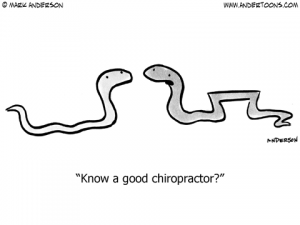 There is an abundance of research trying to find a cure for food allergies. Because of the stomach issues in our family, mast cell disorders and EoE, we have chosen to seek out different healing arenas than eating what we're allergic to.
About a year ago I began seeing a chiropractor that practices Network Spinal Analysis (NSA). For those of you who have read my blog for a while, you know that our family is very open to new modalities of healing AND we still see medical doctors too!
We have spent a lot of money seeing NAET specialists (see my write up on that here toward the bottom of the page), acupuncturists, chiropractors, Sacral Occipital Therapists, massage therapists…the list goes on and on. Many of these practitioners have provided temporary relief, at best. And the abundance of them have served only to lighten our wallet! I know that my son needs to have medication to manage his ocular allergies, his asthma and his nasal allergies; however, I'm always on the lookout for something that can assist his body to truly heal from these maladies.
My daughter and I have a mast cell disorder, and I was having severe lower back pain that wasn't being helped by traditional chiropractic care. I decided to try something new and be the guinea pig in the family. It turns out that the mast cell disorder and the back pain were related, according to my new NSA chiropractic doctor. The more allergic reactions I was having, the more mast cell proliferation occurred. And the more mast cells, the more my back hurt. It was as if my spine was shutting down my entire nervous system in an attempt to protect me from myself!
Network Spinal Analysis works to utilize the energy in the spine to realign itself without the standard "cracking" of a chiropractic adjustment. The practitioner helps to point out where the energy is blocked, and gets the central nervous system to pay attention in an entirely new way. New neural pathways are opened up, and more energy is brought in to the spine, so that healing can occur. Within a few months, my back pain ceased, and almost a year later, my mast cells are beginning to behave better too.
Last summer, my son, Morgan, began seeing this NSA chiropractic doctor and almost immediately was able to go off of his Pulmicort steroid. I wasn't sure that was a good idea until we went in to see the allergist and all of his breathing tests were normal!! He has had to use a rescue inhaler only once since then for a few days during a respiratory infection. He's had no chest tightness, and feels great.
I really believe there is something to raising the energy in the body to create healing. Let's face it, all the antihistamines and steroids are doing is helping with the symptoms. I really want my body, and my son's body, to begin healing. Since Morgan and I had such good results with this new modality, my husband and daughter have also begun receiving entrainments (what the doctor calls the session). They too have had remarkable results with less body aches, better digestion and overall energy becoming higher.
There's another line of thinking about accessing a higher energy through meditation to create healing. Dr. Joe Dispenza has written a book, "You Are the Placebo" that asks, "Is it possible to heal by thought alone—without drugs or surgery? The truth is that it happens more often than you might expect." His book details scientific research where people have healed themselves, and where others have made themselves sick, simply by their thoughts and beliefs. I know that my mind is certainly powerful enough to create anxiety symptoms in my body. It's powerful enough to create a stomach ache out of fear or worry. It's also powerful enough to boost up my energy and overall capabilities to handle a crisis of one of my children, regardless of how I'm feeling physically in the moment.
I have begun to sit in meditation daily for the last 4 weeks, based upon the guided meditation provided in the book. I've already seen and felt a difference. I've been able to decrease the amount of medication that I take for my mast cell disorder! It's mind blowing stuff, when you really think about it. Are our minds really powerful enough to heal our bodies? I am becoming a believer!