I've just arrived back from a 16-day trip to Italy. It was amazing. It was also my 2nd time in Italy, having previously traveled in 2016 with friends while studying abroad. I wanted to break down some interesting observations from this go-around about navigating international travel, dealing with English fluency, and staying safe while traveling.
As someone with severe food allergies to peanuts, tree nuts, sesame, shellfish, and fish (plus mild asthma), international travel has plenty of minefields to navigate! You can read all about my experiences studying abroad in college by clicking here.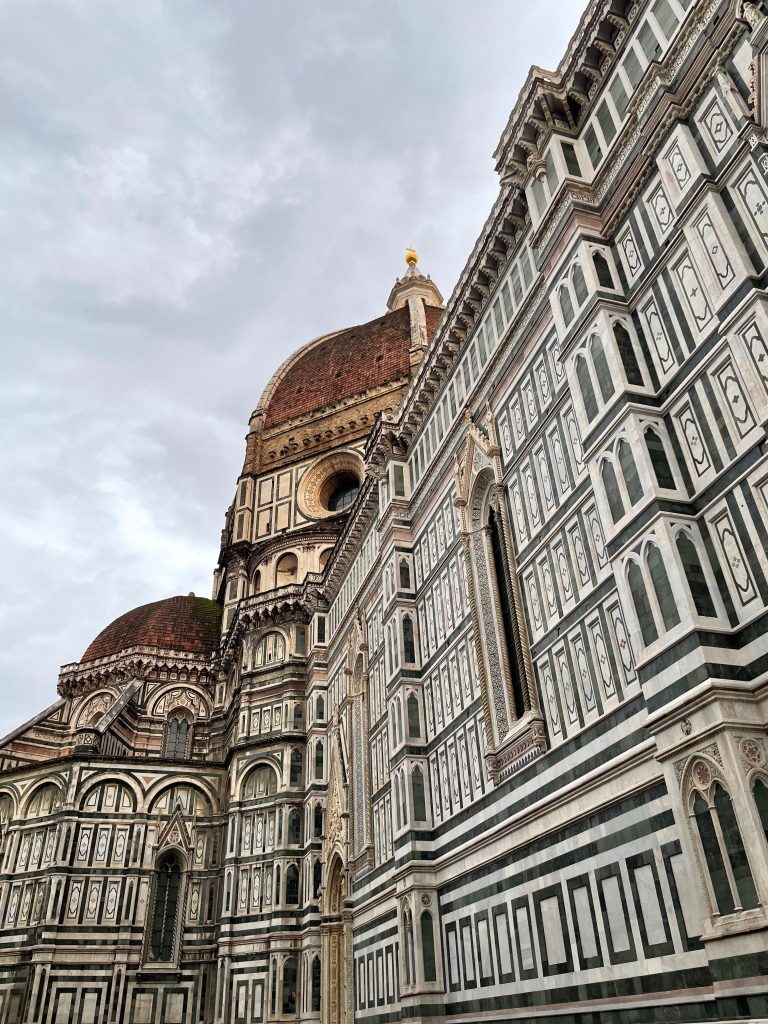 Flights
We booked our tickets through United many moons ago and only later learned we'd actually be flying Lufthansa + AirDolomiti on the way there, while we'd be flying AirDolomiti + United on the way back.
I had never flown Lufthansa and given that the flights were booked with United, I couldn't go into Lufthansa's portal and mark that I had allergies. A rather dumb user experience, I have to say.
At check-in, I asked the agent to note that I had peanut/nut allergies on the flight readout (she added it successfully) and she recommended that I mention it to the stewardess upon boarding. The stewardess was…surprised and asked if I had requested a special meal. At that point, I realized this was a flight with meal service. (Ha!) I told her no and she wrote down my seat number on her hand.
What ensued was genuinely surprising: multiple different agents on the plane came over during the flight and asked a variety of questions — whether I was peanut dust allergic and would react if any nuts were served at all on the plane, what I'd feel comfortable eating, whether they could guarantee the meal didn't have nuts (they couldn't), and even one time they brought over a platter of food for me to inspect. Amazing service.
I ended up declining all of the meals but they still offered me salads and fresh fruit and yogurt with an ingredient label. Wonderfully accommodating. Also, lesson learned –– call ahead! I'm sure that I could've navigated this ahead of time had I thought through the likelihood of a meal service. But since my past many years flying internationally didn't involve it, I didn't even think about it!
The AirDolomiti flights were short pond-hoppers with only drinks service, so no worries there.
The flight back was a similar experience with United and I generally avoided the food + snacks served, except for one that did have ingredients labeled on them.
Navigating Eating Out
The last time I traveled Italy in 2016, I had a fairly straightforward experience. I spent around 2 weeks in the country in total, traveling between Genoa, Milan, Venice, Florence, and Rome. As a college student, I kept a fairly low budget and ended up eating pretty simple meals. Pasta, pizza, street pizza, and gelato. It was a straightforward and peaceful experience with very few problems.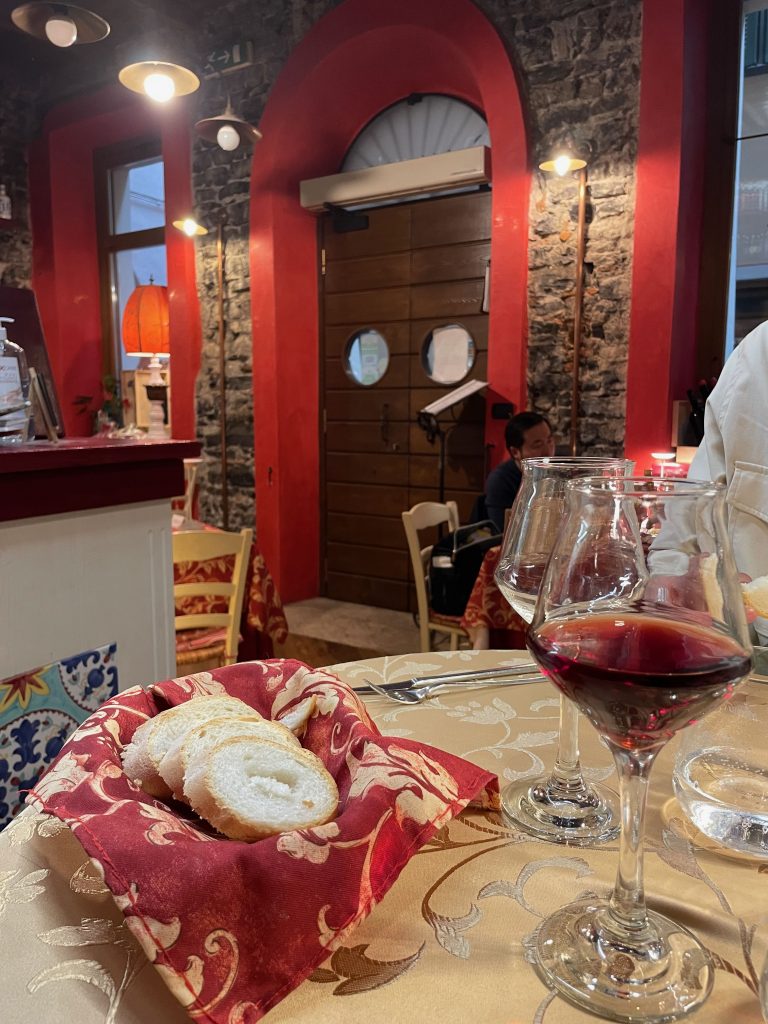 Coming back, I had expected to have a similar experience. Sadly, not the case this time around.
I think this in part due to my partner and I having a bit of a bigger budget and eating at nicer places than just the pizzeria down the street. It meant navigating a sit-down restaurant environment and English fluency issues.
Italian restaurants are very different than American ones. Most only have a few waitstaff in total. One restaurant we dined at in the Lake Como region sat around 20-30 people and they had 3 total waitstaff who took orders, poured wine, served the plates, etc. I'd say they are not as strained as French waitstaff (who are truly busy all the time), but still quite busy. This is mostly because they're paid a fair wage and don't rely on tips to make a living, so the restaurant doesn't hire as many servers.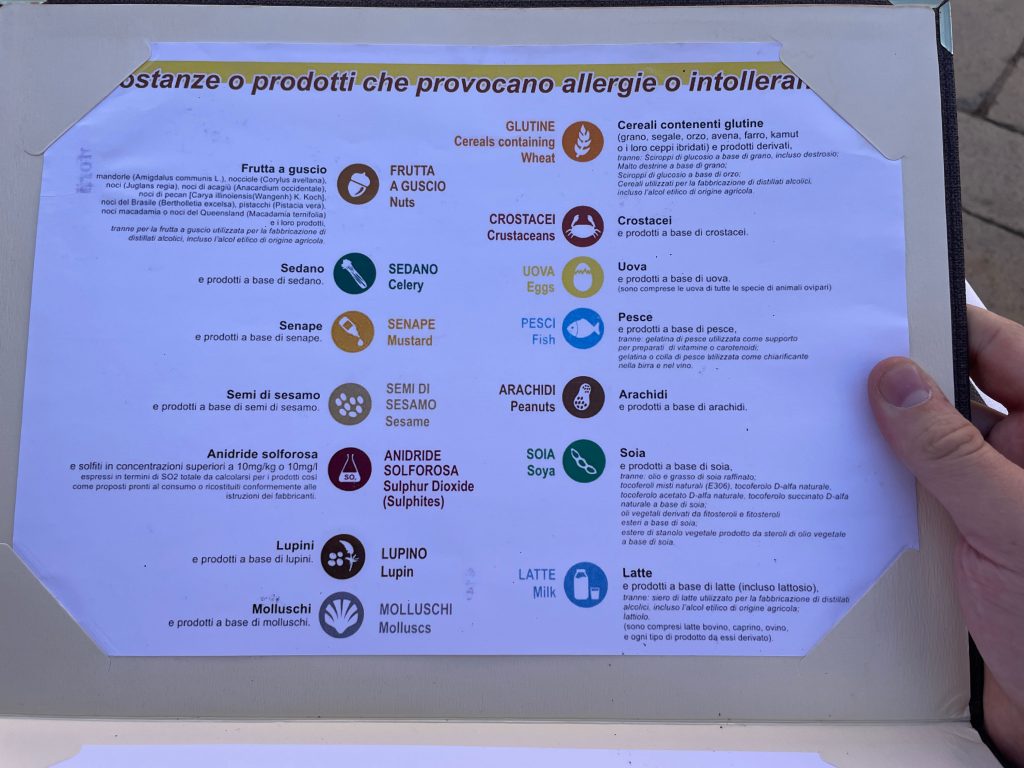 Some restaurants followed EU regulations and listed the Top 14 allergens on the menu using their number system. So, on the menu, it would look something like:
Quatro formaggi pizza (1, 8)
Margherita pizza (1, 8)
Anchovy pizza (1, 6, 8)
Where the (1, 8) corresponded to an allergen listing at the back of the menu — in this case, gluten and dairy.
I quickly learned that this numbering is not comprehensive. Many dishes had cross-contact issues or, upon asking, the kitchen would state that in fact a sauce on one of the dishes actually contained nuts even if it was not noted on the menu. This was a surprise (and also unsure if this is breaking the law).
Not all restaurants had this numbering, so I didn't rely on it. I brought up any questions with the waitstaff directly.
At the beginning, I relied on just talking about my allergies in English. The staff understood, even if they couldn't respond in full sentences back in English (which always makes me a bit nervous), and I received great care. When one restaurant in a small town in northern Italy served us food, our waiter even vocally confirmed with each dish that it didn't contain any of my allergens. He also taught me what my allergies were in Italian.
This worked pretty well until one restaurant in Venice, where I was basically berated by a waiter for messing up an order. He didn't speak great English, so when I asked whether the open-faced sandwiches (a local specialty in Venice) contained my allergens, he stated something which I understood as "no, but there is sesame in the kitchen," – a common refrain from waitstaff when dealing with allergies – but which later turned out to be that there was sesame in the bread.
I discovered this upon serving. I quickly pulled up a translate app and translated an apology and saying I think we misunderstood each other. To which he now more clearly pronounced in English, "No! I told you there was sesame in it and you said, 'it's okay'!"
Clearly, it wasn't working. So I learned how to say the full spiel in Italian. "Sono allergico a noci, sesamo, pesce, e crostacei." That always got the attention of the waitstaff. The problem was that they quickly responded in Italian, which then I'd have to correct course and say "Okay I didn't catch that, sorry, could you say that in English?" This dance continued at a couple restaurants until I started to preface my Italian by saying (yes I literally said this) "I know how to say this in Italian but I don't know how to respond…"
It became a scot-free experience after that. Some of the waitstaff at nicer restaurants in Rome & Florence even had very fluent English speakers, which made the experience very seamless.
One unique moment was when we were having drinks at a local upscale bar in Florence. I ordered one of their cocktails, which when delivered contained a small something in the glass. This was not noted on the menu, by the way, and very unusual to serve a cocktail with something inside it. Turns out it was a small almond biscuit they dropped in the bottom of the glass. I had to patiently explain to the waiter about my allergies and they thankfully remade the drink without the almond biscuit.
So, I had some close run-ins this time around. It was unnerving, honestly. I think keeping to simpler fare has its benefits. Most of the nicer restaurants always took the extra step to make something "fancy": sesame-encrusted breadsticks, anchovies in their cream sauces, nutty biscuits in their cocktails. The simpler places kept it, well, simple.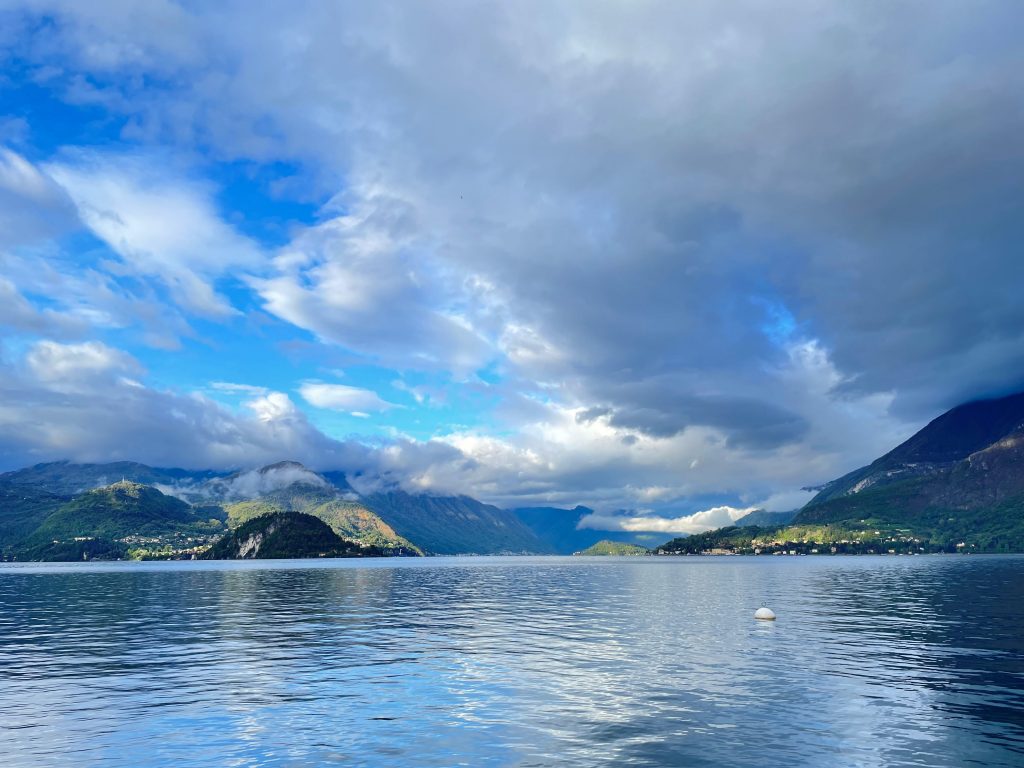 One extraordinary experience, however, was at a restaurant in a small town near Lake Como. It was one of the first nights we were in Italy. It was a tiny place, probably 10 seats total. The owner was the waiter. After he served us a basket of bread with sesame breadsticks (unusually common in the north of the country), I explained my allergies. Not only did he remove the breadsticks, he cut fresh bread just for us and remembered everything for the duration of the meal. It was a nice reminder that traveling with allergies can be safe with the right kind of service.
Another restaurant was a great example of this. When visiting a recommended restaurant from a friend in Florence, I ordered a simple pasta dish after explaining my allergies. The waiter said he'd go and check the kitchen. He comes back and tells me in somewhat broken English that it isn't safe, but try one of these other three on the menu. I order the one that sounds good, and then he comes back again and informs me, oops! Those three aren't safe either. But one of these other two dishes will be. Thankfully, it turns out that last dish was definitely safe. Lots of open communication kept me safe! Saying it in Italian always clearly communicated my needs.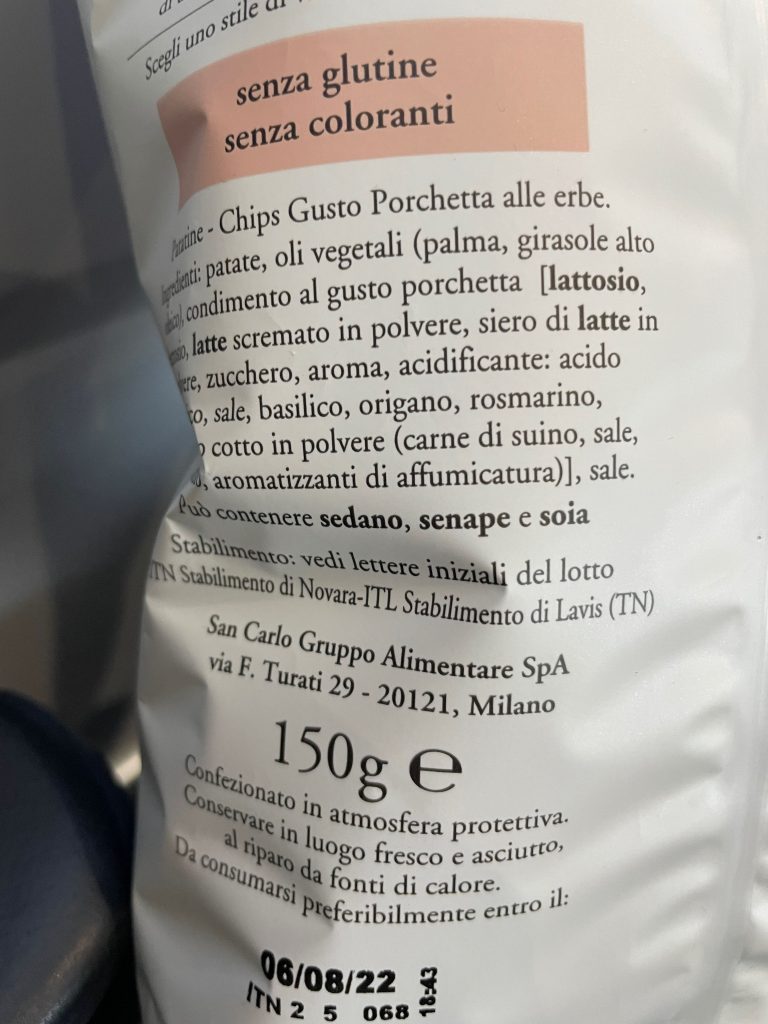 We didn't only eat at restaurants and sometimes grabbed snacks 'on the go,' particularly when we were traveling. I quickly learned what the different allergens were (in the above image, latte or dairy is bolded in the ingredients list, and then a "may contain" puó contenere statement is listed below for celery, mustard, and soy). This was a nice reminder that European packaging laws are much more comprehensive than American ones and I avoided anything that mentioned my allergens in the ingredients list or the puó contenere statement.
Gelato
Gelato is definitely a draw of Italy. Often it uses fresh fruits and flavors to create a creamy, extremely flavorful product. Eating gelato runs the same risks as ice cream from an ice cream shop, although the process to make gelato is a little different. However, the final product is a lot creamier and thicker than ice cream.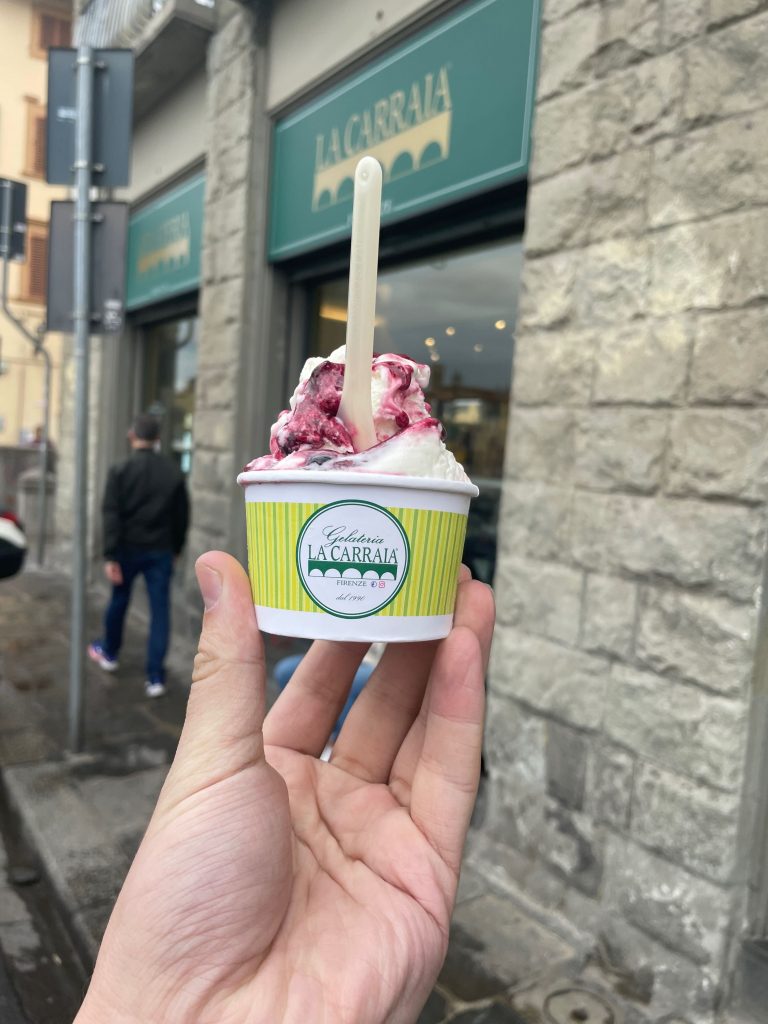 Gelato can be served out of ice cream tins or separated out, covered tubs. From a cross-contact perspective, the tubs are the safest because it uses separate serving spoons and keeps the products separate from each other. However, most gelato shops serve it out of ice cream tins.
One interesting observation my partner had was that, in Venice, almost everyone had "shared" scoops. Like an ice cream shop, there was one scooper they used for all the gelato. This is a major problem for me because pistachio is a very common and popular flavor of gelato. And to navigate the English fluency + allergy conversation for a 2 euro scoop of gelato just… isn't really worth it.
But most places in Italy outside of Venice actually have individual scoops for gelato. Due to the thick and creamy quality of the gelato, the scooper itself never touches anything except the gelato it's serving. I don't have a video to show this, but basically they'll scoop up a big amount on this serving knife and then "push" it into the tub. So the scooper never touches other gelato or even the cones/cups.
I kept to safe flavors and ate plenty of yummy gelto. Black cherry is my favorite.
(P.S. Sometimes they add a little "biscotti" to the top of the gelato when serving – a plain, vanilla cracker. I never ate it, but I asked one gelateria if it contained nuts, and they showed me the ingredients. Totally safe for me.)
Trains
The last time I traveled Italy, I kept to regional trains. Most countries in Europe have two or three different "tiers" of trains. There are high-speed trains, regional trains, and local trains. The high-speed lines (TGV in France, AV in Italy) are the most expensive. They are also more modern, comfortable, and plush. Regional trains tend to be older, slower, and a lot cheaper. Local trains are usually just local versions of regional trains (like a local rail service that extends beyond the metro lines).
A ticket on a regional train line between two major cities ran ~20 euros and took a half-day or more to get between places. A ticket on a high-speed line between two major cities runs ~40 euros and takes only a few hours or less. We used Italo, a private train company, almost exclusively in our travels because they were a bit cheaper for our routes.
However, I had never taken Italo before and we got a good deal on some first-class tickets. It was very comfortable. Turns out, first-class on Italo also includes drink & snack service like on a plane. I have taken many, many trains across Spain, France, Italy, UK, Denmark – I had no idea this was a thing. I even did some nice first-class travel in the UK. The food service there was "optional" at a little catering stand near the end of the car.
Turns out, they do serve snacks with nuts in their little snack packs. I always declined the snacks and just settled for a drink. Given that the train is not like a highly-pressurized environment like an airplane, I wasn't necessarily worried about it but I can imagine that this would pose an issue to travelers who are more sensitive to nuts. We just wiped down our seats & tables and kept a safe distance.
Other Thoughts
It was an amazing trip, filled with art, culture, museums, history, and wonderful people. I loved every second!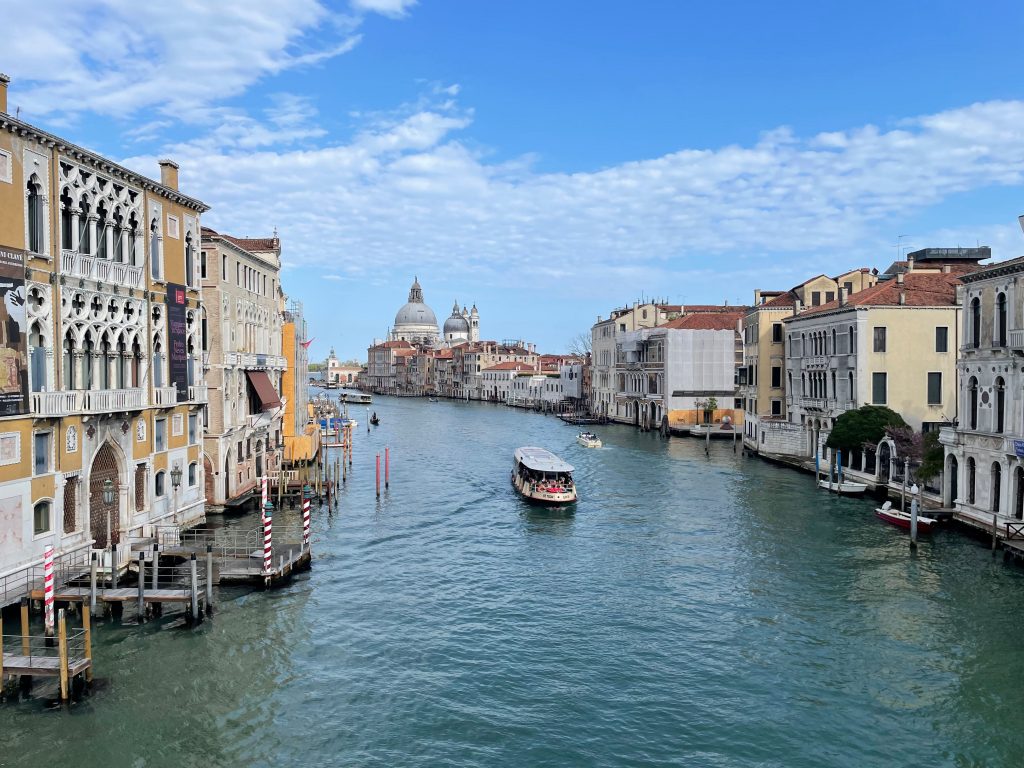 One note is that finding an American breakfast is very difficult in Italy. The common options were some kind of pastry (croissant, usually) or fresh fruit. While in more touristy areas there are restaurants that offer some sort of egg + toast combination, most cafés don't. Interestingly, almond croissants are not popular in Italy. Pistachio ones make an appearance every once in a while. I kept to cream-filled croissants, fresh fruit, yogurt, and delicious cappuccinos.
Speaking of coffee, it was very unusual to find a café that served coffee with anything but normal milk. I don't have a dairy allergy, but the "alternative" milk fad has not really reached Italy yet. I love a good oat milk latte, but I only went to one café that had any alternative milks on offer.
But overall, definitely a trip to remember! I'd highly recommend visiting the country. It's gorgeous, filled with kind people, and so much history.
---
If you want to read more about international travel, eating out, and other previous experiences, check out: