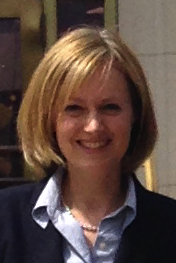 Hello Mary. It's wonderful to interview you today. Can you please tell us how you became involved in disability law, especially as it relates to food allergies and anaphylaxis?
I've been a disability rights lawyer for almost two decades. I started my career at the National Association of the Deaf doing disability discrimination litigation. When my own child was diagnosed with food allergies and subsequently turned away from a summer camp because of his allergies, my worlds collided. I found myself in the uniquely familiar position of advocating for inclusion but this time I was advocating for my son. I realized that if the child of a disability rights lawyer was denied access because of food allergies, there was work to be done.
What food allergies does your family manage?
I have three boys and only my youngest has food allergies – peanuts, tree nuts and shellfish.
What lawsuit(s) have you litigated that pertain to food allergies and anaphylaxis?
Stein & Vargas, LLP has a special interest in pursuing litigation that will create safe and equal access for people with food allergies. We've litigated a number of cases throughout the United States on behalf of people with food allergies who have experienced discrimination whether it be in employment, education, or access to programs and services. Among the complaints we have pending now are a complaint against Young Shakespeare Players East in which the United States Department of Justice has concluded that Young Shakespeare Players East discriminated against my 11 year old client on the basis of his food allergies and retaliated against my 13 year old client for advocating for her friend's rights. We are also co-counseling on a case with Laurel Francoeur against Panera on behalf of a child who had an anaphylactic reaction after being served a grilled cheese sandwich that contained peanut butter despite notice that the sandwich was for a child with a peanut allergy.
From your experience as an attorney, is there anything that a food allergy family should be aware of or take action on to ensure the safety and inclusion of their child in school? 
The most important aspect of safety and inclusion at school for food allergic kids is the development of a strong and positive relationship between the school and the parents. The focus cannot be on highlighting where plans failed, but on building long term trust and commitment. Even the most knowledgeable and well-meaning schools will fall down sometimes.
You are a Co-Founder of  Allergy Law Project. How did that come into being?
Allergy Law Project was the brainchild of Laurel Francoeur who approached Homa Woodrum and I two years ago about the need for reliable legal information in the food allergy community. There is incredible power when parents of food allergic kids put their brains together for the good of the community.
I love the blog post called "A Seat at the Table – Bringing Allergy Friendly Food to Restaurants". You said that's the question you are asked the most. What can a family do, in the moment, if a restaurant forbids them to bring in outside food? Is it necessary to bring along the state law to reference or is there some other statement that can be used to allow outside food?
Generally, families can ask calmly and respectfully to speak with the manager. Explain to the manager that your party is looking forward to enjoying the food that the restaurant offers but your child cannot safely eat the food. If after calmly talking this through and explaining why it is necessary for your child to bring safe food in order for the rest of the dining part to eat at the restaurant the manager still refuses, you may need to go higher up the chain. You might send a politely worded letter to the restaurant owner to educate them about food allergies.
Many food allergy families are concerned about Donald Trump's comments about "streamlining" the Department of Education and curbing the role of the Office of Civil Rights. What can food allergy families do to protect their child and do you think that is likely to occur?
I have grave concerns about the impact of the incoming administration on many aspects of the work we do. The Office of Civil Rights within the Department of Education, the Office of Civil Rights within the Department of Health and Human Services, and the Disability Rights Section all have a critical role in ensuring compliance with our federal rights. Significant cuts in staffing could jeopardize the ability of these agencies to safeguard rights and changes in philosophy could undermine enforcement actions throughout the United States. There is so much at risk and already resources are stretched tightly. I'm also concerned about the potential rollback of food safety regulations that has been threatened. My hope is that the allergy community has the potential to speak loudly and in concert to defend important rights.
If someone reading this feels they need legal advice pertaining to a disability law question, how can they contact you? Stein & Vargas, LLP's website is www.steinvargas.com. Folks are welcome to contact me with questions through the website.
Thank you very much Mary!
Ms. Vargas is committed to ensuring full and equal access for all individuals. She has litigated cases pursuant to the Americans with Disabilities Act and the Rehabilitation Act throughout the United States in federal and state courts.
Ms. Vargas also represents women who are denied access to reproductive care and coverage. She has successfully obtained full coverage of late term abortion claims through insurance appeals. She also speaks nationally on issues including women in law, movement building, discrimination, pain, food allergies and anaphylaxis, and reproductive rights. Ms. Vargas is a co-founder of and blogger for the Allergy Law Project.
Prior to joining Stein & Vargas, LLP, Ms. Vargas was a staff attorney with the National Association of the Deaf.  Ms. Vargas was a 1998 Skadden Fellow and a 1994 Truman Scholar. Ms. Vargas was the 2010 recipient of the Advocacy for People with Pain Award from the American Academy of Pain Management. She wrote for the American Bar Association, Mental and Physical Disability Law Reporter.
Ms. Vargas obtained a B.S. in deaf education from the College of New Jersey, and a J.D. from the University of Connecticut, School of Law. While in law school, she was appointed to the Client Advocacy Board and served as student director of the Yale Law School, Advocacy for Persons with Disabilities Clinic.
Ms. Vargas is a member of the bars in Connecticut and Maryland.  She associates with local counsel around the country in bringing cases of special importance to individuals with disabilities.