Hello Dean & Eileen! I'm thrilled to be able to interview you today about your company, Allergy Superheroes. I love the empowerment that comes for kids with food allergies being superheroes. 
Eileen: Thanks Nicole! We love focusing on the positive too. There's no better analogy for food allergies than kryptonite. If Superman can have a weakness and still save the day, then our kids can too!
Please tell us how your company came into being.
Dean: When our boys were diagnosed with food allergies, it wasn't really a life-altering experience like it is for most new families since Eileen has a lifelong experience with it. But when they started school we became acutely aware that the rest of the world doesn't really get it yet. When we realized the kryptonite analogy, we combined our love of superheroes with that positive message to help get the idea of food allergies across and spread awareness.
I especially loved the teal leaf bags you had available for Halloween. What are your highest selling products?
E: Our teal pumpkin products did really well this past October, especially the candy buckets. In general our slap bra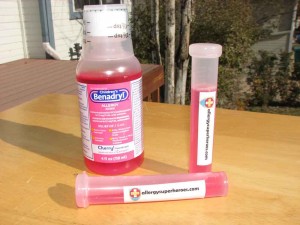 celets do really well (and we're about to release them in more allergens) and everybody loves our single-dose liquid medicine bottles.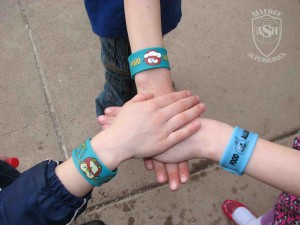 Born out of my desire not to carry a full (not to mention heavy) bottle of liquid Benadryl with me all the time, those have really made my purse lighter and everybody else loves them too. But my personal favorite is our "I have a kid with a food allergy, you bet I'm a SUPERMOM" travel mug.
D: I sometimes wear the slap bracelets even though I don't have any food allergies. It helps to spread awareness and they're a lot of fun!
What food allergies do your two boys have? 
E: Our older son is allergic to egg and peanut, though he is finally starting to outgrow the egg and he's been handling it in baked form for a little more than a year. Our younger son is just peanut. Both of them have a big question mark around some of the tree nuts though, because introducing those has been problematic because of my allergy to them.
How do they feel about being a part of your company?
E: They love it! Modeling usually requires bribery of chocolate to get everyone through it, but they love being part of this and they know it's something special. We have overflowing file folders of the artwork each of them has drawn of our characters.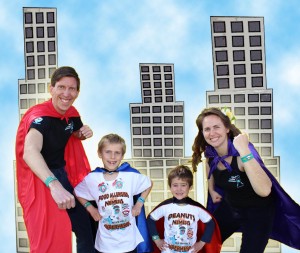 D: Our boys are really into superheroes, so they love the idea behind the business and our characters. They wear their food allergy superhero shirts a lot and love helping to come up with new ideas on how to spread awareness. It really is a family venture!
Can you share a story of superpower one of them has enjoyed in life?
D: Our oldest is very active and outgoing. He has no issues with talking about his food allergies and spreading awareness about them. When a birthday party comes up, his friends know about his allergies so they make sure their parents talk to us so that their birthday treats will include him! He also loves to draw and we can see him doing a lot of the artwork side of the business when he gets older!
Eileen, you have had food allergies all your life. What was it like growing up in the 1980's with food allergies? 
E: Different, very different. There are times that I look back and just shake my head. I actually wrote a blog post a few months ago about how my "food allergy mom" life is easier than my mother's was, where I highlight a bunch of resources and improvements. This could really be the subject for a novella since so much has changed, but some major points:
It was harder to get diagnosed and get proper medication–I had an anaphylactic reaction to eggs at 12 months, but the only prescription I received upon leaving the ER was for Benadryl (it wasn't OTC), and we weren't sent to an allergist or even told to avoid eggs (my mom avoided them anyway.) I had some smaller reactions and then another anaphylactic one to nuts in the months before my 4th birthday, and then I was finally prescribed epinephrine, but I wasn't tested for allergies until I was 6. (By then there was no trace of an egg allergy.) And that was the only testing I had done as a child.
Most people hadn't heard of food allergies. I did a lot of explaining and so did my parents, but it was rare to encounter anyone who had previously heard of allergies or could accommodate them.
There weren't very many of us. I was unique in my dietary struggles, though I don't remember feeling down about it very often. I was in middle school before I finally met one other kid who had food allergies. (I think my mom secretly hoped we'd become best friends and look out for each other, but he and I never hit it off.)
Epinephrine was carried in single doses and was basically seen as a last resort. We weren't told to use it unless things got really bad. The whole concept of always having two doses and using epi "first and fast" is actually a pretty new concept (and one I'll confess that I struggled with. Benadryl got me through so much in my youth, so the thought of using epi preemptively and then sitting around bored in the ER for 4+ hours was something I did not get behind for a long time.)
We didn't have the internet. As a result, news of food allergy deaths seldom reached our ears so our perception of the risk was less. That may have put us at greater risk, but probably also reduced our anxiety level. But on the other hand, we didn't have many resources available to us, either. My mom used to receive a monthly newsletter from a now-defunct allergy and asthma organization, and most of the articles were on asthma. If she'd had access to the community we have today, I'm sure our lives would have been a lot different–certainly a lot less isolated.
D: Nowadays, awareness is growing, but there is so much more work to be done. It's hard to fathom going through that with virtually no awareness or support at all. The kids and parents of that time period and earlier are real superheroes in my book!
How did you manage to stay safe in school, dating, eating out without the awareness that's available today?
E: I'm going to start by saying that I was pretty lucky to "only" be allergic to tree nuts. If I'd been allergic to, say, dairy or wheat, or if egg had stayed with me, I'm sure things would've been a lot harder, because I would've encountered them a lot more. Tree nuts aren't as widely used, so my life was not as restrictive as it could have been.
My mom considered it a victory to actually get my EpiPen into the nurse's office, though she has repeatedly expressed doubt that anyone there would've known how and when to use it. We put a lot less emphasis on inclusion back then and mainly focused on "do what you need to do to stay safe." The world isn't nut free, and my mom wanted to make sure I understood that I couldn't always participate in shared treats. When foods came into the classroom I would ask questions, and sometimes I would just do without. I don't think I ever had a backup stash at school. I don't think that even occurred to my parents.
I think I started self-carrying around 5th grade, which I'm pretty sure made my parents feel safer. I had a fanny pack that year, then somewhere along the line I just switched to carrying it in my backpack. I don't have very distinct memories of any of that, it just sort of happened when it happened. I got a fairly good handle on what I shouldn't eat by then, and I can't recall any school-related reactions beyond early elementary school.
Telling boyfriends about my allergy was definitely a priority. We had a "no kiss" rule growing up if my parents ate something I was allergic to, so that transferred over to dating. Generally, I would tell guys that they shouldn't eat nuts while we were out. I wasn't forward enough to add "or you can't kiss me," at least not early on, but no one ever challenged my rule, either. I can't say I put any thought into what they'd eaten previously–but then, the first supposed "peanut butter kiss of death" didn't happen until I was in my 20s, so that was another danger that I simply wasn't aware of, nor did I fall victim to it. But I didn't date a whole lot, either.
(Dean here, she was worth not eating any tree-nuts before or during our dates for that goodnight kiss!)
Something else that is very different today is awareness of cross contamination. Some might argue that cross contamination doesn't have much awareness, but when I was little there was none–and I mean none. We were never warned against it by our doctors, foods never labeled for it, and the general principle we lived by was "don't eat anything with nuts actually in it." We knew you couldn't pick nuts out, but even the concept that you couldn't use the same knife was something we learned (painfully) the hard way. There were a handful of reactions from my childhood that we traced to contamination as we struggled to figure out the concept, and some other "mystery" reactions that must have been from CC.
Kissing, cross contact–basically, these things had to happen a few times before doctors, patients, the news, and lawmakers figured out the pattern and started doing something about them.
So when it came to restaurants, we did a lot of educating. It wasn't uncommon for me (or my parents) to explain what food allergies were to restaurant staff–and after we learned about shared knives and foods touching, we told them not to do that, either. Whether any of them actually took precautions in the back is debatable–but on the other had we were pioneers, laying the foundation policies that restaurants are adopting today. It's a wonder that we ate out at all–but without the internet shoving food allergy deaths in our faces every few months, the danger of that happening also seemed farther away. At times we coasted through on ignorance and luck.
Is there anything else you'd like to share?
E: It's been great getting to be part of this community since we started up a few years ago–it's such a welcoming and positive space. I also blog at www.allergysuperheroesblog.com and I started that up because I wanted to share my perspective of dealing with two generations of food allergies–my outlook is different since I've been through it myself, but caring for your allergic child is definitely different than managing your own allergies, too. Most of the time we don't see the after effects of the things we've done, but it's really all about helping people. On the rare instance that we get feedback that we've helped someone, or given good advice, or made someone feel more confident about the future, that's when we know that we're doing the right thing. We love all of the connections we've made over the past few years!
D: It really is the most fantastic community to be a part of! We've met a lot of amazing people and we're continually inspired by them. And when we get to meet them in person at conferences like FABlogCon, it truly is a SUPER experience.
Thanks so much!
Thank you Nicole, we've loved chatting with you!