Make sure to read ALL items on the ingredient label. Read the package EVERY TIME you buy the product.
Now that you have discovered your child has severe food allergies, you will enjoy the two hours it takes to get through the grocery store reading labels! Regular super markets are as likely to have safe foods as natural food markets.  Many 'organic' foods, or health foods are made with seeds and nuts, or they cross-contaminate with these in the production process, so be cautious if your child is allergic to peanuts or tree nuts!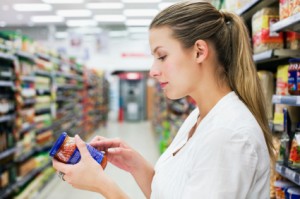 We've found the disclaimer "may contain nuts" or "processed on shared equipment with nuts" on the sides of labels, or written in extremely small writing. We also call food manufacturers if they have a peanut cookie product, and we want to purchase a chocolate cookie, for example.
Currently, manufacturers aren't required to list cross-contamination potential, however if you call their customer service you're more likely to get accurate information. Food manufacturers that are including "may contain" statements on a label or "processed in a plant with peanuts" are doing so completely voluntarily. These are not required by FALCPA – the Food Allergen Labeling Consumer Protection Act.
For this reason, we've found certain products and certain food manufacturers that we stick with. Anything new that ventures into our house is sure to be noticed by our son. He will immediately question if the product is safe and ask if I've called the company!
Reading Labels for Peanut Allergies
AVOID:
Anything that says NUTS
Peanut Oil: Some can tolerate it and others cannot. The cold pressed form is usually NOT tolerated.
Peanut flour
Anything you can't read the ingredients on- Chinese dishes, egg rolls, candy bars, pastries, etc.
Chili and Frosting (used for thickening)
Hydrolyzed Plant/Vegetable Protein
Lupine Flower
Plain M&M's®
Jelly Belly's
Reading Labels for Tree Nut Allergies
AVOID:
All Tree Nuts. They are all processed on the same import belt and can cause cross contamination.
Almonds, Cashews, Pecans, and Walnuts
Anything that says NUTS
Cashew Butter, Oils, or Pastes
NOTE:
In 2006, the FDA classified coconut as a nut; however the Food Allergy & Anaphylaxis Network (FAAN) does not recognize it as such. If coconut is in a product, the product may state that it contains tree nuts. This is confusing, especially if your child can tolerate coconut but not other tree nuts!
Reading Labels for Dairy Allergies
AVOID:
Most Cheeses, Butter, Creams, and Yogurt
Lactose Free Milks. They are made for lactose-intolerant individuals, not milk allergic.
Casein
Whey
Reading Labels for Egg Allergies
AVOID:
Most Baked Goods (Cakes, Pastries, Cookies)
Mayonnaise
Egg Substitues (sometimes use egg whites)
Any product with the "Ov" prefix for an ingredient (ex. Ovalbumin
Reading Labels for Soy Allergies
AVOID:
Anything that has 'Soy' or 'Lecithin'. This could include soybeans, soy protein, soy sauce, and soybeans. There is now soy nut butter available in my local grocery store – not a good choice for a soy allergic child!
Soy Oil. Some can tolerate it and others can't.
Soy protein may be present in an ingredient such as vegetable protein or natural flavoring.
Reading Labels for Wheat Allergies
AVOID:
Wheat, Spelt, Rye, Barley (in flours or other combinations)
Gluten
Distilled Vinegar
Beer
Whiskey
Malt
Modified Food Starch
Dextrin
NOTE:
Some celiacs can tolerate oats, and others cannot. Usually rice and corn are okay for the wheat allergic or intolerant child.
Reading Labels for Fish & Shellfish Allergies
AVOID:
Shelled Fish: Crab, Lobster, Shrimp, Snails, etc.
Mollusks: Clams and Oysters
Other Food Items that Contain Fish:

Worcestershire Sauce (Anchovies)
Marinara Sauce can contain Anchovies
Dressings can contain Anchovies
Hot Dogs, Pizza Toppings, Bologna, and Ham MAY contain Surimi
SOME vitamins, soaop, lipstick, paint, insect spray, and waterproofing contain Menhaden
NOTE:
if your child is allergic to only shellfish or fish, the cross contamination potential in a grocery's display case would make both unsafe.