What a great name for a new book by Dr. Ruchi Gupta! And the book contents are also wonderful, and well worth reading. The subtitle to the book is "Identify, Prevent, and Treat Food Allergies, Intolerances, and Sensitivities," and it is these extra topics that make the book so enjoyable to read.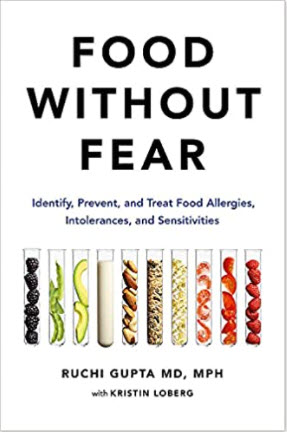 In case you haven't heard of Dr. Gupta, here is a snippet from the bio on her website for the book: "Ruchi Gupta, MD, MPH, is a Professor of Pediatrics and Medicine at Northwestern University Feinberg School of Medicine and a Clinical Attending at Ann & Robert H. Lurie Children's Hospital of Chicago. Dr. Gupta has more than 17 years of experience as a board-certified pediatrician and health researcher and currently serves as the founding director of the Center for Food Allergy & Asthma Research (CFAAR). She is world-renowned for her groundbreaking research in the areas of food allergy and asthma epidemiology, most notably for her research on the prevalence of pediatric and adult food allergy in the United States."
It was Dr. Gupta's research in 2019 that found that over 10% of adults in the USA are estimated to have a food allergy. It was also Dr. Gupta whose research estimated that 8% of children in the USA have a food allergy, and to make things even more personal for her, she is a food allergy mom.
I have been in the food allergy community for over 20 years helping my son to manage his life threatening allergies. I can't remember a book I've read on the topic of food allergies that also includes: FODMAPs, FPIES, EoE, OAS, GERD, Autoimmune disorders, Alpha-Gal, and Chemical Sensitivities. Some of these topics are taboo in the medical world, but Dr. Gupta tackles all of them, and she gives information that I haven't read before anywhere.
She also goes into the Microbiome and its affect on the immune system – one of my favorite topics! She delves into the question of whether we Moms are to blame for our children having food allergies, and lets us all off the hook. Thank goodness!
There is great information about the Western diet and its impact on inflammation in our body and the gut-brain axis. Additionally, she discusses the nervous system and the vagus nerve, which is such a welcome subject when discussing the immune system, and is only recently being discussed by Western medicine doctors.
The only topic that I wish was discussed in the book was Mast Cell Activation Syndrome (MCAS). So many people mistake the symptoms of MCAS with food allergies, and there is a definite difference. You can read more about MCAS on my website here.
Even if you've been in the food allergy community for years, I think you'll find this book educational, and you will likely learn something new!
Note: I was not paid in any way to write this review of the book. As with any book featured on my website, I personally read the book and decide whether it fits my AllergicChild.com audience and also meets the standards of truth necessary for any family managing food allergies.