Today in Colorado Springs, we've been having horrifically high winds. So high, in fact, that some residents in our city have been asked to "Shelter in Place".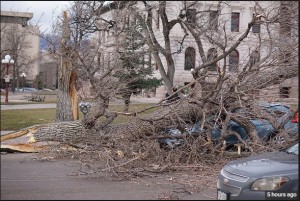 Several years ago, I wrote about Emergency Planning for Food Allergies & Asthma, but I geared the blog post more toward having to leave your home in an emergency.
Shelter in Place requires that you remain in your home or the location where you currently are situated. This can be very problematic if you haven't stocked up on your child's safe foods or medications at home; or if you are stuck in a store without an EpiPen!
Here are some of the ways that we have ensured that we are always prepared should a Shelter in Place be activated for our home, or activated when we have left our house:
Discuss with your family every individual's needs, and have a box, envelope or carrying case for all items listed below.
Always have two unexpired epinephrine autoinjectors on hand. (This means that autoinjectors are always carried, even if eating isn't planned). At home, we have at least two more as a backup, plus multiple sets of expired EpiPens, just in case!
Have a working nebulizer, along with unexpired medications, and clean apparatus tubing and mouthpieces. This is difficult to keep on your person when leaving your house, so we had an inhaler and spacer with us at all times, when our son was younger and his asthma was more active.
Have extra asthma medications and spacers on hand.
Any other medications that your child may need – Benadryl, Zyrtec, etc. – need to be on hand and within expiration dates. We always keep at least a 30 day supply of all medications.
Keep safe foods in large quantities on hand. Running down to the last slice of safe bread, or allergen-free milk, before re-ordering will make for grumpy children. And it will inevitably occur when you can't run out to the store, or when Amazon is unable to deliver!
Now is not the time to try out new foods. Sticking with standard favorites, and products that you know are safe will mitigate any cross contact with an allergen.
Always bring a cell phone with you when you leave your home. If you end up sheltered in place, you can contact other family members to let them know where you are.
When our son was younger, we never left the house without safe snacks tucked into my purse.
Many customers in Colorado Springs lost power for hours of the day today. This is a VERY unusual situation in our city; however, if this occurs frequently in your location, be prepared! Obtain a battery operated nebulizer, or if you have to, have a generator on hand.
The key with food allergies and asthma is to ALWAYS be prepared – at home or away from home. Hopefully, you will never experience a shelter in place, but if you plan beforehand, the experience can be a mild inconvenience instead of a tragedy.