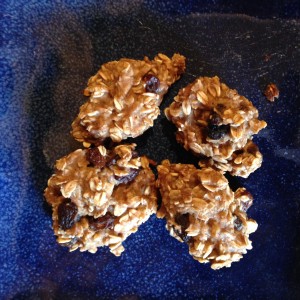 These cookies are wonderfully tasty and healthy for the entire family!
Here's how to make them:
3 mashed bananas (ripe)
1/3 cup apple sauce
2 cups oats (I use the old fashioned kind)
1/4 cup safe milk (I've used regular milk and almond milk – any kind will be great!)
1/2 cup raisins
1 tsp vanilla
1 tsp cinnamon
Mix all ingredients together with a beater. Drop onto cookie sheet in spoonful size. They don't expand since there's no flour!
Bake at 350 for 15-20 minutes
That's it! Enjoy.