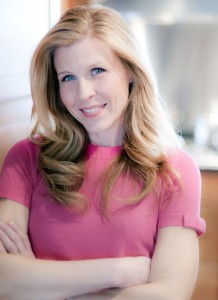 Kelly Rudnicki is the author of the The Food Allergy Mama's Easy, Fast Family Meals, The Food Allergy Mama's Baking Book,  and Vegan Baking Classics. She's also the creator of the award-winning blog Food Allergy Mama. Her blog has twice been named Babble's Top Food Blog and ranked #6 in Healthiest Eating. She has appeared on The Martha Stewart Show, Windy City Live, WGN News, ABC News as well as in numerous publications including The Wall Street Journal, USA Today, Chicago Tribune, Chicago Sun Times, Parents, Parenting, Shape, Family Fun, Woman's Day, and others.
As the mother of five young children, one of whom with severe food allergies, Kelly also spends much of her free time advocating for food allergy awareness and improving school nutrition. She volunteers and speaks on behalf of food allergy organizations such as FARE, and helped write the food allergy guidelines for the Chefs Move to Schools Chicago, an initiative launched by First Lady Michelle Obama's Go for the Gold campaign to promote higher standards for food, fitness and nutrition education. Kelly also serves as a Parent Ambassador for Healthy Child, Healthy World.
She lives in Southern California with her husband and five children.
Kelly, can you please tell us what food allergies you manage in your children and how you found out about them? My 10-year-old son John was diagnosed at age one with severe food allergies to dairy, eggs, peanuts, tree nuts, peas and legumes. The only allergy he outgrew was egg at age three after a successful food challenge confirmation. We found out about John's allergy like many other parents of food allergic children, a scary reaction. John was nearly a year old and ate one of his first finger foods, a Gerber Veggie cheese wheel which actually contains very little veggies but is coated in cheese powder. He immediately broke out into hives on his face, started coughing and then vomiting. It was a horrifying experience.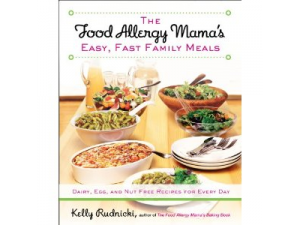 What was your inspiration in writing your newest cookbook, "The Food Allergy Mama's Easy Fast Family Meals"? After the success of my first book The Food Allergy Mama's Baking Book, many of my blog readers routinely wrote me asking for my favorite family meals that are fast and allergy-friendly. As a busy mom of five, they wanted to know how I get meals on the table day in and out. I realized that there was a real need to have a practical family meal cookbook that is no nonsense, easy to use and produces delicious recipes every time. The bonus of this book is that many non food allergy families love the book just as much!
What meal is your children's favorite? My family loves pizza night!
Are there any budding cooks in your family? As a mother of four boys I feel it is equally as important to teach them how to cook as much as my daughter. It's an important life skill that can easily be taught by mastering a few simple cooking techniques and recipes. Cooking is the epitome of inner creativity, and something that should be fun, approachable and not scary. When people say they don't know how to cook it is usually because they made a recipe that failed them, not the other way around. It's wonderful to teach our children to feed our bodies good food made from the heart. And in turn they will teach their own children the importance of family mealtime and cooking. The ripple effect is amazing.
With 5 kids, do you make safe meals that everyone can eat? Or do you 'short order cook' a safe meal and then a meal for everyone else? If I was a short order cook, I would lose my mind! It's hard enough as it is to cook one meal on a busy weeknight! I choose to make recipes that aren't fussy, complicated or require a ton of ingredients. They are crowd pleasers. However, one child absolutely dislikes the main dish I've made for dinner, oh well. They eat the sides and move on. Parents shouldn't feel obligated to make everything perfect for their children, it's really OK to serve one family meal and be done with it. If anything, it teaches children to "roll with it".
Since Mother's Day is this month, can you share with us any special celebrations that your family has for this occasion? I usually take the day to go for a run and reflect on being a mother and what it means to me. The day I became a mother I was forever changed. Having children forced me to get out of my comfort zone and challenge me to be the best person I could be. I wanted them to watch and learn from not only my successes but most importantly my mistakes. There is no greater reward in my life than my children. I also take the day to remember my own mother, who passed away 16 years ago. My heart broke the day she died, and I don't think you ever fully recover from the death of your mother. But you do learn, grown and become a mirror of what she was to you.
What can you share with us about sending in safe school lunches – anything wonderful and new for kids tired of the same old thing in their lunch bag? I recently discovered the greatest thing about making safe lunches your child will actually eat and enjoy…have them either help or make their own! I admit I stumbled upon this concept out of part desperation, part selfishness. One day I was exhausted, running in a million directions and literally too busy to spend the extra few minutes to make lunches for my four school aged children. My kids were lounging around waiting for me to take them to school and I had an A-ha moment….have THEM make their own lunches. I had rules; make a sandwich or something with protein, a veggie and a fruit. Cracker and snacks were optional. It was a true epiphany! The kids took ownership in their meals, and were proud to make lunches THEY liked. And it was fun for them to be creative in what they packed every day. I do check the end result to make sure there isn't just frosted flakes packed. But they've done a great job and I think they have really learned the value of making your own meals.
Thank you for including me!
Thank You Kelly and Happy Mother's Day!