Twenty years ago this month, I started AllergicChild.com. The Internet was still barely beyond the idea stage, and there were VERY few websites pertaining to food allergies.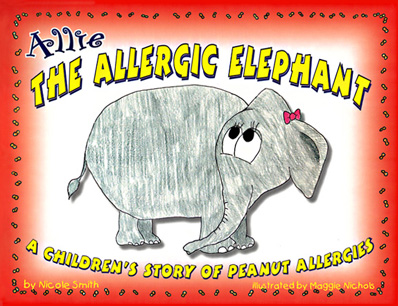 I had just written my book, "Allie the Allergic Elephant: A Children's Story of Peanut Allergies," which my husband and I had self-published. It was the first edition of the book, and several newspapers across the US and Canada had run an article about the book giving out our office telephone number as a way to buy it. I was getting phone calls from numerous families managing their child's peanut allergies wanting to make a purchase. Hence the need for a website to reach across the world, and to help with lowering the number of phone calls!
The website opened up a lot of communication with families trying to figure out how to send their child to school safely; how to go to worship services and how to explain food allergies to extended family members. I literally received hundreds of emails every week asking me every question you can imagine about how to manage their child's food allergies.
I answered every email I received. I knew that I had one of the few websites on the Internet that had information about food allergies, and people were always so thrilled to be able to reach a real person who would answer their questions. And many times, I had questions for them as to how they were managing issues that we had yet solved. It was a healthy exchange of ideas.
The website soon included pages detailing our experience of sending our son to preschool. He turned 4 years old the end of January in the year 2000, and we had several months worth of preschool stories to share. I continued to add pages to the website with other experiences as we tried to navigate life safely.
In December of 2005 I began to send out a monthly newsletter. Blogs had yet come into being, and this was the best way to share food allergy news with our followers. My son was almost 10 years old by that time, and he had his own column in the newsletter called "Morgan's Corner" where he answered questions. Readers would send in inquiries about how Morgan dealt with the emotional aspects of food allergies, such as bullying or being left out of activities. The American with Disabilities Act had yet to be amended to include eating as a major life activity, and sadly schools were not as aware of accommodations to keep children with food allergies involved in all of a classroom's curriculum.
We had a lot of information on our website about how to read a label to ensure your child was safely avoiding their allergen since labels had no laws governing what had to be listed. In January of 2006, the Food Allergen Labeling and Consumer Protection Act (FALCPA) became effective. This changed our family's ability to be able to read an ingredient label and know what was in the food. Labels still had a long way to go to become as reliable as they are today, but it was a great starting point!
The ADA Amendments Act of 2008 became effective January 1, 2009. Morgan had been attending a school that was very aware of 504 Plans and had already placed him on one at the start of kindergarten in the fall of 2001. This Act helped many other students across the US have access to accommodations where school districts weren't as educated about food allergies.
Facebook seemed like a good place for us to extend our reach, and in 2009 we started our AllergicChild group on the platform. It has grown organically up to over 13,000 followers today.
In 2011, we started the blog that I continue to this day. Morgan has added many of his own experiences to the blog including middle and high school trips, preparing and going to college, studying abroad in college, and being in the work world. Raising a good self-advocate was my primary purpose as Mom, and that took all of his 18 years of living at home!
We added a category of Eosinophils & Mast Cells to the blog in 2013 after both my daughter and I got diagnoses. We found there is a big overlap in families who have food allergies, to manage these issues and even celiac disease too. And we continue to share our experience and our hope for a cure.
Thank you for coming along for the ride these past 20 years! We couldn't have done it without your support, emails and readership. Hopefully we'll have a cure for food allergies so we won't need to be here in another 20!!