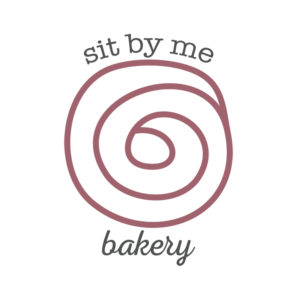 I'd like to introduce you to Steve & Angie of Sit By Me Bakery, a Branson, Missouri based company that creates wonderful cakes, pies, bundtlettes, cupcakes and cinnamon rolls that are baked without wheat, dairy, egg, soy, peanuts, tree nuts, fish, shellfish, seeds, potato, corn, and yeast! And they deliver!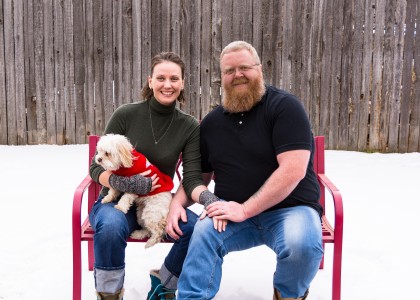 For those of you who have attended the Food Allergy Bloggers Conference in Denver, you got to taste these wonderful treats! Not only are they delicious, they are also beautiful!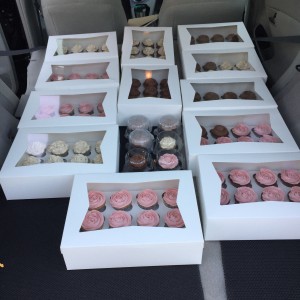 Hello Steve & Angie! Could you please share with us what food allergies your family manages?
Hi! Thank you for interviewing us! I (Angie) am allergic to milk, tree nuts, lettuce, and yeast. Steve is allergic to eggs, soy, and corn, and lives with Celiac Disease. Our oldest son is allergic to tree nuts. Our youngest son is allergic to tree nuts, soy, shellfish, and a long list of seeds.
How did Sit By Me Bakering come into being?
I write a blog about mental health and chronic pain issues, and Steve is an environmental scientist.
A year ago while at Enchanted Grounds, a coffee shop that sells board games, and hosts gaming meet-ups, I turned to Steve and asked if he thought we could open a similar establishment, geared toward the food allergy community. He said yes! That's how Sit By Me Bakery was born.
Are your children part of the baking process? What do they think about this wonderful business? 
While they do cook and bake, our sons do not help with business baking. They are, however, willing to be taste-testers, which seems like a great job, but actually requires a good measure of courage! They are excited about our business and we're grateful for their interest and encouragement.
How did you find yummy recipes for cinnamon rolls, cakes, bundtlettes, pies and cupcakes without the top 8 plus without yeast, corn, seeds, potato and corn?
We started by converting old, basic recipes from the Betty Crocker Cookbook, but it didn't go well. We read a lot, studied ratios, and began building recipes from scratch. Our current bakes are the culmination of five years, countless tears, and many, MANY experiments in the trash! Remember those taste-testers I mentioned? You can thank them for our delicious bakes! They worked very hard!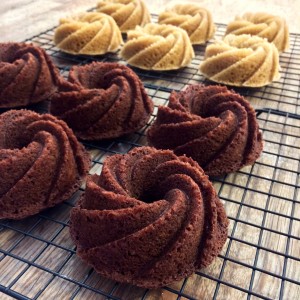 What is your best selling item?
When we first began, people mainly purchased cupcakes, but now cinnamon rolls are the clear winner! We often hear, "it's been years since I had a cinnamon roll!" or even more touching, "my child has never had a cinnamon roll, and now they can!"
Do you plan on having a store front in the future?
Our vision is a commercial space where we serve desserts and coffee, and host meet-ups for food allergy individuals and families. It would also be great to meet the needs of more people by shipping bakes and getting our mixes onto market shelves.
Is there anything else you'd like to share? 
Thank You to Colorado's food allergy, Celiac Disease, and EoE community! We look forward to growing into a bakery that not only delivers your birthday cakes, but also invites you into a safe space for a slice of pie and a coffee.
Thank you Steve & Angie!
Nicole's Note: I ordered a cake from Sit By Me Bakery for my son's 21st Birthday to be delivered to his apartment near the University of Denver  (when the company was still located in Denver) to surprise him. I've always had to bake cakes for him because of the cross contact issues in all the bakeries near our home in Colorado Springs.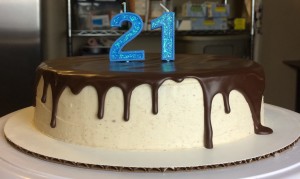 My son said the cake was absolutely delicious – it's the chocolate cake with vanilla frosting and ganache on the top – and a wonderful way to celebrate his birthday with his 3 roommates!
*** UPDATE ***
Angie and Steve experienced a sudden change of circumstances and subsequently moved their family and business back to their previous home of Branson, Missouri in January 2018. Their storefront bakery will open in Historic Downtown Branson in May 2018, and they look forward to serving both the local community and tourists. They visit Denver frequently, and have plans to make deliveries a part of those trips. In addition, some Sit By Me Bakery treats will soon be available for mail order! Angie and Steve thank the food allergy community for their continued support.
New Address:
Sit By Me Bakery
200 N Commercial St, #210 Branson, MO 65616