Unlike traveling to San Francisco, which I wrote about here, Mexico City had its challenges. I was attending a conference in Mexico City called the Youth Congress for Sustainable Americas, which is organized by a non-profit organization based in Denver. I attended with some other students from the University of Denver, including Darylann who was the Vice President of the Student Body with me as President.
We booked flights on United: it was either United or American Airlines and United's policy for food allergies is much friendlier. They don't serve any packaged nuts and I've flown United before. I can say I was apprehensive since United isn't like Southwest, but I actually had zero problems on the flights to and from Mexico City. I had to fly through Houston, so it was a long period of travel each way, but I didn't have much problem.
This was also my first international trip since going abroad in Fall of 2016, so I was very excited! I brushed up on some key words in Spanish and tried to be as best prepared as possible. We arrived late on Thursday, April 5th  and immediately took a taxi to our hotel near the airport. We immediately went to bed. The conference didn't start until the evening on the Friday the 6th, so we spent the day around the city, mainly in Coyoacán (a borough of the city). We saw the Frida Kahlo Museum and some parts of the city. It was great!
We then went to the conference, beginning with a dinner at a venue in the city (Hotel Carlota)! It was pretty hip venue. I must write and give huge thanks to the conference organizer, Robin. She made sure absolutely everything was safe. She's also fluent in Spanish, so she could make sure with the service staff that all of it was safe. She was also managing other food restrictions like vegetarian, so she was super cognizant of it all. We had a delicious and safe dinner (I overheard the waiters talking about the "especial" meal for me, so I knew Robin had taken care of everything).
The next day, the conference was in El Club de Banqueros, an event venue in the middle of the city. It was gorgeous! The conference had participants from across the Americas, so we had live translation between English, Spanish, and Portuguese. Mostly, the translation was for us Americans and Canadians who didn't know Spanish – although most of the folks from Spanish-speaking countries had to use the earpieces for our Portuguese speakers! Robin was coordinating all of the food at the venue. She worked with the staff (in Spanish) to make sure I had safe meals. Truly, she was just tremendous.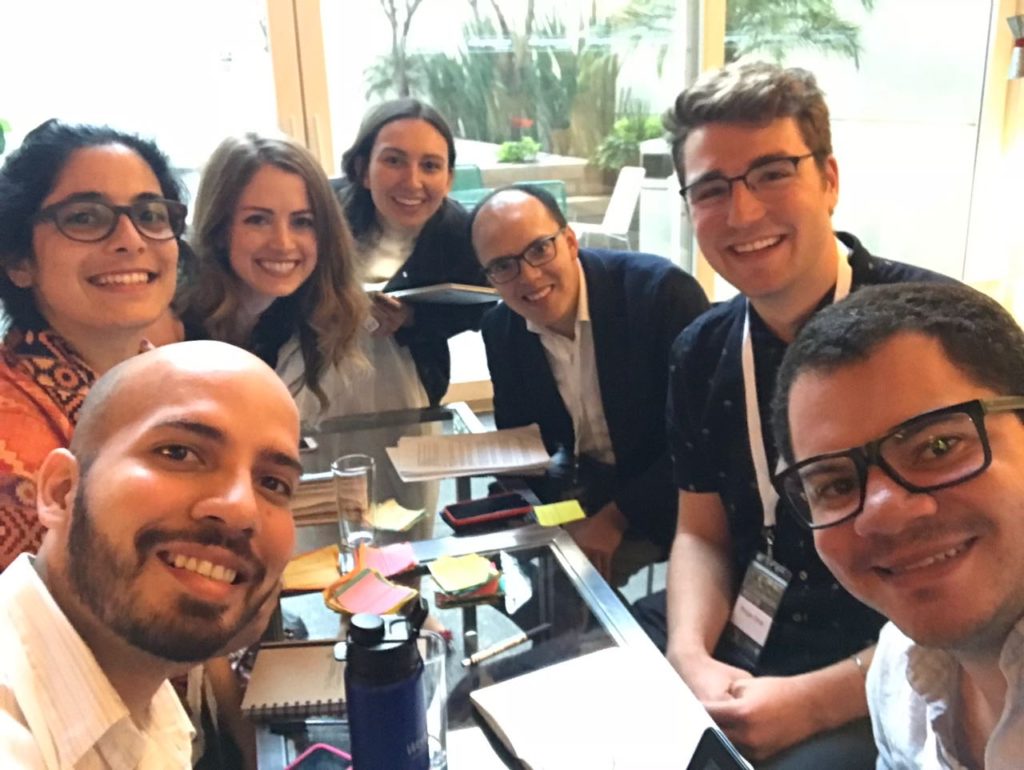 Some other conference attendees and myself! Folks from the US, Venezuela, Mexico, and more!
The day was long, but we had an exhilarating dinner that night at a private art venue in the city with a local food crew. They were making tacos that changed my life. They were using all fresh, local ingredients and hand-pressing and heating the tortillas on-site. They made a variety of fillings. Robin helped check which of the fillings were safe with the food crew (again, Robin to the rescue!). I was able to enjoy some incredibly delicious tacos with fresh ingredients.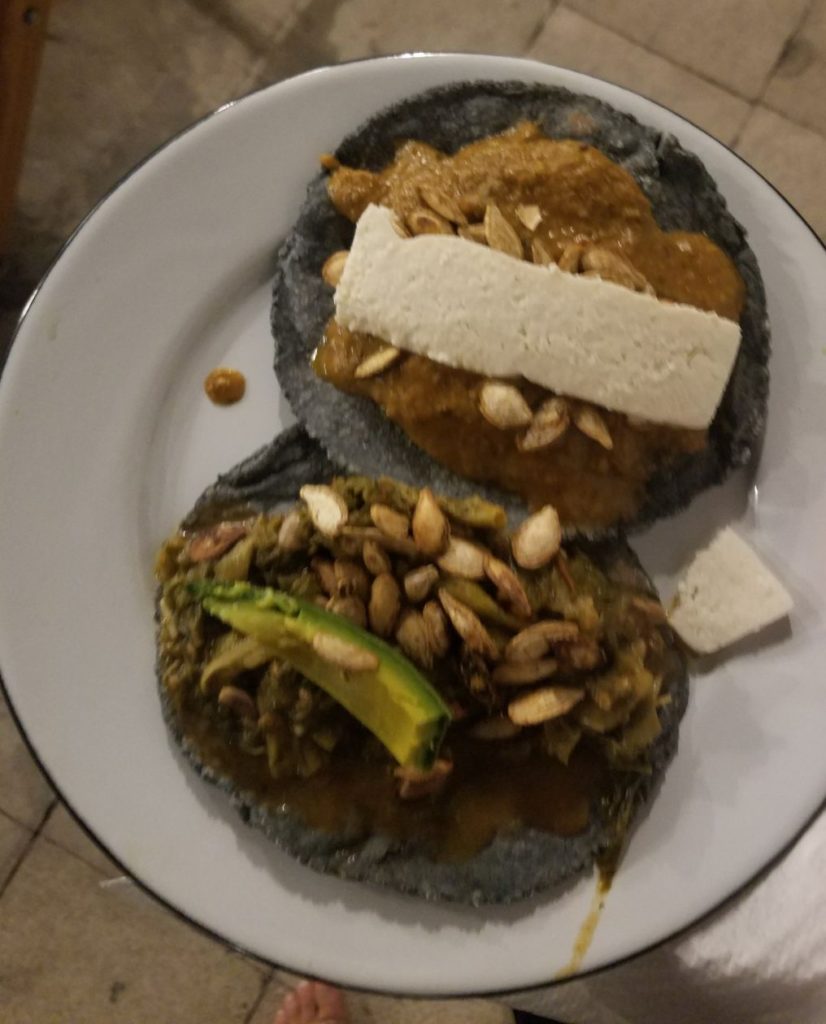 These were insanely good.
We had one last day of the conference on Sunday, for the morning. After that, five of us from Denver (two staff from the non-profit and three of us from DU) went and adventured around Mexico City for the rest of the day. Darylann and I flew back together on Monday and resumed school!
Now with the sequence of events established, let's talk health challenges! First, the water. I was careful during the first 36 hours or so. Mexico City does not have great water and I knew that walking in to the weekend. I had bottled water and I knew not to just fill my refillable water bottle at any old water fountain. Then: the hotel we were staying at served (drip) coffee in the morning and while they said that the water they used was filtered, my stomach definitely disagreed. I threw up, recovered quickly, and continued on with the rest of my day. However, it wasn't a pleasant experience.
The venue we were at for the conference (El Club de Banqueros) actually filtered their water enough: they provided coffee throughout the day and my stomach agreed with that coffee. Lesson learned! I refused to get water or coffee from our hotel for the rest of our time in Mexico City. I exclusively bought bottled water and was much more conscientious about drinking water through the whole weekend.
The second real issue was the smog and pollution. Denver is a pretty clean city so my mild asthma is rarely triggered, even during the springtime season. I'm not consistent with an inhaled steroid (Pulmicort) to help moderate the asthma, especially during the winter, because my lungs are just fine during that time of the year. This was an agreement reached with my doctor, so please talk with your doctor about the best practices to help control asthma if you have it. Anyway, with the spring season only just starting in Denver, I hadn't really been on Pulmicort, but I brought it anyway, along with all of my other medications, just to have in case anything happened. I'm glad I did! The smog really activated some minor breathing problems the first day I was in Mexico City: essentially, it was just some tightness in the chest. I took Pulmicort regularly through the whole weekend and I didn't have any further issues (the problems dissipated).
Now, for the weirdest story of the trip! It was our last day and we were adventuring around the city. We went to the Palacio de Bellas Artes, a beautiful cultural center in the center of the city.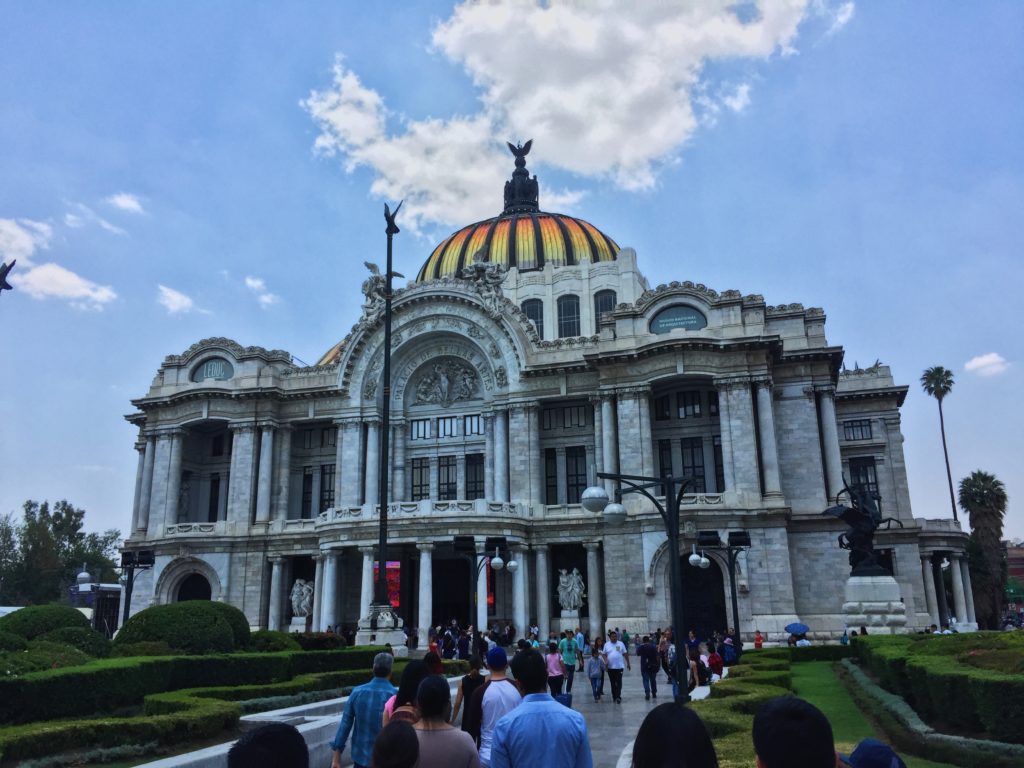 Palacio de Bellas Artes
There are gorgeous murals from artists and has some beautiful rotating galleries of contemporary art. Diego Rivera has a very famous mural installed at the Palacio – and after seeing the Frida Kahlo house, I definitely wanted to see some of his art! Everything was going fine for the first fifteen minutes: we dropped off our bags and began wandering around the gallery.
Slowly, my skin became red. It wasn't blotchy or full of hives either: it just gradually became redder in color. My eyes swelled up and my face turned a nice hue of red as well. My skin was not itchy at all, but my eyes definitely hurt. I had no idea what was going on!! My companions were all very concerned and pointed out my very red skin. I looked like a very sunburned American walking around with very red eyes. However, I had absolutely zero breathing problems and nothing else was happening besides my skin and eyes being very red. Nothing even itched! Such a weird, weird thing.
Anyway, I was wondering if it was something I had eaten for lunch (a delayed reaction, nonetheless, because I had eaten over an hour prior). However, once we grabbed our things and stepped out of the building, I took a Benadryl and my symptoms disappeared within the next fifteen minutes. I still have absolutely no clue what happened, but I'm glad I don't look like a red alien! If any of those symptoms became progressively worse, or if I had breathing problems, I would've immediately asked one of my friends to call emergency services and administer an autoinjector. That would not have been an ideal situation, but it would have been medically necessary.
Other than those three things, the trip was great! Robin was such a huge help in making sure my food was safe for the duration of my trip (she even helped order a dinner at a restaurant our final night there).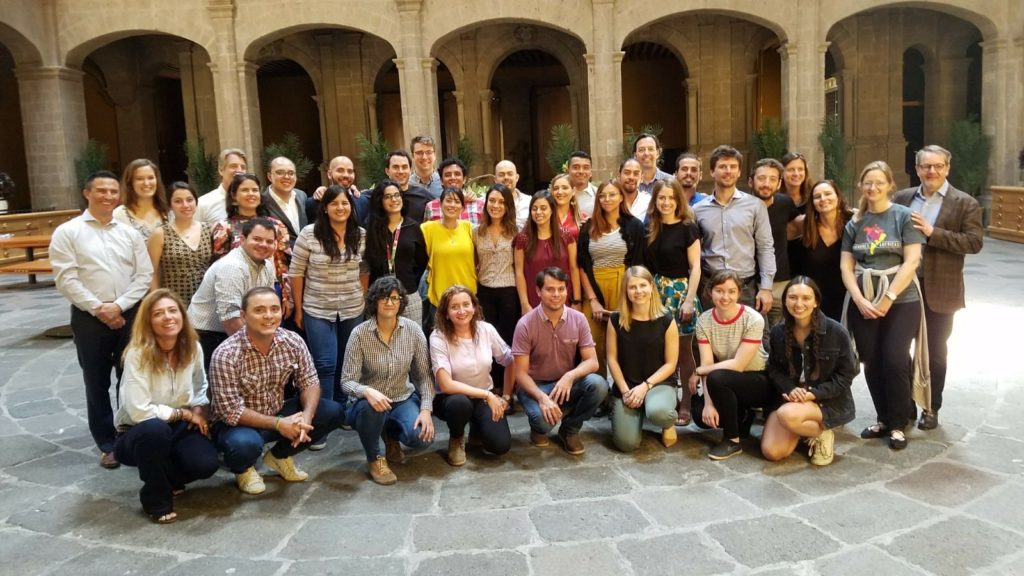 The 2018 Youth Congress for Sustainable Americas
The whole experience was amazing, and I loved the city so much! I also loved all of the people I got to meet at the conference and had such a blast. I wish I could've stayed even longer, but I had to get back to school.
If you're looking for more information about traveling with food allergies in general, you should click here. If you're looking for more information about traveling internationally, you should click here. I've had a blast traveling over the past two months and I can't wait to graduate from college! Happy travels, all!