Over the past two months, I've made two incredible trips: one to San Francisco for over a week and one to Mexico City, Mexico (read about that trip here)  for four days. It's rather a busy time for me at the moment (I'm graduating from college in literally two weeks!) so I've been meaning to write this post for a while. I figured I'd finally get around to it!
San Francisco (Spring Break 2018)
I went to San Francisco with my two best friends, Thomas and DK. We traveled Europe together and currently live together, so we know each other's travel rhythms and they are both well acquainted with my food allergies (peanuts, tree nuts, sesame, fish and shellfish), allergic reactions and how to administer my Auvi-Q.
We planned on staying in San Francisco during Spring Break from Friday to the following Sunday (a little over a week). Thomas' aunt and uncle live in San Francisco and they offered that we stay with them! They didn't have any dogs or cats, which would have been a deal-breaker for over a week's stay: I don't have problems with most dogs or cats for a short period of time due to allergy shots, but over a longer stay I wanted to minimize problems. We affectionately called this trip "Dadcation 2k18" because we joke we're all a bit like dads.
When initially planning, DK believed he was going to be out in San Francisco before we were for a spiritual retreat (he's planning to be a Catholic diocesan priest). In the end, the retreat was moved so DK merely booked separate flights. Thomas and I, however, decided to fly Virgin America! It was incredibly cheap ($200 roundtrip versus at least $350 on other airlines) when we were booking flights a couple months out. I double checked their food allergy policy and everything was going to work out just fine! They didn't serve any peanuts and while I couldn't get a pre-board, I knew I'd just carry along some sanitary wipes and clean off the seat I was going to sit at.
Note: As of late April 2018, after I flew Virgin America, the airline has been fully integrated into Alaska Airlines. Alaska does have a pre-board option, unlike Virgin.
I try to stick with safe airlines (Southwest being the gold standard), but we were very price conscious since we knew San Francisco was going to be expensive. I felt comfortable with my choice and I had absolutely zero issues with the flight!
We took a short Lyft into the city and met Thomas' aunt and uncle, Mike and Bette. They were absolutely extraordinary hosts and truly loving, wonderful people. We arrived around 8pm and decided to go for a late dinner at a local pizzeria. I immediately fell into the casual rhythm of travel: go with the flow, deal with any issues as they arise, and make sure I always have a safe option. Pizza felt like a good choice, too, since it's usually not too crazy. It was more of a craft Italian restaurant, so the meal was delicious and I merely asked the waitress to make sure that the pizza was made safely to keep me safe! Worked great.
Since Thomas and I literally had just finished finals (we're on the quarter system at the University of Denver), we decided to take the first couple of days pretty easy. We slept in, hung around Mike & Bette's place, and just enjoyed the area. Mike and Bette had asked if we wanted any food around the place and Thomas had merely requested breakfast food so we could go out and experience the city in during the day and eat as we pleased. They provided so much food.
In all honesty, I have no idea whether Thomas informed them of my food allergies. He's very cognizant of my food allergies after living together for 3 of 4 years in college. Nonetheless, all of the food Mike and Bette purchased was safe. Of course, breakfast food for us was eggs, sausage, fruit, and vegetables so it was pretty hard to find something unsafe.
Over the course of the next week, we walked around most major parts of the city. We also purchased a week pass for the transit system (the Muni). We walked along the entire Embarcadero and the whole pier, saw Chinatown, went to Alcatraz on a night tour, saw two incredible cathedrals, participated in a civic protest, and enjoyed nights on the pier and in Noe Valley. We ate wondrous food, saw incredible parts of the city, and stayed in on some rainy days. It was a truly fabulous week. I want to highlight a couple of events that I did not anticipate.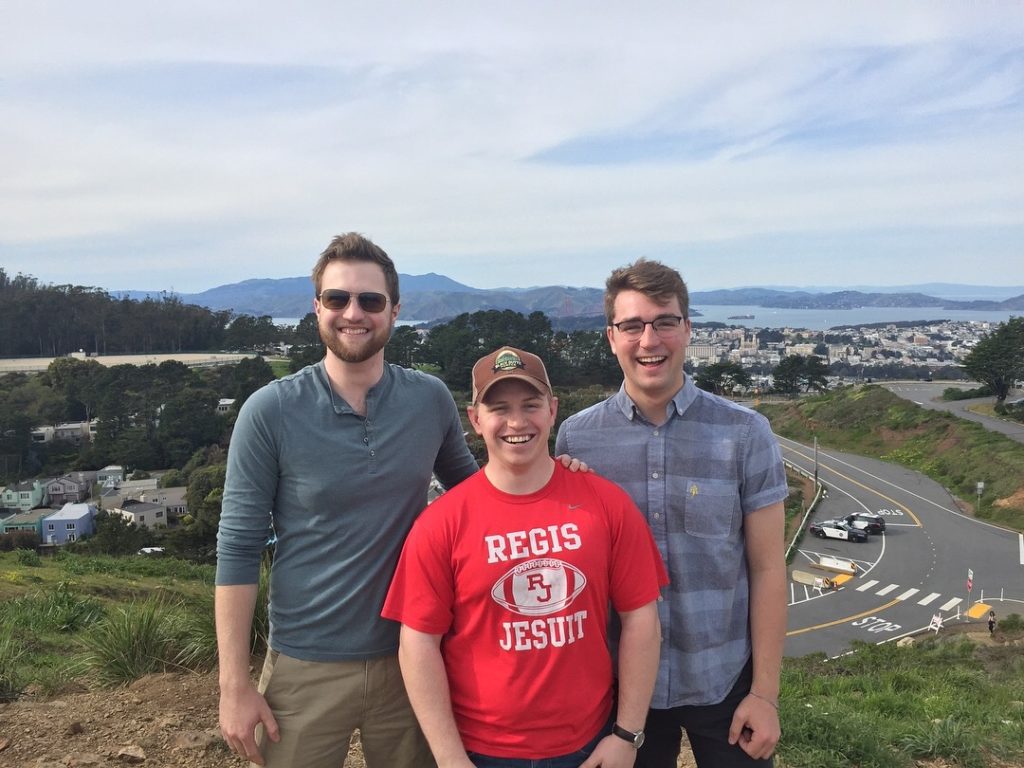 Dads take San Francisco (Thomas, DK, Me)
On one day, when we were walking down the Embarcadero, we ended up on the far north side in Ghirardelli Square. Technically, that's up in Fisherman's Wharf (an area of the city). My general rule with any chocolate is not to eat it unless I have called and made sure the production process is safe since so much chocolate nowadays includes nuts of some kind. Ghirardelli is not safe for me: some explicitly contain nuts and everything else has a "may contain" or "made in a factory" warning. Nonetheless, we entered into their shop and I mildly perused their offerings, just seeing what was around. Thomas and DK were superbly excited because they love chocolate and Ghirardelli. I waited around while they got a milkshake and purchased a couple gifts.
Obviously, I couldn't purchase or eat anything. I can't say I was disappointed about this adventure, because travel is a push & pull between what different people want to see or not. Thomas was all about Ghirardelli. I had a similar experience down on Fisherman's Wharf walking past Boudin Bakery and some of the local seafood shops. Boudin produces world-famous sourdough bread but it wasn't particularly safe (due to cross contact) and obviously the local seafood wasn't safe for me. I wasn't going to get a bowl of clam chowder with the boys, so we went elsewhere that night (we ventured back to a safe burger place in Noe Valley). I had to make sure I had safe food and DK & Thomas were very accommodating.
However, I wasn't going to let DK and Thomas leave San Francisco without letting them try their seafood. I knew they wanted to eat some of it. So, we made a night where I would see a friend who was in the city (her name is Melissa) and they would go with Mike & Bette to a delicious seafood place. This worked great! I met Melissa in the Mission and ate some wondrous Cancun-style tacos and they ate seafood. This was essentially how we accommodated each other during our Europe trip: I would make sure I could find safe food and then the boys would be able to eat whatever they pleased.
Mike also took us to his club (it's at the Presidio Golf Course). Very, very nice! We met up with two University of Denver alumni who live in the city with whom Mike & Bette are friends. We ate a late lunch as a group and I double-checked with the servers that the food would be safe (it was). I ate some short-ribs and had a lovely discussion. However, that afternoon was pretty unplanned: we had absolutely no idea where we were going that evening.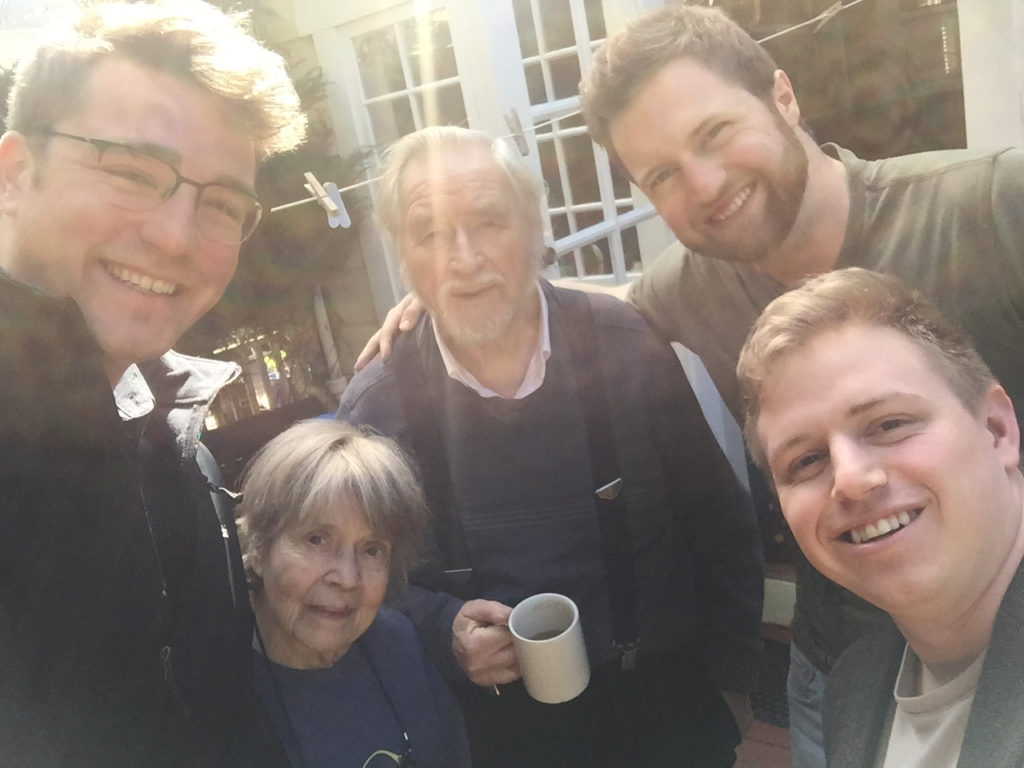 Me, Bette, Mike, Thomas, and DK on our last morning in San Francisco!
As it turns out, we wandered around the Presidio and the area: there is an old military base and some beautiful green lands in the area. We took our time and savored the day. We then walked along the beach all the way back down to Fisherman's Wharf. By this time, I was getting pretty hungry for dinner: the good news being I remembered there was an In-n-Out at the Wharf that I spied when we were at Ghirardelli earlier in the week. I suggested In-n-Out to the boys and they are 100% on board. It worked out fabulously! In-n-Out is a great safe burger place for me, but I definitely double checked that everything was still safe before paying.
San Francisco was an incredible city and it was so much fun! I am so grateful to Bette and Mike for their hospitality and generosity. It was an amazing week and I will forever cherish that time. I had zero issues during the whole trip and I just can't speak highly enough of the city and our time.