I'm writing this sitting in Copenhagen, Denmark after traveling for 30 days through 11 cities in 5 countries. I started in Reykjavik, Iceland and ended in Athens, Greece and visited nearly everywhere in between.
Needless to say, I'm a bit tired.
This past month was fantastic. I cannot even begin to explain how much impact this last month has had upon me. I was a bit skeptical when everyone said "travel will change you in unimaginable ways." Well, I can say with certainty, it does.
This past month has also re-affirmed a sincerely held belief: having food allergies doesn't limit you from anything. After ordering food in dozens of restaurants across Spain & France, eating gelato from the best shops in Italy, and having authentic Greek food in central Athens, I know that food allergies are simply another part of traveling.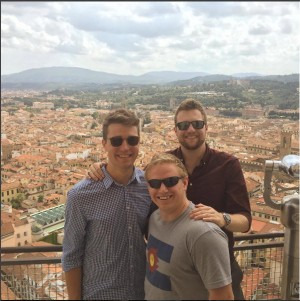 I traveled with Thomas (my first year roommate and best friend #1) and DK (best friend #2) for the month. They were absolutely hilarious to travel with and we had an absolute blast. Both Thomas and DK knew about my food allergies and were incredibly supportive and accommodating. They had been previously trained in how to use an EpiPen and were aware of cross contact issues. Most of the time, they were more worried about me being safe than I was!
It would take too much space to give a detailed play-by-play of each meal in each city, so I will give a review of where I went and what I saw and then move on to the important takeaways and lessons from this amazing travel experience.
My Itinerary
Thomas & I flew out on August 1st and did a one-night stopover in Reykjavik, Iceland. It was our first city and it was a wonderful first stop. Even though we only had two full days in the city, we got to experience a very different city (in style and living) than most of Europe. If you have the chance, do a free stopover in Iceland with IcelandAir. They're an excellent airline! We traveled via regional trains for the remainder of our journey.
We departed in Reykjavik and entered mainland Europe, beginning with Barcelona. We spent three days in Barcelona and got a real taste of what it's like to live there (hint: most people wake up past noon and stay out late). We got to see La Sagrada Familia, a huge cathedral designed by Antoni Gaudí that is still under construction! It's world famous. But we also ate at markets, got to see the Mediterranean, and walk around a really great city.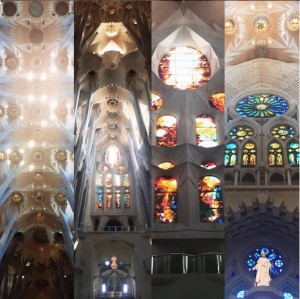 After Barcelona, we left to meet DK in Montpellier, France. With only one night, we only saw the main attractions: a cathedral, a large Arc de Triomphe and attached park, and the great medieval architecture. We got kicked out of our Airbnb (more on that later), so our time was cut a bit short. After Montpellier, we arrived in Marseille, France for two nights. We walked so much in Marseille, but we got see incredible views, churches, and history in France's 2nd largest city. It was by far my favorite French city. After Marseille, we left for two nights in Nice, France — we mostly slept since we were recovering after Marseille and spent the rest of our day on the world famous beaches. As a note, there were armed French military patrols every 200 meters walking around the streets and along the beach due to their recent terrorist attacks.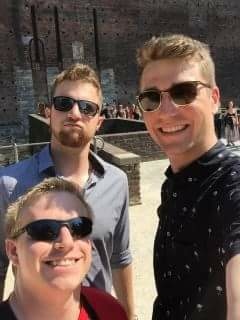 After Nice, we arrived in Milan, Italy after a brief 3-hour stopover in Genoa, Italy. We got to see the famous Il Duomo and three other incredibly historical churches, a medieval fortress, a museum, and ate world-famous pizza at Spontini Pizzeria. Our two nights in Milan felt really short but that's mainly because we walked 12+ miles each day we were there! After Milan, DK went to see his cousin in Cinque Terre, a gorgeous coastal area of Northern Italy near Florence; Thomas and I went to Venice instead. Venice was by far my favorite city from the whole trip: picturesque canals, small shops and churches scattered all over the island, and a ton of history. We spent three nights in Venice.
We met back up with DK in Florence and spent a short three nights in Florence. Florence was the ideal "Tuscan" city: a giant cathedral (the Florence Duomo) surrounded by red tile roofs in a picture-worthy valley. We spent most of our time in art galleries and museums (the Uffizi and the Accademia, where Michaelangelo's David is held). We could've easily spent a week in Florence, partly because we found the best gelato shop in all of Italy!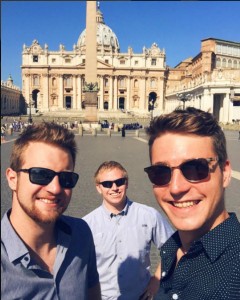 After Florence, we moved on to Rome. We spent a total of a week in Rome, but stayed in two different areas to add some variety. Our whole group got to see Pope Francis for his Sunday Angelus and now we can claim we have shirts blessed by the Pope! We also got to see all of the Vatican Museums and St. Peter's Basilica, plus multiple museums and Roman historical sites. I ventured out to Tivoli, Italy by myself for a half-day in Villa D'Este, a 16th century villa with incredible gravity-operated fountains. After 7 days in Rome, we were definitely exhausted.
But no matter! We hopped on a short plane to Athens, Greece (via Aegean Air, another excellent airline) to conclude our trip. By this point, we were pretty darn tired so we split our days between relaxation and seeing historical sights. Still, we got to see a plethora of Ancient Greek history sites and museums.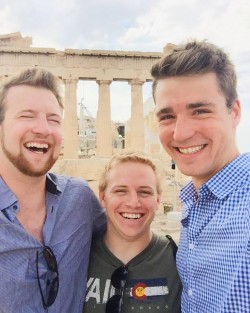 Upon reflection, Thomas and I realized we kind of moved "backwards" in history — Iceland was the "newest" country, founded in about 800 CE. And we moved all the way back to the cradle of Western civilization in Athens, Greece, which dates as early as 8,000 BCE. It was an incredible journey through history and through Europe!
Scariest Moments
I think there were a few moments that definitely top the list of "what the [heck] just happened?"
We got kicked out of our Airbnb in Montpellier. This isn't as bad as it sounds, but it is fun to say. Our host said we needed to be out of the Airbnb before "12am" — knowing that many Europeans (especially those less fluent in English) could mistake 12am with 12pm, I asked him if he meant 12am or noon. He re-affirmed 12am. As it turned out, he meant 12pm. Most of the French (and elsewhere) use 24h time, so time after 12h is expressed as 13h–23h instead of 1pm to 11pm. It was a simple mess-up, but his cleaning lady came a-knocking at 12pm. Luckily, we were there by accident since DK needed to grab his water bottle! Unfortunately, his cleaning lady didn't speak any English so we roughly communicated through Google Translate to figure out why she was there and how much time we had to leave (about 1 minute). We hastily packed everything and ran out apologizing (Je suis désolé !). We explored Montpellier with all of our stuff on our backs until our train left for Marseille.
We were in a restaurant in Marseille, France and I decided to have a dessert — creme brulee! It's a classic French dessert and it's really a set recipe. However, their creme brulee was served with a side of raspberry sauce and almonds. I asked for them to leave off the almonds on the side. Thomas and DK got a separate dessert — but when they came to serve the desserts, they didn't get Thomas or DK's right (they served them the wrong dessert) so I had an "OH BOY" kind of moment, waiting for the creme brulee to come out with nuts on the side. They actually first entirely forgot about my dessert for about 5 minutes once they corrected their previous mistake with Thomas and DK, but they eventually got it out and it was completely safe, no nuts anywhere.
We were at a restaurant in Athens, getting a late lunch. Our waiter was an older Greek man and his English wasn't great — although, on the whole, Greeks in the service industry seem to know more English than the French or Spanish do. I explained to him that I couldn't do any sesame, and he smiled and nodded his head and put his hand on my shoulder and said "it's no problem, all safe." I wasn't entirely convinced. But he served food that was completely safe, since I found out from another waiter their bread was made in-house and didn't contain any sesame. (Whew)
Most Successful Moments
Obviously I had a couple run-ins with danger, but there were far more successes.
Every meal I ate while traveling, which meant about 90 meals were entirely safe at a variety of restaurants in a variety of countries, explained to servers who weren't usually fluent in English. So, I only had two mix-ups out of 90 — that's a stellar record.
I ordered a a simple peach tart in Nice — basically baked peaches with a peach sauce. The waiter actually double checked with three cooks about the processing of the peaches before he came back to the table and informed me that the peaches have cross contact issues in their kitchen with nuts they use in other dishes. How incredible! 
This gelateria! 
This restaurant in Venice!This restaurant in Rome!
Those are some highlights (and I actually just realized while writing this that all of those moments were from Italy). Every waiter in Europe that I've explained my food allergies to completely gets it. They don't ignore it and they double check with the kitchen on my meals. Really, truly good service even with a slight language barrier.
Lessons & Important Takeaways
There was a lot I knew coming into my travels. I planned for months in advance for which cities we were visiting and where we were staying. I double checked airline policies for serving nuts (Iceland Air and Aegean Air are two fantastic airlines). I knew I would have to avoid chocolate at all costs because chocolate is usually made with nuts across Europe, and I would avoid it even if they told me their chocolate wasn't. I even checked immigration restrictions on medicine and bringing EpiPens® into different countries.
But there's so much I simply learned by traveling. In no particular order:
Never, ever, ever believe your food allergies are an inconvenience. Thomas and DK were wonderful companions and always supportive in finding restaurants with safe menus. After walking 10 miles in Venice one day, Thomas and I were famished and we found a good looking restaurant, but about 75% of their menu was solely seafood (which Thomas enjoys). I didn't feel totally comfortable with the place even though I could eat there, but it was Thomas who was the really uncomfortable one since he didn't want us eating there for my sake — how's that for great friends! He decisively said "no, let's find somewhere else." We did. Never convince yourself or your friends that it's okay to put yourself in danger, because it's not.
Always restate your food allergies to the waiter multiple times while ordering. Before I ordered, I would tell them "I have food allergies. All peanuts and nuts, sesame, shellfish, and fish," in English. If they looked confused or weren't totally fluent in English, I'd pull out my phone and show them the list in whatever language they spoke. Then I'd order my food. Then I'd restate my food allergies. By that point, the waiter or waitress was like "yes, yes I got it," which made me feel even safer!
Carry all your important documentation in one area and have digital copies available. I feel as if this is a good travel tip in general, but especially for those of us with food allergies. I had a bright red folder in my daypack (that I carried on to flights as well) that contained copies of doctor's letters for immigration that allow me to carry my medicine, my passport, all of my credit cards and ID cards including health insurance, a copy of proof of health insurance, and a copy of bank statements (really for my travels in the UK). I had all of these documents also saved digitally so I could print them out if necessary. I also had printed verifications of everywhere we were going to stay (AirBnB's and Hostels) along with flight confirmation information. This way, I had any and all information I needed at anytime I needed it on my person. In case it was stolen, I also had digital copies I could print out.
If you want control over your meals, use AirBnB. I should become some sort of brand rep for their company because I absolutely adore AirBnB. Basically, you can "rent" out another person's apartment or a room in their apartment for as long as you would like. There are hundreds of options in each city. We stayed with top-reviewed places and top-reviewed hosts (called SuperHosts) so we assured our experience would be a good one. Through AirBnB, we stayed in an apartment in a 13th century monastery, a 5th floor apartment with a grand view of Marseille, a first floor apartment with a river view in Florence, a gorgeous apartment near the Vatican, and a top-floor apartment with a rooftop view of Rome. Oh and a spacious apartment in Athens that had a view of the Olympian Temple of Zeus. And for the most part, we didn't spend more than $30 or $40 per person, per night. When shared between three people, it becomes really quite cheap to travel via AirBnB. Since you have access to a kitchen, you can cook or at least have a place to store food you can eat at anytime. We stayed in our fair share of hostels, but they're simply not as flexible or easy to use for food.
Bring an emergency supply of snacks. This should be a small bag of some kind of emergency food. I always bring NutriGrain bars, and those staved off hunger on a couple of train rides. You might end up in a situation where you can't eat safely or you need to catch a train instead of eating due to bad planning (did that one…). It's always good to have a guaranteed safe option available.
Please always carry your epinephrine autoinjectors. That's a no brainer.
Final Thoughts
I could probably write pages and pages more — and I just might eventually! For now, those are the top takeaways.
After Greece, Thomas and DK left for Zurich, Switzerland to meet DK's family. They'll be finally settling down in Salzburg, Austria for their study abroad program in the next couple of days. I left for Copenhagen, Denmark where I am now completing a research project on small business performance and growth.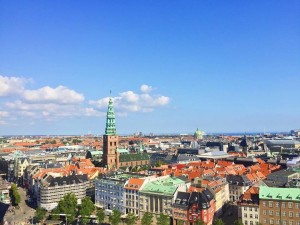 International travel can seem scary, I totally get that. I had a lot of fears about communicating with different people in different languages and still feel that the food served would be "safe." But, it is entirely possible. You have to plan ahead, of course, but once you're there, you have to figure it out somehow. If you explain you have food allergies, you may be surprised at how many people are willing to help and make sure the food is going to be safe and delicious. You can always figure a way to make it work!
Simply: Food allergies do not prevent you from doing anything in life, unless you let them.
Questions about travel or study abroad programs? Send me an e-mail at morgan@allergicchild.com. I'd be happy to answer any and all questions you have about my travels or about planning for yours!