The news of the Coronavirus (COVID-19) has begun to get my attention these past few days.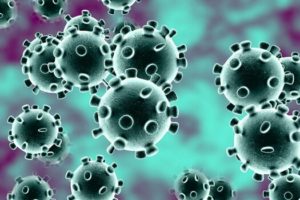 In general, I am not overly worried about the virus and its impact on my son with his well-managed asthma; however, he has been planning to go to London on vacation in less than two weeks. It's a wonderful opportunity for him to share the city that he loves with his boyfriend, Quinn.
My son, Morgan, is now 24 years old, has mild asthma and multiple food allergies to peanuts, tree nuts, sesame, fish and shellfish. With the US Centers for Disease Control and Prevention official today stating that "It's not so much a question of if this (coronavirus) will happen any more, but rather more a question of when this will happen and how many people in this country will become infected and how many of those will develop severe or more complicated disease," I realized that it's time to have a conversation with Morgan.
Morgan and Quinn have plans to go to Britain for 10 days in March, and everything is planned, paid for and reserved. Waiting for the day to leave was the only thing left do do until this Coronavirus outbreak occurred. Now there are a few more things to prepare for just in case there is an outbreak of the virus in Britain while he is in the country.
Since Morgan is a young man now, Mama Bear here can no longer dictate his life…and truthfully, I never really had that power even when he was young! I thought it would be beneficial for the two of us to have a conversation about the virus, and so I asked him "What have you thought about the Coronavirus and your plans for going to London?"
I must say that I was impressed that he said that he and Quinn have been having conversations about how to stay healthy with hand washing, bringing wipes, and probably wearing a mask especially in the Tube in London where they will be near so many people. Morgan said, "I am nervous to travel. I don't want to be stupid." The two are closely monitoring any travel bans, and keeping up with the WHO recommendations and with the BBC for news on the virus in Britain. He recognizes that just like with influenza, his asthma is a health condition that can be exacerbated with the virus and is a cause for concern.
But, it's now his decision as to whether or not he wants to reschedule his vacation. There are no travel warnings as of this writing for Americans going to Britain, and both of our countries have individuals who have been diagnosed with the virus. Thankfully both countries also have very good medical systems, which from what I have read, has helped those patients who do have a more severe form of the virus requiring hospitalization. And good medical care also keeps the virus from spreading to other individuals.
I have two N95 respirator masks to give to him for their trip. Two days ago, I tried to purchase more of these types of masks, which are rated the best for keeping out small particles including virus germs, and there aren't any available in my local stores. Every Home Depot, Ace Hardware and Lowe's is sold out already! I managed to find the masks online only through an individual seller on Ebay and purchased several more for the entire family at a reasonable price. Sadly, many sellers on Amazon.com have increased their prices to double or triple the regular price of a mask, if you can find any in stock.
Morgan has been taking Qvar daily, and has a prescription also to Albuterol. I suggested that he contact his allergist to find out if the doctor has any other suggestions for him especially if he ends up getting the virus here or abroad.
Another item we talked about was what he should do if he were to be quarantined in Britain. These quarantines have begun to hit various cities in numerous countries when an individual gets sick with the virus. People have been quarantined in China, but also in various other countries, and have lasted anywhere from 14 days to a month. With food allergies, not having access to safe foods is a serious issue, and one that requires some forethought as to how that situation would be negotiated in a hotel, for example. Morgan is putting together an action plan on how to manage such a plight. He and Quinn will be staying in an Airbnb for part of their stay and in a hotel for the remainder. It would be a real mess if they spent their vacation locked in a hotel room!
Morgan is going to check into the National Health Service (NHS) to see how an American can access these services should he need to. From his recollection with studying abroad at the University of Lancaster in Britain three years ago, it was fairly easy and inexpensive, unlike the US healthcare system!
There are a few pieces of good news in all of this. First, thankfully the mortality rate is fairly low for this virus versus previous coronaviruses like SARS or MERS. No one enjoys getting sick, but most people are surviving this virus. And secondly, Morgan has another 10 days to gather more information and to watch the spread of the virus to determine whether he will be heading to London or rescheduling his trip!