Last Friday, I was in Denver meeting with a bunch of non-profits and elected officials for my most recent project: the University of Denver Roosevelt Institute. I've made mention of it before, but to recap, it's an undergraduate non-partisan think tank. We're a chapter of a national network of campuses that is attempting to re-engaging young people in politics (a tall order, I know).
Anyway, I had a meeting with the Governor's Senior Advisor, Jamie van-Leeuwen. Jamie advises the Governor of Colorado on social policy and projects (like homelessness) and has a wealth of experience in urban and economic development. He actually started his own international development foundation called the Global Livingston Institute. Needless to say, he's very intelligent and was great to meet with him. He's an absolutely whirlwind of energy – I swear this man never sleeps.
I had scheduled a meeting with him at 12, but he was late. He had to finish up a panel discussion with a number of interns in the Governor's office. Once he arrived, the conversation went something like this:
Jamie: "Hi, Morgan, right?"
Me: "Hi Jamie, yes. Nice to meet you!"
Jamie: "Nice to meet you to! I'm running late, sorry about that.               But I'm actually supposed to be at a lunch – do you mind                             coming along?"
Me: "Uh, sure! I'd love to."
Given that this was the only opportunity for me to meet with him in a month (he's in Africa now working on projects related to his foundation), I figured if I had to talk to him on the way to a lunch (and at the lunch), I would. We basically raced to his car and started a short drive over to the Denver Center for the Performing Arts, where the lunch was being held.
As it turns out, a celebration of culture for North & South America (called the Biennial of the Americas) was going on during last week and Jamie served on their board. Since this was the last lunch of the event, he needed to at least make an appearance. While I chatted him up on our car ride over, my mind was already thinking about the food at the event. I figured I would wait until we got there and see what they were serving.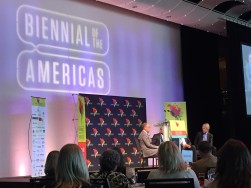 After a few brief hellos with people Jamie knew, we sat down at a table. There was a salad with spiced chicken on it and a vinaigrette already drizzled over it. Accompanying it was a chocolate cupcake with a nut-looking topping. As I sat down, a server came over and began to pour some water. I turned to her and immediately asked if the salad has any of my allergens. She tells me she will ask the chef and departs.
Jamie and his friend we sat down with immediately turn to me and ask if everything is all right. They were very interested in my safety! I briefly explained that I had severe food allergies; they completely got it. The server returned and told me that everything in the salad was 100% okay. They did not prepare anything with shellfish, fish, or sesame. They aren't a nut-free kitchen but the salad did not contain nuts. I felt very comfortable with that answer and began to dive into the salad.
While the lunch was going on, there was a really great panel between the Mayors of Denver and Calgary, and a former Mayor of Bogota. They were talking about the importance of local community change. I always think about how important it is for parents of food allergic children to work with their schools and the school board on making sure food allergic children are safe in their schools. That's a great example of what the Mayors were talking about.
Without even asking, the server later returned and said the cupcake was topped with pumpkin seeds and not nuts, but cautioned me again that they weren't a nut-free kitchen. I thanked her. As a general rule, I always pass on dessert simply because most desserts have some sort of cross contact issue with nuts, whether or not the topping is pumpkin seeds.
Overall it was a great lunch and Jamie was awesome to talk to. I certainly wasn't expecting to go to lunch, but everything turned out just fine! I always make sure to ask about the food served, especially at big galas. Who knows what's in the food!