My Trip to New York!
I recently traveled to New York – alone – for a conference put on by the Roosevelt Institute. As I've mentioned before, Roosevelt is a national organization trying to re-engage young people in the policymaking process. They offer a national training each year to leaders of the Institute from around the nation at Franklin D. Roosevelt's home in Hyde Park, NY. Since I started my chapter of the Roosevelt Institute at the University of Denver, I was invited to attend!
They offered to cover my flight out (which is great)! I had a great few e-mails with their operations specialist at Roosevelt and then I called and voiced my concerns about which airlines I could fly. Since I've really only had good experience with Southwest, I told them that I would prefer to fly with them. However, there was one main problem: I had to be at Grand Central Station in NYC by about 2:45pm on Thursday, August 6th to catch my train to Poughkeepsie, the nearest train stop in upstate New York. Only one flight from Denver would get me to LaGuardia airport at 1:40pm (landing time). I knew that it would be a tight push to get off the plane, get my luggage, and get to Grand Central in an hour.
Instead, I had Roosevelt book a flight the day before. This allowed stress free traveling and some extra time. Since I didn't book the trip online, I called in to Southwest customer service and explained my peanut allergy so that it would be noted on my reservation.
The next problem was, where would I stay? My Mom and I had a couple discussions about friends and family we knew in NYC and in Poughkeepsie. We looked up a hotel in Poughkeepsie that was relatively cheap. However, we eventually settled on renting through Airbnb.
If you've never used Airbnb, it's wonderful! It is a website where home owners advertise a room or their entire place for you to stay in, like a hotel. Usually, however, you'll have access to a full kitchen and all the amenities you may not have in a hotel. Plus, they must mark if smoking and/or pets are allowed. By default, they're not! This makes the stay even better. I found a very awesome room to rent in Poughkeepsie, NY. I submitted my request to room there for the night and had a great conversation with the owner through Airbnb before I went confirming the non-smoking and the no pets! I didn't get into my food allergies since I knew I could find safe food. She and her boyfriend lived together; they were both lovely and fully accommodating.
Roosevelt arranged housing for the duration of the conference at a nearby motel called the Golden Manor. I was supposed to have a roommate, but he didn't show up. Instead, I got to have a room to myself! Now that I had my housing arranged, I had to make sure I had my food all in order.
I coordinated again with the operations specialist at Roosevelt for a menu of the food provided at the conference. (I'm allergic to peanuts, tree nuts, sesame, fish and shellfish.) She got back to me and we realized that, in fact, all but one of the meals would be safe! She double checked with the caterers for ingredients and confirmed that all the meals (except one) would be perfectly safe. The lunch on Friday was Chinese, which was not safe for a multitude of reasons. Instead, they bought me a frozen meal that was perfectly safe (it was a burrito bowl and we both triple checked the ingredients) that I ate instead of the Chinese food.
I also brought extra food for myself (a few homemade granola bars and a couple of bagels) just in case a breakfast or a lunch turned out not to be safe. That way, I always had something to eat!
The trip itself went very smoothly. I arrived in NYC at LaGuardia airport, got my luggage, and hailed an Uber. Uber is another great app that allows you to hail a (more or less) private driver – like a taxi, but usually they're nicer cars and nicer people – that will take you anywhere. The fee for the ride is all conducted through the app and tips are automatically added. It's really a seamless experience and I had a great Uber driver on the way into New York City.
The driver dropped me off with my luggage at Grand Central. I forgot how many people lived in New York City! Despite the masses, I found my way to a ticket booth, got my ticket, and got on the train to Poughkeepsie. It was about an hour and 45 minutes long. Once I arrived in Poughkeepsie, I walked the short walk to the Airbnb place and arrived home for the evening! Since the owners were out, they left a hidden key outside and let me know via the Airbnb app. Once they arrived back, we chatted for a while before we both went to bed. I had packed food for the trip and I ate along the way.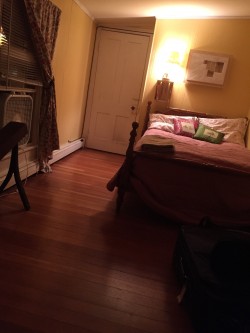 In the morning, I had a granola bar and some coffee. A light breakfast, admittedly, but I kind of spaced on what I would do for that morning. Even with all of my careful planning, I did overlook it, but I was grateful I had brought extra food. After a while, I said goodbye to my wonderful hosts and walked back to the train station. Roosevelt promised to shuttle us from the train station up to Hyde Park, where FDR's home is.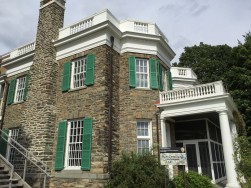 The conference was absolutely amazing. We got a tour of FDR's home and presidential library (both of which were great!). We also did some great trainings for leadership, strategic planning, policy making, coalition building, and even PR techniques. The food went absolutely perfectly throughout the entire weekend and the staff were so wonderful! Every time I went to get food, the staff was double checking with me about the ingredients of the food and what I could eat. It was just wonderful.
One night, a huge group of us walked 15 minutes up the road to a nearby diner. Just like any restaurant I go to in a foreign place, I played it safe and got some French toast. I double checked with the waiter and he double checked with the chef; everything went great. It was really tasty French toast, too!
After the conference was over, I took a mid-morning train back to NYC from Poughkeepsie on Sunday, August 9th. Even though I had a small suitcase with me, I decided I wanted to look around NYC a little bit, so I ventured my way onto the metro and went down to the World Trade Center. The memorial was absolutely gorgeous and the new One World Trade Center is great! I grabbed Panera for lunch before going to the airport via Uber.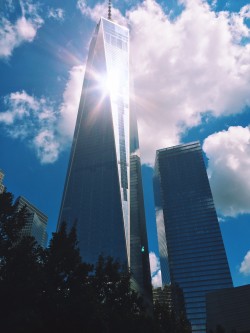 My safety for the entire trip was assured by planning ahead and making sure everything I was going to eat was safe. I just communicated my concerns and I made sure all of it would work! Overall, it was an amazing experience.