Hello everyone! I figured I would do a few updates throughout the trip just to keep all of you apprised with the day to day happenings.
With traveling, I believe planning is one of the most important things you can do. Before leaving, I charted out all the locations my group was going to and located safe places to eat. The teacher in charge is super detail oriented, so the itinerary we received was very detailed with times and locations. After calling the different places, including In-n-Out Burger, Rainforest Cafe, and a local pizzeria, I had my entire menu for the trip planned! As a note, the Rainforest cafe (and two other meals) take place inside Disneyland. Disney is renown for their ability to take care of food allergic children.
I also created a list of everything I would need to bring, including medications. This way, I make sure I have everything I'll need (mind you, this trip is only 4 days so it wasn't an extensive list).
For TSA, I removed ALL the liquid medications (like eye drops and nasal spray) and put them in the bag with my other liquids. This ensures I won't hold up the line. I also always wear my MedicAlert bracelet, but that's never been a problem with metal detectors. It never sets it off. I do remove my EpiPens in my pocket and set them in the bin to have them scanned.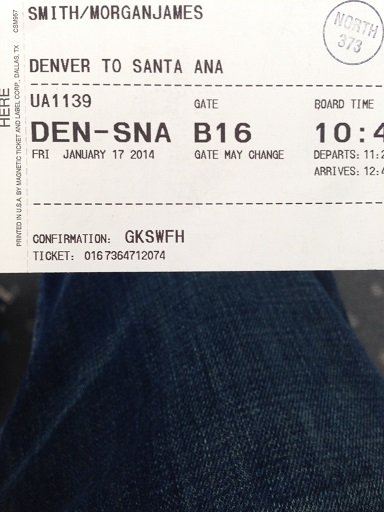 Above is my boarding pass. When I fly Southwest, I typically have "PDA" printed on my boarding pass, which means "Peanut Dust Allergy." This means that I can preboard the plane and wipe down the surrounding areas. (It also means I get to choose the best seats!) Thankfully, United doesn't serve peanuts on their flights, so it wasn't a problem for this trip.
I did bring a few snacks for the plane ride – NutriGrain bars, apple slices, and banana bread from home. If I were thirsty, I would have bought a soda near the gate for the flight.
The flight went excellently. There were no problems and I sat among friends so no one ate nuts.
After the flight, we immediately went to the beach! It was a great time. For lunch, I had pizza from a local pizzeria that I had checked with beforehand. It was delicious! I then went and played at the beach with friends for a few hours. There was a shellfish shop or two along the beach, but obviously I didn't eat at them (nor my friends)!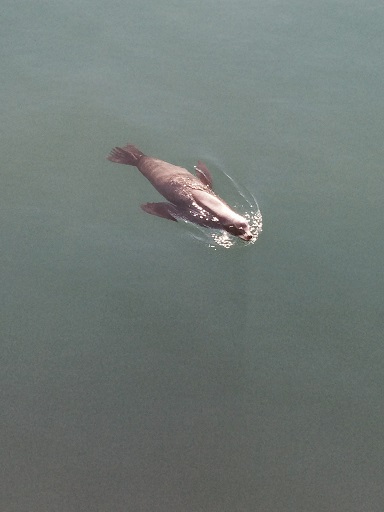 We also met a seal (pictured above).
After the beach, we returned to the hotel to change and then went to dinner at Rainforest Cafe in Downtown Disney. I had called ahead and checked their menu to make sure there was a possibility for safe food.
When I arrived at Rainforest Cafe, I let the server know I had severe allergies right after I ordered my drink. She was super kind and immediately brought out the kitchen manager – a sort of combination between chef and manager. He asked what my food allergies were, took them down, wrote down my meal, and then specially prepared it (he even served it to me)!
The steak fajitas were delicious.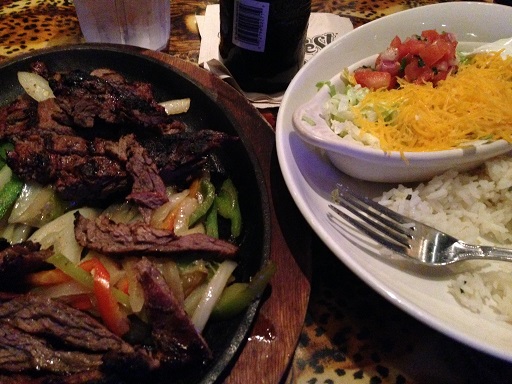 It was a wonderful Friday!! I'll keep you updated about Saturday with journeys including Disneyland!!
To read Morgan's post about his Senior Class Trip for the rest of the trip, click here.