This is a selection from my new e-book "Studying Abroad with Food Allergies," available exclusively on Amazon Kindle. I detail all the important things you should think about when planning, traveling, and studying abroad! Buy it here. (It's free with Kindle Unlimited!)
As a part of its study abroad program, The University of Denver (DU), where I attend, offers membership to a service called International SOS. International SOS offers consultation on health and security for individuals traveling abroad. This service was incredibly helpful to me while planning out for study abroad. All DU students are required to have at least one consultation with International SOS (over the phone) before they leave.
I called up International SOS and spoke with two individuals. The first individual was a security and travel expert and she briefed me on the ongoing security situation in all of the countries I was planning on visiting. She gave me a debrief on ongoing developments regarding terrorism and personal safety, as well as general practices as a US citizen abroad. This was great and very useful.
The second individual was a medical doctor. He was incredibly helpful. He had the medical knowledge required to understand my food allergies and the international experience to understand how they could be best managed while I traveled. He made sure I knew how to manage cross contact and how to be careful while purchasing food at restaurants while traveling (a skill I was well versed in!).
He noted that I would be unable to fill a prescription from an American doctor while traveling in other countries; instead, he recommended that I travel with my medicine in their original boxes that have the prescription on them. As such, I planned on carrying all of my medicine, including an extra set of EpiPens, in their original box.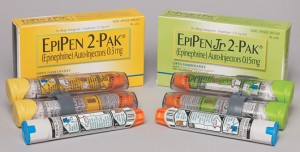 If I needed to get a refill of a certain medicine, I could at least present the doctor in the foreign country my original prescription box to obtain a prescription that would be filled at the local pharmacy. Since different countries set-up their health care systems differently, an American prescription wouldn't be able to be filled at a foreign pharmacy.
He did not believe there was any required paperwork to carry my medicine (EpiPens, antihistamines, asthma control, etc.) in the countries I was visiting. He recommended that, if it made me feel more comfortable traveling with a doctor's letter that allowed me to carry my medicine, then I should obtain one. I did.
The US Department of State also offers a service called STEP (Smart Traveler Enrollment Program) that pushes updates to your email on ongoing security alerts in the regions you are traveling in. This also allows the US government to identify that you are in a country in case something happens and get you help. I also enrolled in STEP for my entire time abroad.
Not every school offers a service like International SOS. I think that finding a good resource online is possible. You should conduct thorough research on the countries you are visiting and the rules for bringing in medication. Countries usually have websites that detail these rules. Moreover, you should talk with your doctor about what is necessary to manage your medical conditions.
Want to learn more about other important planning items you need to think about before studying abroad like housing, accommodations, travel, and more? Get my new e-book "Studying Abroad with Food Allergies" now, available exclusively on Amazon Kindle. Buy it here. (It's free with Kindle Unlimited!)