For the first time in 14 years, our family took a week long vacation with just the 4 of us: my husband, me and our two grown children – Morgan (almost 22 years old) and Michaela (27 years old). We headed to Orlando, Florida for a week's worth of fun and sun in December. With Morgan on the quarter system for college, and Michaela already working, this was an ideal time to vacation during "low season".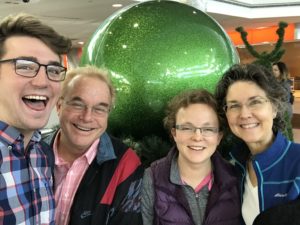 We flew Southwest Airlines on a non-stop flight from Denver to Orlando. Southwest has worked great for all of us in the past, and has allowed Morgan to preboard and wipe down his area. Traveling to Florida, we were on a brand new plane which was on its first day of flight, which was wonderful! That flight and the flight home worked perfectly – both were mid-morning flights, so not the first flight of the day, but we've never required that as part of our travel plans. When we boarded the flight home, the flight attendant told us that the previous flight also had no peanuts served, which made for a nice, clean plane. But we still wiped down the area where Morgan sat.
Traveling and managing Morgan's food allergies – peanuts, tree nuts, sesame, fish and shellfish – along with his pet and environmental allergies pales in comparison to managing Michaela's and my mast cell symptoms. She  and I both eat only organic foods; however, her diet is vegetables and fruits, while I tolerate only a few foods – chicken breast, turkey breast, frozen Cascadian Farms hash browns and broccoli. My husband, Robert, is on the Whole 30 food plan – so cooking for all of us requires a short order chef!
Actually, we don't ever eat out because of the organic food requirement, and the mast cell issues require much more vigilance than even food allergies. The type of water that I drink can affect my stomach! Unbelievable, but true. And for those of you with mast cell issues, I'm sure you know what I mean. So, braving a family vacation is a big deal. It also requires a lot of patience on each person's part since each of us has different needs depending upon the situation. We've learned to also have activity days and rest days to keep positive attitudes!
We rented an AirBnB house that guaranteed it was pet and smoke free, and had a full kitchen since we would be cooking every meal. We planned ahead by finding out where the local grocery store (Publix) was, and I special ordered from them a week's worth of the frozen potatoes that I eat. We also found a  Whole Foods for Michaela's foods, although it was 30 minutes from where we were staying. Morgan and Robert purchased their foods from each of these stores also.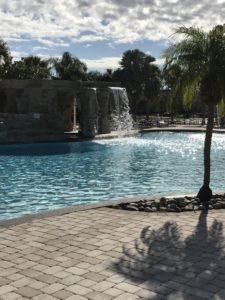 I didn't bring the organic ground turkey that I usually eat because I had called ahead to Publix and Whole Foods to ensure that they would carry it – plain with no spices added. However, when we arrived neither actually carried it, despite their reassurances that they did. This created a search across Orlando to find such a product. We finally did find a different brand, but I learned to bring it in the future since it's so difficult to find elsewhere!
In regard to bringing food, we got a letter from our allergist to allow us to bring food onboard the plane through TSA. This letter was never requested, but we had it just in case it was. Also, the allergist's letter delineated that we would be bringing frozen food in a cooler and checking it through as baggage. This too worked just fine with Southwest Airlines, and they never requested the doctor's letter.
We found that the home we stayed in wasn't well equipped with kitchen supplies, so thankfully I had brought a few frying pans and lids in my luggage. I always bring my own yellow colored spatula so that even my family knows which spatula is mine! I also brought my Instant Pot in my luggage. Since Michaela and I are part of Dr. Li's private practice of Chinese Herbs for Allergies, Dr. Li has asked that I only eat meat cooked in the Instant Pot to help my stomach heal, and purchasing another one in Orlando didn't make sense. So we brought a second suitcase with all these kitchen supplies!
All the grocery shopping and driving took us half of the first day in Orlando to set ourselves up. Then the fun began!
We went to the Kennedy Space Center and Cape Canaveral for our first outing. We packed our lunches and left them in a cooler in the car while we visited the Cape. We neglected to call ahead to see if a microwave would be available, and later we were told it wasn't. In fact, they wouldn't even allow any outside food in the space center, even with a medical condition from what we were told. So we ate our lunch cold (cold potatoes, broccoli and chicken will fill up the stomach, but doesn't make a tasty meal!)  in the car. Not the ideal situation, but we enjoyed each other's company. And with my husband being a space enthusiast, we had a great time seeing all the exhibits.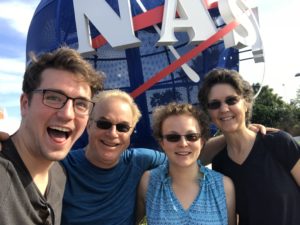 We headed down to Cocoa Beach that same day. Being from Colorado, getting to see the ocean is a big deal. We enjoyed it thoroughly, especially since it is "low season" and there was hardly anyone else there, despite what we would call hot weather in December – mid-70's!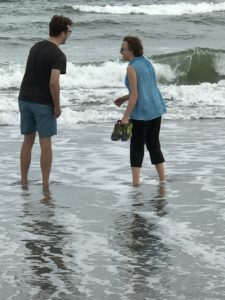 The next day, we went to Disney Animal Kingdom. We wanted to especially see the new Pandora – World of Avatar, and to visit the Tree of Life. Michaela and I had to pre-make our meals the night before so that we would just have to heat them in the park. Morgan and Robert were able to bring salads and sandwiches – no heating required!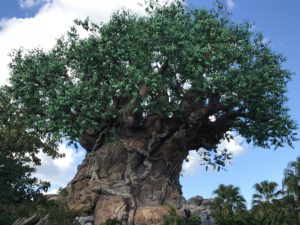 We searched online and found that they have lockers near the opening gate, which is where we put all of our lunchboxes plus snacks. Thanks to an inquiry on my AllergicChild Facebook page, I found out that the park does have one microwave for the public in the Baby Center area.
The park doesn't have a lot of air conditioned locations, and with the temperature in the lower 80's plus the humidity, our daughter began to have heat issues. You may remember me blogging about this issue here when she ended up hospitalized after having two grand mal seizures.
Thankfully, right next to the Baby Center, there was a First Aid office. She was able to get a bag of ice and sit in air conditioning for a little while to cool off. Twice more during the day, she went to First Aid to get more ice. I can't say enough nice things about the Disney employees in First Aid – they were just magnificent. Each time she would come in, they provided a large plastic baggie of ice, and remembered her name from the first time. They treated her with such kindness, and we were so grateful for that.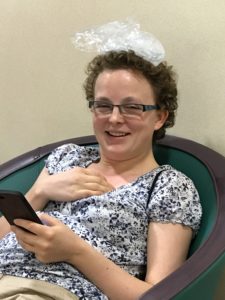 Since the lockers we chose were at the park entrance, and the baby center was in the center, Michaela would walk with her plate of food piled high with cauliflower, carrots and squash nibbling until she got to the microwave. Several times, we had people stop us asking where she got her food! Dozens of people in the locker area brought their own food. Disney asked no questions about the coolers or even the water I brought in, which was wonderful.
The day was really long since we stayed for the River of Lights nighttime show, but it was well worth it.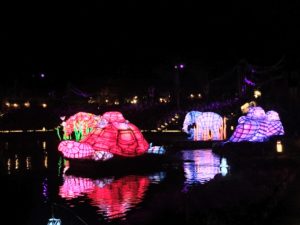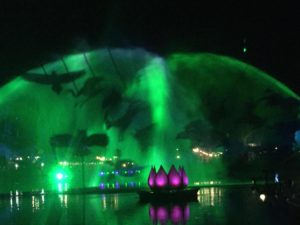 We had all walked miles, and with feet hurting, we headed back to our AirBnB ready for bed!
We took a rest day the next day, and Michaela and I headed out to visit a Network Spinal Analysis chiropractor in the Orlando area. These doctors are specifically trained in a type of chiropractic work that involves gentle, precise touch to the spine cuing the brain to create new wellness promoting strategies.
We've found that part of the mast cell symptoms is extreme back pain, and all the walking we did the previous day was wreaking havoc on our spines. We found a lovely young woman who had recently opened her practice, and got us aligned and ready to walk the next day at Universal Studios Wizarding World of Harry Potter!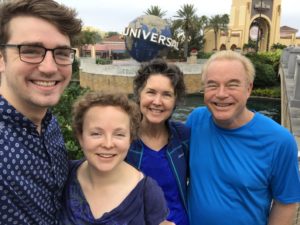 This was the big event that we were most looking forward to.  Universal  also had no issue with us bringing food into the park. And I brought my own water without anyone asking anything about it.
The lockers were once again near the opening gate of the park, however this time the microwave was very close in a "nursing room" in the family center.
We decided to purchase the 2-park pass since Hogsmeade is in one park, and Diagon Alley in another. My husband owns a marketing consulting firm, and he declared that as good marketing! And, of course, much more costly, but well worth it.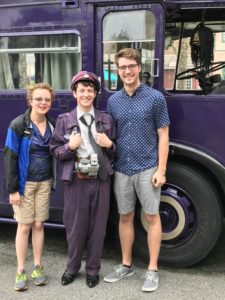 The weather was much cooler on this day (mid-60's), and foggy which made for a great day to visit the magical world of London,  feeling it was somewhat realistic to their actual weather.
We next went to Diagon Alley where Morgan got to taste his first Butter Beer.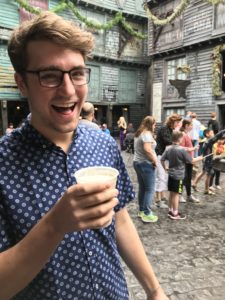 Morgan had previously emailed Universal to inquire about whether Butter Beer would be safe for him. He listed his food allergens, and got this response:
Burdick, Bob (NBCUniversal, Orlando) (bob.burdick@universalorlando.com) wrote:
Hi, in Universal Studios, we have fruit stands in the parks with apples, oranges, grapes, watermelon on them. Also have lemon and strawberry slush carts which will be ok, also have turkey legs on carts that are just smoke plain. We have a full service unit it is Lombard's landing and Finnegan's, we have a chef in each unit have the server bring the chef to the table and he can go over all the things he can do for you In Islands of Adventure we have 2 full service units one called Confisco's and one is Mytho's, we have Chefs in both of those units, have server bring Chef to table and he can go over the things he can do for you, we have another walk up unit it is Thunder Falls, we have smoke chicken, smoke pork ribs, and roasted corn on cob and roasted potatoes with fresh herbs and salt and pepper, also have French fries all natural cooked in soy blend oil that is the only thing cooked in those fryers too.  I will also say no desserts at all from any of the restaurants too. 
We also have three broomsticks which have smoked chicken and smoked pork ribs, roasted corn on cob, baked potatoes, roasted potatoes with onions, garlic, salt and pepper, and fresh herbs and some salads too.  
The butterbeer is nut free, is made in a separate room. Pretzels and popcorn are ok too. The soft serve is ok at florean ice cream shop, not the hard pack ice cream. The restaurants in citywalk will be able to help you with your allergy all units have 4 chefs in them   
If you need any more information or help feel free to give me a call at 321-388-2123, Chef Bob.
We never purchased any food product in the park, but it was lovely to have all this information if we did. There was a lot of fish and chips on the menus in both Diagon Alley and Hogsmeade, but obviously there would have been safe food items if Morgan had wanted to eat.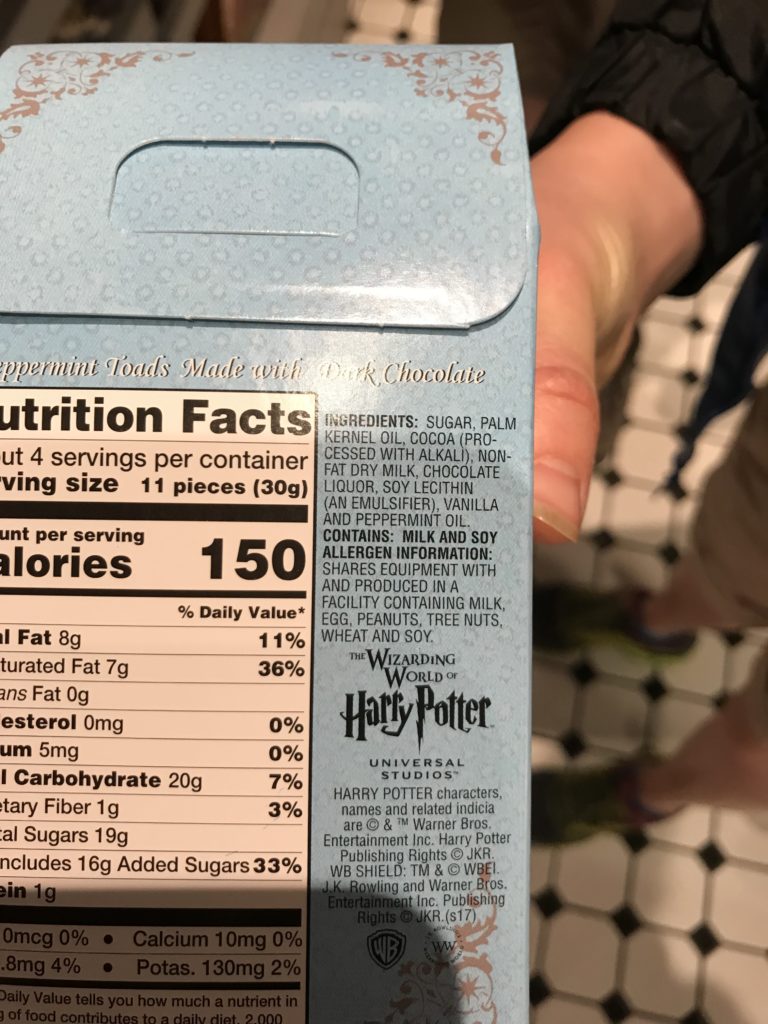 There were several shops with candies and sweets in them. This is the ingredient label on the back of Chocolate Frogs which states, "Contains Milk and Soy. Allergen information: Shares Equipment With and Produced in a Facility Containing Milk, Egg, Peanuts, Tree Nuts, Wheat and Soy." We didn't find one candy that didn't have this labeling. The candies were great for gifts, but not safe for Morgan to eat.
The Wizarding World overall was superb. If you go, you have to purchase a wand! There is a map of all the locations where the wand will work it's magic…I'll leave it at that because that's part of the fun figuring out how to create the magic!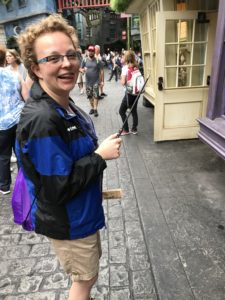 There were rides and shops throughout both parks, and once again we walked until our feet swelled! We road the train, the Hogwarts Express, in between the two parks.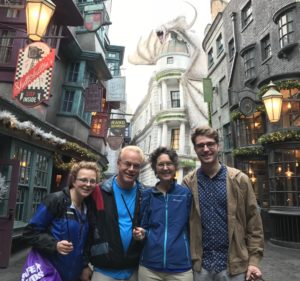 The next day was a rest day to pack up and get ready to fly home. We realized that we had cooked 21 meals on the 4-burner stove in the Air BnB kitchen, and no one went hungry!
If your family is like ours, and doesn't or can't eat out, it's still possible to have a wonderful vacation and cook every meal yourself. With a lot of pre-planning and preparation, we had the most wonderful, magical vacation!