My last high school-related adventure involved traveling to Kansas City for the National Speech & Debate Tournament, an event I had qualified to attend earlier this year.
Before we left, I gave a health care plan to my Speech & Debate coach that explains procedure for an anaphylactic reaction, my allergies, and has an array of information on who to contact. I trained my friends/teammates on EpiPens as well.
We left Sunday morning from Denver International Airport, flying Frontier to Kansas City. Frontier does serve food, but you have to pay for it (i.e. there are no complimentary drinks or food for most passengers). I asked the stewardess the moment I got on the plane if they served peanuts, and she replied, "You can certainly buy them." I quickly assured her I wasn't going to buy them due to a peanut allergy. Since the flying arrangements for this trip were made by the school, all six of us traveling to Kansas City got to sit together. This was important since peanuts could still be served on the flight to someone who was interested in buying them; that issue was mitigated since I was sitting with my friends.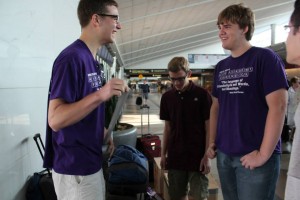 After arriving to the hotel, it was about 1:00pm (an hour ahead from Denver), and we were pretty hungry, so we walked across the street to Panera Bread. Panera is notable for its homemade bread that is mostly all cooked together. I talked with the manager about some safe options (it differs by store on how they cook their bread), and settled on a simple grilled cheese for lunch. I had a salad at Panera for dinner, probably the far safer option due to the possibility of cross contamination. Weighing the information given though, I decided that the grilled cheese was safe since it was not cooked with nut breads and they have rigorous cleaning procedures.
Speech & Debate tournaments occur in high schools, middle schools, and sometimes (at Nationals) in elementary schools. In Overland Park, Kansas (where we were), they had dozens of different schools for the thousands of competitors, each dedicated to a specific event (like solo debate or humorous interpretation). We had our coach and two parents joining us with rented cars so they could go and buy safe food for us.
Breakfast was served at the hotel and there was a McDonalds across the parking lot for variety. I found out I could eat McDonald's breakfast items after my California trip (read about it here). Lunch and dinner varied by days and locations (if we were at a different high school, we might eat something different).
To be honest, each day was about 17 hours (from 5:30am to 10:30pm), so I don't remember exactly which days I ate what. Here's a list of restaurants I did eat at:
Chipotle – this was for dinner (I believe) Tuesday evening. It's a safe option for me and it's a chain restaurant, meaning most (if not all) of its locations serve the same thing.
Applebee's – another safe chain restaurant that was dinner the third night there.
Jimmy John's – an easy, safe option for lunch sandwiches. The team got Chick-Fil-A, but my coach made sure that I got a safe option for food, and made arrangements for Jimmy John's (she's the best coach, by the way).
Potbelly Sandwiches – another option for lunch sandwiches. I hadn't had Potbelly's before, but I checked their website and called them up and talked with their manager about breads, sesame, and nuts. Everything was safe (besides their cookies) and it worked out great!
Kolache Factory – Kolaches are…dough balls that have filling like cheese & sausage, or pepperoni & mushrooms. Once again, I hadn't had Kolache's before, but I called ahead and talked with the owner about their procedures. The breads that do contain nuts are cooked entirely separate from the regular dough (at least at this location). I have to say, that was an AMAZING lunch – they were so good (and safe!)
El Fogon – a local Mexican cuisine restaurant we went to for lunch. Just like every other restaurant I hadn't eaten at before, I called ahead. Notably, Mexican food is mainly safe, but various styles can include sesame and nuts. El Fogon did not use either in any dish or topping or side, which was great news! Even better, the food was absolutely delicious (I got a steak quesadilla)
Cinetopia's Food Service – the last night we were in Kansas City, we went and saw a movie at the local movie theater. Unlike most, they have these "family rooms" with couches and reclining seats instead of the regular airpline-style seating. You also get to order food from their menu. I checked with the staff about their options and settled on another Mexican-style evening with nachos and a quesadilla.
Jack Stack BBQ – the crown jewel of our food adventures, Jack Stack has some of the best BBQ in Kansas City (if not the country). Barbecue sauce can be especially dangerous since some restaurants use peanut butter as a thickener and/or nuts as a spice. Jack Stack uses neither in their homemade, exquisite BBQ sauce. I have to admit, that was the best food we had all week!
Story of the Week: Due to its fame, Jack Stack's is always pretty busy. Instead of dining in, we went over to their takeout side of the restaurant. While waiting for our food to be ready, we got in a nice conversation with a man who was picking up his own BBQ meal. Very genuine guy, who was interested in Speech & Debate and our interests. Right before leaving, he actually gave our coach $200 to spend on dinner for another night!! (We used it at the Cinetopia because, while their tickets aren't that much more than normal, their food is abhorrently expensive). It was a very kind gesture.
This was the longest trip that I've been through where we haven't brought/planned food. I had combined a list of possibly safe restaurants before the trip began and sent it to my coach (it included Jimmy John's, Jack Stack's, Chipotle, and Applebee's). That helped dictate a few choices, but we also got recommendations from the locals (for El Fogon and the Kolache Factory, for instance).
Here's a few tips on dealing with new restaurants:
Always talk to someone in charge. Servers are knowledgeable about the menu, not how the food is prepared. Find a manager or the owner or the chef and talk to them about food preparation and the process of cooking food. Also talk with them about ingredients.
Try and eat at "safe-cuisine" restaurants. Typically, Mexican cuisine is safer than, say, Asian cuisine for me (not only due to the use of shellfish & fish in Asian cuisine, but nuts as well). I'd automatically feel safer at a Mexican-style restaurant than an Asian-style restaurant.
Call ahead, if possible. Don't waste your time at restaurants that aren't safe. Call ahead and talk to someone in charge about food. If it turns out the restaurant is not safe, you didn't waste your time and you can find another safe option.
There is always a risk. It's really unavoidable – there is always a risk involved in eating new food. I ate at more new restaurants during Nationals than I had in the past 5 years combined! However, I felt safe and comfortable doing so.
The two-minute rule. That being said, I'm still cautious! This is a personal thing that I do: when I try food at a new restaurant, I take a small bite and wait two minutes before eating anything more. From my previous experience with anaphylaxis, my first symptoms occurred within the first two minutes after eating fish. I cautiously eat a second bite after the first two minutes and wait a little while longer. If nothing happens, I eat my meal entirely. If something does happen, I would immediately tell someone about it.
Nationals was one of the best experiences I have had – not only due to the intelligent and humorous people at the event, but also the safe food that was readily available. I also broke to Top 80 at Nationals in Lincoln-Douglas debate, a solo debate centered around values & ethics.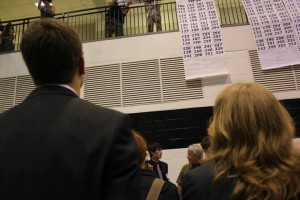 If you would like to view the National Tournament Highlight Video (published by the National Speech & Debate Association), click here. I make a cameo appearance at :49 (I'm in the background looking up. The camera isn't focused on me). Plus, there's a great music video at the end of it.