Some of you may think that you live in the best school district for managing food allergies. Some of you may think you live in the worst! For us, we KNOW we live in the best district! Many of you have heard me speak about how wonderful our district has been about providing 504 Plans, guidelines, policy and most of all care for food allergy students.
Since Morgan recently graduated, we thought it was time to give Academy School District 20 a formal thank you tonight by attending the school board meeting.
Here's a part of what I shared:
Our story for tonight begins in 1999, when we began looking for a preschool for Morgan. No private preschool in Colorado Springs would accept him as a student because of his life threatening food allergies. They didn't want to take on the liability. I was heartbroken, and I didn't know where to turn.
I approached the District 20 preschool and explained his severe food allergies to the teacher, Miss Linda. When I explained that she would need to keep his allergens out of the classroom and learn to administer an EpiPen, she stated "That's It?" I can't tell you the relief I felt. Morgan enjoyed two years of preschool there before attending Foothills Elementary school for kindergarten. That's when the real challenge began.
There have been so many teachers, counselors, school nurses, custodians, bus drivers and staff members who have been willing to learn about food allergies, and to help Morgan stay safe at school. It would be impossible to thank all of them, but we are so appreciative for how wonderful the D20 teachers and staff have been to keep Morgan safe and included.
There is one Administrator at the district level that we have to thank.  The Director of Legal Relations has been instrumental with the creation and ongoing efforts of the Food Allergy Task Force which began in 2007. This committee has spawned similar groups in school districts across Colorado. The creation of guidelines for severely allergic students in our district was used as a basis for policy at the state level in 2009 when legislation was introduced and passed. District 20 has always been on the forefront in education, and your support for guidelines and policy to keep children with food allergies safe continues that stance.
Morgan never had an allergic reaction at school, and that was due to the incredible teachers, staff and administrators in District 20. 
Here's part of what Morgan shared:
I'd like to directly thank two individuals who are also here this evening. First, my elementary school counselor. When I first entered elementary school, there weren't any procedures or policies to deal with food allergies. She had the foresight to put me on a 504 plan that provided accommodations for me to safely attend school and be included – a plan I kept even through my Senior year of high school.  
Second, I would like to also thank my Principal at Foothills Elementary, for being my champion. She took a hard line and kept a strong policy with parents who didn't want to abide by classroom accommodations, like an allergen-free classroom. Some of these parents, as I'm told, were particularly vicious, but she kept her stance that school needs to be safe for all children to attend, and I would like to thank her for that. 
But finally, I would like to thank you, all of you. You have created one of the kindest, most open and accommodating school districts in the nation. I cannot express my gratitude for your willingness to help me and other food allergic students in this district. Many other children are not as fortunate to have such welcoming attitudes; they face obstacles on a day-to-day basis, and their parents fight teachers, principals, school boards, and even superintendents to keep kids safe.
Thank you. Genuinely, thank you for 15 wonderful years. I would not be standing here, a successful graduate of Air Academy High School without you all, teachers and administrators alike. I'll be proud to represent Academy School District 20 at the University of Denver as a Boettcher Scholar in the fall.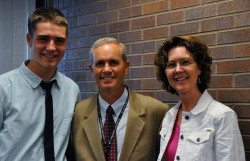 Morgan and I had the pleasure of posing for a picture with Academy School District 20 Superintendent Mark Hatchell at the Board meeting. His leadership keeps more than 600 students with life threatening food allergies safe and included in the school district.
I hope that your experience with your child's school and school district is as positive as ours has been!