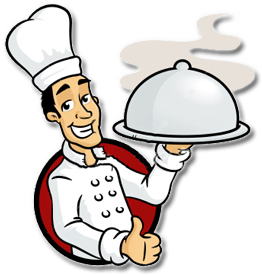 We are down to counting the days until our son, Morgan, goes off to the University of Denver (DU) for college. Before he moves in, we wanted to meet with the chef at the dorm cafeteria to discuss food allergies and safely feeding Morgan. Morgan had spoken with the DU head chef when we visited DU back in March, before he had made a firm decision on where he was going to school. The chef had suggested contacting him via email a few weeks before the school year started to discuss menus. Morgan took the lead in this, and he arranged a meeting with the chef for today, before DU starts its Orientation Week over Labor Day weekend.
Instead of just meeting with the head chef, we also met with 4 other chefs responsible for the various dorm cafeterias across the campus! What a welcome sight that was to see so many individuals interested in food and in Morgan's safety! DU uses Sodexho for their food service, but this is certainly a different type of Sodexho than I have run into in K-12 schools or camps.
At the chef meeting, we discussed what foods Morgan was allergic to – peanuts, tree nuts, sesame, fish and shellfish – and found out that one of the chefs has similar allergies. Wow! How comforting that is as a parent to know that a chef not only knows what cross contact is, but also knows all about an EpiPen, and reading labels. In fairness, all of the other chefs also knew about these items too, and were more than willing to provide specific brands of bread, which is one of the biggest issues we have in finding safe bread without cross contact of sesame and nuts. This means they will specially order, or go to the grocery store, to purchase two specific brands of bread that are sesame and nut-free (Pepperidge Farm Pumpernickel and Roman Meal) for Morgan.
All of the foods/dishes in the cafeteria are labelled.  The chefs were more than willing to make a safe meal for Morgan should he feel that was more to his comfort level, especially when one of his allergens is on the menu. And he was asked to talk with them at the beginning of every meal to discuss options.
The chefs all have experience with multiple students with food allergies in the past, and are prepared for any type of food allergy. We discussed the onslaught of forthcoming students with food allergies, and their mantra over and over again was, "We just want to feed you what you want that's safe." How wonderful is that?!
Two of the cafeterias have similar layouts with a pizza bar, a salad bar, international dish, and grilled protein. One of the cafeterias is more of a Food Court style where students can take meals to go. Also, the library has a cafe with foods that students can purchase.   On the DU campus, there is a Subway – which is safe for Morgan – and is covered under his meal plan. He has many options, and certainly shouldn't go hungry!
We are thrilled that we feel great about sending Morgan off to college knowing that so many chefs are interested in his well-being. And Morgan is excited for this next opportunity!