Most of you reading this blog are probably familiar with asthma – the 'regular' asthma that is in the lungs, causing mucous production, coughing and wheezing. Asthma is a serious illness causing NINE deaths per day in the USA. For some people, it's very hard to get it managed properly. For others, a cocktail of inhalers, bronchodilators and nebulizers are needed.
Now, imagine if you had asthma in your gut!
"Asthma of the Gut" is the best description I've heard yet to explain Eosinophilic Esophagitis (EoE). Gastrointestinal doctors are now using this term regularly to explain this debilitating condition.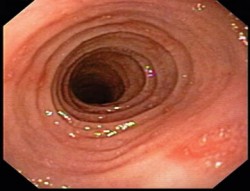 What is EoE? According to APFED (American Partnership for Eosinophilic Disorders) it is: "an allergic inflammatory disease characterized by elevated eosinophils in the esophagus. EoE is a newly recognized disease that over the past decade has been increasingly diagnosed in children and adults." APFED has more detailed information about EoE which you can read here.  There may be a genetic link in some families, and environmental allergies may also be a component.
According to AAAAI (American Academy of Allergy Asthma & Immunology) : "In EoE, large numbers of white blood cells called eosinophils are found in the tissue of the esophagus. Normally there are no eosinophils in the esophagus. EoE can occur at any age and most commonly occurs in Caucasian males. The symptoms of EoE vary with age. In infants and toddlers, you may notice that they refuse their food or are not growing properly. School-age children often have recurring abdominal pain, trouble swallowing or vomiting. Teenagers and adults most often have difficulty swallowing. The esophagus can narrow to the point that food gets stuck. This is called food impaction and is a medical emergency."
Diagnosis of EoE
The diagnosis of EoE can be tricky since it can mimic other illnesses, such as gastroesophageal reflux disease (GERD), celiac disease, parasitic infection, Crohn's or colitis. In general, if you have the symptoms discussed above, an endoscopy is going to be performed, where esophageal biopsies will be obtained. If you (or your child) have at least 15 eosinophils in at least 1 high-power microscopy field, then you are likely to receive the diagnosis of EoE.
Mast Cell Involvement/Treatments
I haven't heard of specific research on this; however, I want to mention some anecdotal evidence that I have. Almost every parent of a food allergic child that tells me that their child is inhalant allergic to a food has later been found to have EoE. I've had two GI doctors tell me that if eosinophils are elevated in a person, then mast cells are also elevated. When mast cells are elevated, a person is much more sensitive to their environment, and more likely to react to even the smallest exposure of an allergen.
It takes a special lab staining technique to check for mast cells in the gut, and most GI doctors in the USA aren't using this stain. Therefore, if the doctor checks for mast cell involvement, too many times they erroneously think there isn't a mast cell increase. Yet, both my daughter and I have later had the Alcian Blue 3 staining completed on our biopsies and found that our mast cells were extremely high!
In adults, GI doctors are regularly prescribing mast cell stabilizers (such as Ketotifen or Gastrocrom) for their patients with eosinophilic disorders. Yet children with EoE are commonly not receiving these medications. According to AAAAI, "Glucocorticosteroids, which control inflammation, are the most helpful medications for treating EoE. Swallowing small doses of corticosteroids is the most common treatment. Different forms of swallowed corticosteroids are available. At first, higher doses may be needed to control the inflammation but they are linked with a greater risk of side effects.
Proton pump inhibitors, which control the amount of acid produced, have also been used to help diagnose and treat EoE. Some patients respond well to proton pump inhibitors and have a large decrease in the number of eosinophils and inflammation when a follow up endoscopy and biopsy is done. However, proton pump inhibitors can also improve EoE symptoms without making the inflammation any better."
Elimination diets and/or elemental diets (amino acid formula) are other treatments for EoE. Yet even those don't work well for some people.
You may have read about a family who chose a wildly different treatment for their son when none of the standard treatments worked. You can read what Gerson Therapy did for this little boy here.
Eosinophilic Gastrointestinal Diseases (EGID)
According to APFED, "Eosinophilic esophagitis (EoE) is far more common than the eosinophilic gastrointestinal disorders that affect the rest of the GI tract. "
I am that rare bird! I have a diagnosis of  eosinophilic involvement throughout my gut – stomach and intestines in addition to esophagus – my diagnosis is Eosinophilic Gastroenteritis, which my doctor said is equivalent to the evil twin: Mastocytic Enterocolitis.
All of these terms just sound so much easier as "Asthma of the Gut".
In the case of the gut, where 75% of the immune system resides, there is certainly a need for some mast cells to fight off parasite or bacterial infections. However, eosinophilic disorders create a gut with an abnormally high amount of eosinophils (and mast cells) in the esophagus,  stomach, duodenum, intestines and colon. Inflammation occurs, and the lining of the gut is damaged creating malabsorption. It is a dangerous cycle to get into.
What are the symptoms of EGIDs?
Healing EGID
Because there is virtually no research on EGIDs – there are so few people to study – I've taken on my own recovery. I do eat a very limited, organic diet currently to help my gut heal. I take several medications to manage my mast cells and eosinophils (Budesonide, Zyrtec, Zantac, Ursodiol and Ketotifen). My gut is healing enough now to slowly decrease my Budesonide!
The biggest healing force I've found is meditation. If I envision my gut healing, on a daily basis, I've found that my intention is stronger than any illness!