I have recently been hearing from numerous people asking me how to obtain a mast cell activation diagnosis. What kind of doctor should I see? What kind of tests should I have done? Is there a blood test for it?
I share what I had to go through for 5 years before getting a diagnosis. I saw numerous different doctors – a primary care medical doctor, a D.O. primary care doctor, a private practice allergist, a private practice gastrointestinal doctor, an allergist and a GI doctor in a medical research facility…the list goes on and on. While I had numerous blood, urine, skin prick and food allergy tests, endoscopy and colonoscopy tests, no one could figure out why my stomach hurt 24 hours a day and I was continually losing foods in my diet. Everything came out "normal" in these tests; however, no doctor was actually biopsy testing for mast cells.
The food allergy and skin prick tests showed that I had some food allergies, but I wasn't able to eat the foods that I wasn't allergic to without severe gut distress. In other words, I was still reacting to foods that I wasn't allergic to, and this was baffling for my allergist. This is a common refrain of those with mast cell issues. When I read online about someone who says that they are down to only tolerating a few foods, I ask the question, "Has anyone mentioned a mast cell activation disorder to you?"
Sadly, at this point, there is no blood test to determine a mast cell activation disorder. I got a diagnosis of a mast cell activation disorder when I saw a GI doctor who sent out my endoscopy lab biopsies to be stained for mast cells and tryptase. He also stained for eosinophils, and there were plenty of those in my esophagus and intestines also. By the time I finally saw a doctor who knew what to look for and how to accurately test me, my mast cell count was 30-40 per high powered field, and my eosinophils were 80-90. Most doctors agree that you want these counts below 15 per high powered field. Finally, I knew why I was feeling so terribly!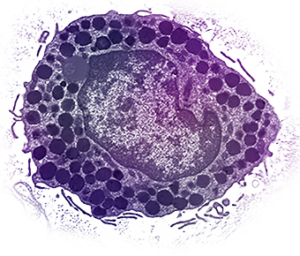 What I found is that medical doctors know a protocol to test for systemic mastocytosis, and they are more than willing to do that. I had one doctor who wanted to do a bone marrow biopsy on me. Thankfully I knew that I didn't want that type of an invasive test. I had read enough about the systemic form to know that I didn't have those symptoms.
There's a great write up on diagnosing all types of mastocytosis and mast cell activation syndromes on The Mastocytosis Society website here. The interesting item to point out when it comes to mast cell activation disorders is that one of the criteria for diagnosing it is to put the patient on H1 and H2 inhibitor medications (generally Zyrtec and Zantac) to see if they feel better. If the patient feels better, then it must be a mast cell disorder! Backwards logic.
Most people seeking a diagnosis have been dealing with all kinds of odd manifestations of mast cells for years before they get to a breaking point and decide they need to get a diagnosis. Most mast cell activation issues manifest with gut involvement. A person's bladder may be affected (a diagnosis of Interstitial Cystitis involves mast cells), but they also have gut issues. The good news about the gut involvement is that an endoscopy can be completed and biopsies can be stained to determine if mast cells are proliferating.
So, first thing I suggest to people is to have a food allergy testing to see if there are foods to which they have a true allergy. The second testing I suggest is to get an endoscopy and have the biopsies stained for mast cells.
If you do receive a mast cell activation diagnosis, you want to get on some type of antihistamine (and maybe even a mast cell stabilizing medication) as soon as possible. The longer that a person delays, the longer that mast cells will be activating, and the worse you will feel. This activation can create havoc on organs, and the cycle only gets worse. Soon it's not only your gut that is affected, but the mast cells are proliferating at such a high rate that they can even move into your brain. You then begin to experience "brain fog." This is a neurological issue where it's difficult to concentrate, to remember things and to follow conversations. This cognitive dysfunction can affect people of all ages when there is mast cell involvement. I've experienced it myself when I was the sickest. Thankfully, by getting on a cocktail of antihistamines, a steroid, and a mast cell stabilizer for a few years, I was able to come back to my body. From there, I've done many other non-Western modalities to help my body heal.
I don't know of one person who was suddenly able to get better without any type of medical intervention when it comes to a mast cell activation disorder. But you can get better! I am living proof of that.
Mast cell issues are increasing at a phenomenal rate currently. Ask any allergist if they have mast cell patients, and virtually every one will say yes. They will also probably say that they are some of the sickest patients they have, with so many symptoms it's difficult to know where to begin to help them!
As a patient, we need to advocate for ourselves. Listen to your intuition. If a test doesn't seem appropriate for you because of the cost or because it's too invasive, speak up.
Read up on mast cell issues. The Mastocytosis Society website in the US and the Mastocytosis Society Canada have great resources to help patients get treatment.
I'm always willing to chat and to assist you by sharing my experience of what has worked for me! Feel free to contact me at [email protected]