Our son, Morgan, was 10 years old when he originally wrote the answers to these questions in April of 2006. This article appeared in a newsletter that we published, long before there were blogs
He was anaphylactic to peanuts, tree nuts, sesame and shellfish, and severely allergic to dogs, cats and other furry animals. He got eczema from food dyes, had mild asthma and was allergic to grasses, weeds and trees. At 22 years old now, he still has all of these allergies, plus he added fish to his anaphylactic food allergies.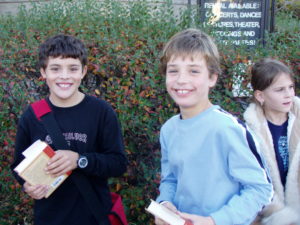 Now that you're getting older, do you ever go on school field trips without a parent joining in?
Only once so far. It was to a mining museum. I brought along my Epi Pens and Benadryl just in case if something happens. I have chosen on my next field trip, to Bent's Old Fort in Eastern Colorado, to go with neither of my parents joining.
What do you have to bring in order to be safe?
I have to bring safe snacks, my own lunch, and of course my Epi Pen. I also bring Benadryl just if I get itchy eyes or something that is mild. I also make sure to have a friend nearby so that he knows what is happening and can tell my teacher to give me my Epi Pen if that would ever be necessary.
What did you experience on a recent field trip that could have been unsafe?
At the mining museum, we panned for gold. I did not participate because from an experience at the Denver Museum of Nature & Science. They had a little exploration box where you could dig for dinosaur bones. I could have done it, but on the sign, it said: Sand is made from Walnut Dust. I never did go do that again! At the Mining Museum, there was dirt and things at the bottom, along with gold flakes. I did not want to take risks just in case if the water was some type of oil, or whatever.
Did you feel left out not being able to participate in that?
Actually not. I have to be able to cooperate with my allergies and my life.
What do you plan on doing on your next field trip that goes all day and is 2 ½ hours away by bus to Bent's Old Fort?
I plan to bring the same things as the Mining Museum trip – snacks, lunch, and my Epi kit which includes all my medicine. I also planned with my teacher that everyone will bring a safe snack and lunch, plus safe things to do, like not trade food things.
Are there any field trips that you wouldn't want to participate in?
Yes, quite a few. The petting zoo, the cookie factory (if we ever went there), and a lot of other things that wouldn't be safe for me if they were one of my allergens.