Our son, Morgan, was 10 years old when he originally wrote the answers to these questions in March of 2006. This article appeared in a newsletter that we published, long before there were blogs
He was anaphylactic to peanuts, tree nuts, sesame and shellfish, and severely allergic to dogs, cats and other furry animals. He got eczema from food dyes, had mild asthma and was allergic to grasses, weeds and trees. At 22 years old now, he still has all of these allergies, plus he added fish to his anaphylactic food allergies.
What would you do if someone brought peanuts or nuts into your nut-free classroom at school?
I would just say, 'I'm severely allergic to nuts. You can't bring these into the classroom. Maybe could you bring in something else that is safe?'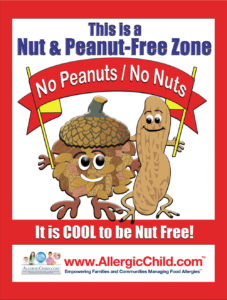 Has this ever happened?
Once. One of my friends brought in cooked nuts with sesame seed on top for Chinese New Year. He said all right, but I don't think necessarily he understood. He was from China.
What precautions are required for you to go on a field trip? Who carries your medications?
You need to make sure that you are going somewhere that is safe for you. K-3 should have a parent/guardian that understands your food allergies and that can administer your Epi-Pen or other medications that are necessary. 4th and 5th graders should be responsible by now to carry their own medication and travel by their selves unless your parents do not feel comfortable with it.
Do you have a full time nurse at your school?
No, I don't. She usually at most comes in once a week because she works at 4 different schools. She helps write up my Health Care Plan.
Do you participate in meetings to plan your 504 Plan and your Health Care Plan? Why do you think it's important for you to be there?
Yes, I do. Why? Well, so that I know my future teacher knows what I'm allergic to, and can also handle it. I think it's important for me to be there because so that they get to know me, and actually understand what can happen if I go into anaphylactic shock. Also, I think I should be there so that I get know them and how it will work out with the classroom rules.