For those of you new to reading my blog, I wanted to provide a little history of MCAS in my grown daughter, Michaela, prior to getting to the topic of COVID.
Michaela got a diagnosis of MCAS shortly after I did about 10 years ago. We noticed how she was experiencing many of the same symptoms that I was with gastrointestinal issues, but she also had symptoms of interstitial cystitis, which her grandmother had been diagnosed with.
MCAS is a constant balancing act, and it can affect virtually any organ in the body. For Michaela, her thyroid, bladder, stomach and intestines are most frequently compromised when mast cells begin to degranulate.
She got placed on a variety of medications from a Gastrointestinal doctor including Zyrtec, Zantac (when it was still on the market), Ursodiol (alters bile for less histamine release), and Ketotifen. She never felt great on all of these medications, especially since her body continued to have ongoing inflammation evident in general swelling of her gut.
She took on her own healing, especially after a harrowing episode of two grand mal seizures in the ER, which occurred after getting dehydrated and having a mast cell flare. You can read about this scary episode here. After the seizures, and having aspiration pneumonia, she added lungs to her list of compromised organs. Her lungs would react to chemicals especially and she had to be very careful of what she was being exposed to.
Prior to COVID, Michaela had gotten her mast cells managed quite well through a completely organic diet of vegetables and fruits (cooked and raw), meditation, Network care (a type of Chiropractic practice), Traditional Chinese Medicine herbs, and plenty of Salsa and Bachata dancing! She no longer needed to take any "Western Medicine drugs", and had been off of them for over a year when diagnosed with COVID.
She no longer had inflammation in her body, and had lost 30 pounds just through healthy eating, dancing and enjoying life with plenty of laughter and friendship. She is convinced that especially the Zyrtec and Ketotifen had created more inflammation in her body than it helped to decrease. She was feeling better than she had felt in years. And then came COVID.
It is important to state that Michaela decided to not get a COVID vaccination due to her extreme reactions to chemicals, and her sensitivity to anything being put into her body.
After 18 months of social distancing, mask wearing and very little dancing, she got to celebrate her 31st birthday in November 2021 with a test for COVID. The pre-birthdate party she celebrated with her friends became just one of the positives she experienced – the other being the results of the PCR test.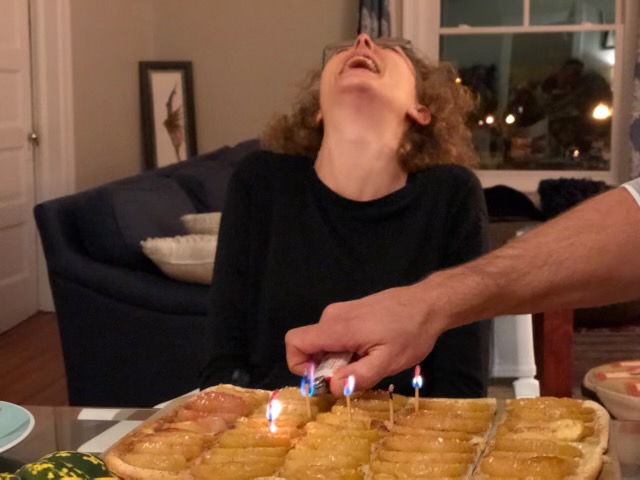 She awoke a few days after the party with a severe migraine, which is not a usual symptom of MCAS for her. Similar to the symptoms that she experiences with a MCAS flare, COVID began to create gastrointestinal issues. She was virtually unable to tolerate eating anything because of acid reflux and nausea for about 10 days. She kept hydrated with mineral water, and never had any lung involvement, which was a relief. She barely even had a cough for the entire illness, and the fever only lasted about 36 hours and wasn't very high. She did have fatigue, but was prepared for that since we had heard that was a normal symptom of COVID.
She had some strange symptoms like very painful skin that almost felt like it was burning, and it was difficult to take a shower. Some of the TCM creams helped this. So the "usual" COVID symptoms weren't at all what she was experiencing, but she definitely had COVID and her gut no longer would tolerate the variety of foods that she had previously been able to eat. She couldn't eat raw foods, like apples, anymore. Everything had to be cooked, and food didn't taste good once she lost her sense of taste and smell.
It was a rough illness but she didn't require hospitalization, and didn't even need to go to the doctor. She did reach out to Dr. Xiu-Min Li, our Traditional Chinese Medicine doctor, to inquire about what she could do for her immune system to help it fight the infection and get back to normal. Dr. Li suggested various herbs in patches placed on specific acupuncture points, and that helped a lot.
The acute infection lasted for 10 days, and yet she still had chronic acid reflux that wasn't helped by Pepcid. A half dose of Pepcid created a mast cell storm that was very uncomfortable and included sweating, nausea, and a feeling of almost passing out. So, Pepcid was out of the question. Overall, though, she felt like the worst had passed and was ready to get back to her "normal" life.
Our family was able to celebrate Michaela's birthday and Thanksgiving the first weekend in December. What we didn't know then was that the end of the acute illness was the beginning of another path that became quite scary and weird, with new symptoms and ongoing fatigue, and a journey that Michaela continues to forge a path through. The continuation of her experience and her path back to health is shared in the next blog post here!