There are many people who suffer from a bee sting allergy, and most don't have any food allergies. Thankfully, so far, neither of my grown children – Morgan and Michaela – have experienced any reaction to the bee stings that they have received.
It's a different story for me. As a child and into my early 20's, I received several bee and wasp stings without any issues other than a little discomfort. That all changed in 2006 when I was stung by a wasp on the back of my thigh. That was the beginning of my entire immune system going on "tilt". I was later diagnosed with a mast cell disorder, which honestly could have been active for years prior to this bee sting. And the reaction to the sting brought my system over a threshold from which it hasn't yet recovered.
The wasp sting reaction lasted for 3 weeks with hives on my thigh and itching. I didn't realize then that I should have gone to the doctor and gotten steroids or some other treatment. Foolishly, I toughed it out.
I did tell my allergist at our next visit, and she gave me a prescription for an epinephrine autoinjector because of the severity and length of my reaction. I never experienced any breathing issues, which I'm grateful for. However, as with any type of allergic reaction, you never know what the next one could bring.
This past week, I was stung by a bee while out walking in my neighborhood. I sustained the sting on my left pointer finger right below the knuckle. I pulled out the stinger immediately and headed home to put on ice. I truly didn't think I'd have a reaction this time since my mast cell disorder is better maintained with antihistamines and mast cell stabilizers, and I've never reacted to previous bee stings. Yet, the swelling began the next day.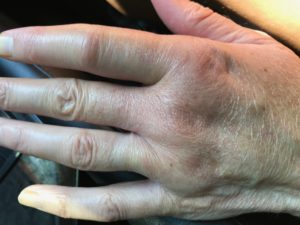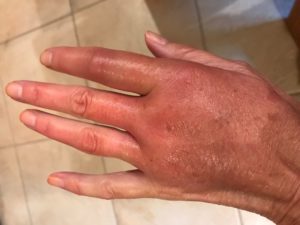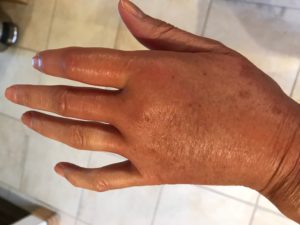 By a day and a half after having the sting, my hand looked more like the Incredible Hulk's than my own! It was itchy, and the swelling was so bad that I had to hold my hand above my head to keep it from throbbing. Again, I had no breathing issues thankfully, but the swelling was getting to the point that I was concerned that the skin on my pointer finger was going to burst.
I set out for my allergist's office, ended up seeing a Nurse Practitioner since my allergist wasn't in the office that day. She sadly had no knowledge of mast cell disorders, and thought a few extra antihistamines would do the trick. I had to beg her for a prescription of Prednisone. She acquiesced and said I should take 20mg of Prednisone each day for 5 days and then stop. I've never heard of this, with no titrating off of the drug. I asked her about that, and she said it wasn't a problem. Again, not what should be done for someone with a mast cell disorder!
When I got to the pharmacy, the pharmacist had thankfully noticed that the 20mg tablets of Prednisone contain dye, which I react to, and asked if I'd prefer the 10mg tablets. I was so thankful that he noticed this! He then told me that she had prescribed two 20mg tablets a day for 5 days. So that's 40mg of Prednisone a day with no titrating off!
I called the Nurse Practitioner and asked about this mixup and what should I be taking? She said the 40mg was fine. At this point, I knew I'd better get in to see a doctor, and went to my family practice doctor to get everything straightened out.
The doctor put me on a short course of Prednisone, starting at 20mg and titrating off over the next 4 days. The drug quickly began to lessen the itching, pain and swelling.
A few reminder lessens learned:
Past reactions to bee stings/wasp stings don't indicate current reactions.
With any type of serious reaction, see a doctor! And if you have a mast cell disorder, it's always better to see one who understands the nuances of reactions with mast cell patients.
Make sure to have any type of dye allergies listed at your pharmacy.
Never go off of a steroid suddenly. Always titrate down!