Back in December of 2005, I began sending out a monthly newsletter from me/AllergicChild. This was long before blogs came into being!
I created a Morgan's Corner in the newsletter for our then 9-year- old son to answer questions about living with food allergies. Morgan is now 22 years old and a college graduate! Yet, many of these memories from these interviews are worth saving on the blog and sharing with you.
You will notice in the interview below that Morgan doesn't list Fish as an allergy. He had yet to experience anaphylaxis on a camping trip to trout that illuminated the allergy!
I'm sure many of you will relate to his successes and challenges as I continue to add these to the blog and share them.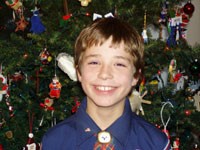 How old are you Morgan?
I'm 9 years old and in the 4th grade.
What are you allergic to?
Peanuts, Tree Nuts, Shellfish, and Sesame. I'm also allergic to Dogs and Cats, although it's mostly anything that's alive with fur on it. Although those are but a few what I am really allergic to, those are my main.
Do you ever remember not having allergies?
No, I do not remember not having food allergies. I was really young when we found out, so I don't remember.
What's the worst part of your allergies? In other words, what do you wish you could change?
I don't know really what the worst part is. It's either not going over to a friend's house or I can't eat something. I also wish that I did not have dog allergies just because a lot of my friends have dogs, so they have to come over to my house instead of me going over to theirs.
Have you ever been teased because of your allergies?
Well, twice actually. Once, a friend of mine went running around the playground, of course chasing me, holding a peanut butter cracker and yelling "Eat it Morgan! Eat it!" Another time is when another one of my friends actually went around chasing me pretending to be a peanut butter sandwich. All these times, I went and told the teacher and they did get in to trouble. We're friends now, and I don't think about it much anymore.
Have you ever been left out of activities because of your allergies? If so, what? How did that feel?
Food Fights, Food Fights, and more Food Fights. Seriously, I have to either not participate, or check the labels on all foods at a party at school. That usually takes a long time though. It sometimes felt great that I'm safe, but I also want to participate. I have also been left out when my 1st grade classroom went next door and I couldn't go in. The classroom wasn't peanut free. I told my teacher how it felt to be left out. She cried, and it didn't happen again.