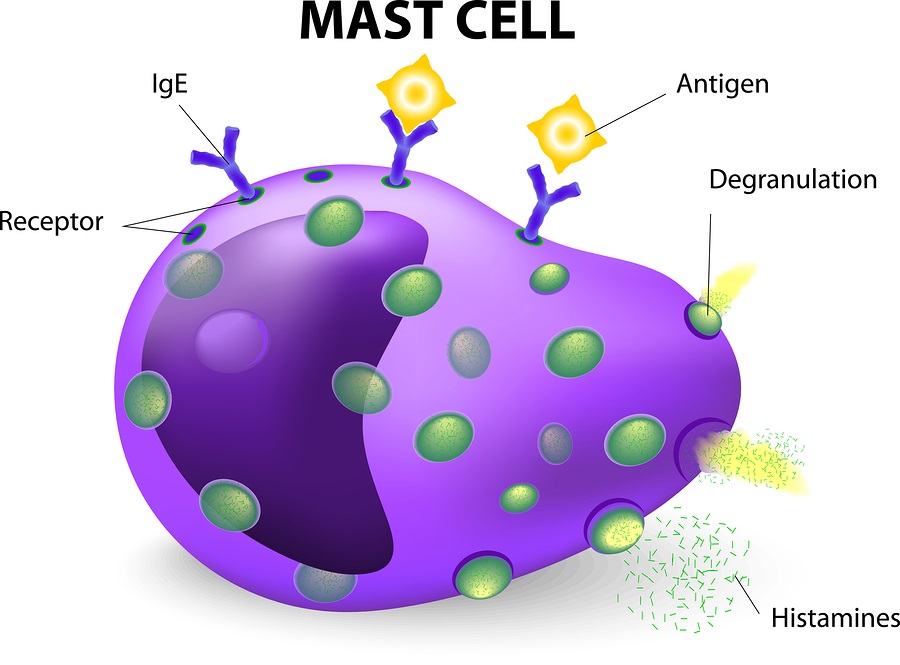 There are many stresses in our world that can cause a mast cell to degranulate: pollens, chemicals, foods, illness, injury and even good old emotional "stress." If you have a mast cell activation syndrome (MCAS) diagnosis, being mindful of stress is key to keeping your condition from negatively affecting your life.
I have found that there are some stresses that are more easily managed, such as the foods that I eat or the chemicals that are in my home. I make sure that I never "cheat" with foods. I know which foods I can tolerate, and I always maintain my diet with only those organic foods. Is it hard to be that vigilant? Yes, it is! However, I know my body well enough now to understand that adding any extra stress doesn't make me feel good, and certainly puts my physical and mental health at risk if a stressor comes along that I can't foresee.
My husband and I have recently begun using only non-toxic products in our house for cleaning. We've found that the Better Life brand is great, and they have every kind of product you can think of for glass cleaning, dusting, dishwasher soap, etc. (By the way, I'm not receiving any funding for this endorsement. It's based purely on my experience.)
Other stresses are more difficult to learn how to manage. I've gotten better through the years to be able to recognize when my work is creating too much of a burden on my time, thereby creating stress. I am blessed to be able to work out of my home, which assists not only with the environment in which I work, but also that I can make my own foods in my own kitchen, and I can take a 20 minute afternoon nap if I feel so inclined.
I can't stop the spring or fall pollen flares, but I can be mindful of increasing my use of antihistamines, taking a shower before bed, and keeping the windows of my home closed and the air conditioning on. All of these actions help to lower the stress load of pollens on my body.
Having an allergic reaction to a bee sting last summer created a storm of mast cells that necessitated a round of Prednisone to calm down the reaction. Any type of allergic reaction creates tremendous stress on the body, and especially for those of us with MCAS. I am always aware of bees in my environment since I've had a bad reaction previous to this one, and I carry an Auvi-Q in case the reaction is severe. Sometimes, though, a bee comes out of nowhere which is what occurred with this sting.
Late last year, I got a case of bronchitis that lasted 6 weeks, and left only after taking an antibiotic, which I haven't had to take in over 12 years. The stress of the illness plus the medication was difficult for my body to recover from, and my mast cells were trying to be helpful by degranulating. Instead, I felt sick to my stomach in addition to coughing! Bodies do heal, and slowly I got better.
Also, over this past year, I have twice had injuries. I fell on a gravel path last year, spraining my ankle. It took months to get back to "normal" of being able to walk. My mast cells reacted for about two weeks with a storm of activity while my nervous system responded to the bruising and swelling of my ankle. I increased my Ketotifen to calm down my system, and took care of myself. Because of my sensitive stomach, I'm unable to take any type of pain medications – even Tylenol or Advil – without having more mast cell degranulation. Therefore, I get the opportunity to rest, breathe into the pain and to heal instead of taking pain medication and moving back into life right away.
Last week, I was in a car accident when a 1/2 ton truck ran into my car going 40+ mph. I thankfully was able to walk/limp away from the accident, however my car was totaled. The impact on my muscles, and the bruises that continued to show up for days, showed me what a stress the accident had put on my body. Sometimes, there's nothing we can do when a big stressor shows up. I'm very grateful that my body had been doing really well with no illnesses or issues for a good 5 months before the accident occurred. And it's been a difficult recovery where once again I'm unable to take any pain medications.
My goal is balance – balancing the stress in my life which plays out on my mast cells. It requires for me to be constantly aware of my body and my environment. I have to be a good advocate for myself, especially if I'm in a location that is filled with perfumes or smoke, and get out immediately! I worry less and less about what others think about me, and whether they think I'm weird. I'm sensitive, and that's a good thing!