I.D. Me Labels are an effective way to communicate your child's food sensitivity at home, play, school, camp or daycare. Ideal on lunch containers/boxes, water-bottles, sippy cups, and baby bottles. Food Allergy Labels are waterproof, microwave and dishwasher-safe.
Label it or Lose it is a company that produces Allergy Alert name labels. They provide a clear warning to others about your child's allergy or allergies. Being waterproof, they are especially designed for kids' lunch boxes and drink bottles. In order to receive a discount, make sure to use ourdiscount code: Allergic Child.
AllerGators Food Allergy Safety Stuff has several styles of t-shirts, bracelets, posters, lunch bags, watches and lots more! The products feature a cartoon "AllerGator" and the text "I Have Food Allergies!" or "I'm Allergic to NUTS!". Use the coupon code "AllergicChild" and receive a 10% discount!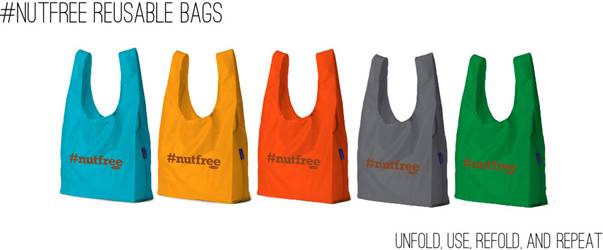 NutFreeWear sends a 'Nut Free' message on lunch bags and clothing. Great for sustainability and for letting the world know you are NutFree!
ALERT Clothing Company is designed with the child in mind. Colorful, cheerful graphics and the message of food allergies included on each shirt. The company logo is also on the back of the shirt to help with identification.
Allergy Apparel Hip and FUNctional Epibelts, food allergy apparel, medical alert jewelry, and more!  Why skull and crossbone?  Other than the cool factor, they are a reminder that nuts, eggs, dairy, and other foods can be poison to a child.  The designs are hip, FUNctional, and raise awareness.  Use promo code ALLERGIC to receive FREE shipping.
AllerMates®… for safer playdates 
Allermates are an award winning line of colorful allergy awareness dog tags and adjustbable wristbands featuring original cartoon characters.  Perfect for school, daycare, babysitters, sleepovers and playdates.. the AllerMates are armed and ready to help identify and protect kids with allergies. Waterproof and hypo-allergenic.
EpiPen holders – pouches and belts – in various colors
SafetySack is a clear nylon standup pouch designed to hold emergency medication for the treatment of a severe allergic reaction. Among the unique features of SafetySack are a child-resistant safety lock with a re-closable slide zipper and an emergency medical treatment plan tailored to the child with the severe allergy. This is ideal for a diaper bag where little hands may be searching. Please mention in the comments section that you heard about SafetySack from AllergicChild.com!
Icy Diamond Totes: This is a great purse-type insulated tote that would certainly keep your EpiPen the right temperature whether it's cold or hot outside. Please type in Allergic Child under the company name at checkout upon purchasing!
Receive 30% OFF online orders.  The promo code is COOL2010 (all caps).
Star Allergy Alerts are a fantastic NEW range of Allergy Awareness Products for children. The range includes Badges, Stickers, Clothing, Allergy/Medical Bracelets, Epipen Pouches, Posters and Magnets, all designed in modern colours and with cute characters. Choose from up to 40 different Allergy/Medical Alert Messages! Your kids will love them & give you peace of mind when you can't be there. Perfect for Day Care, School, Picnics, Parties, Camps and Sleepovers! Star Allergy Alerts is THE Allergy Brand to wear!!
Don't forget to mention AllergicChild.Com when ordering!
Fiddledeeids.com offers charming Medical ID Bracelet and Jewelry! Free Engraving! Medical ID Bracelets, Necklaces, Dog Tags, Allergy Alert Bag Tags, Alert Temporary Tattoos, and so much more! Stay Safe in Style with this exclusive Allergic Child 10% Coupon: AllergicChild (minimum purchase of $20.00)
N-Style ID's stylish medical ID bracelets not only convey important life-saving information,kids actually like to wear them!  Let's face it, they'll never wear their medical bracelet if they think it's not 'cool'.  With jelly and sports bands for both boys and girls, there's sure to be a style they fall in love with. $10 off any purchase of $50 or more, expires 5/31/11. Use this Promo code: AC0511 at checkout.
Purchase a MedicAlert bracelet for your food allergic child for everyone to know exactly what their allergies are. Enroll today by calling 1-888-904-7629 and mention code 5560 to save $5!
Sticky Jewelry
 provides medical identification bracelets with ten styles of interchangeable polyester strap bracelets, all of which feature a 'snap-lock' clasp and are adjustable to fit wrist sizes ranging from four inches up to 8 inches.
The engraveable stainless steel plaques are offered either plain or with the red medical emergency symbol stamped into the plaque, and all of the plaques are made of 316L (hypoallergenic) stainless steel.
Select Wisely has food translation cards for travelers with food allergies, sensitivities or dietary restrictions. In addition, to English these cards come in 11 different languages! Multiple foods and languages can be listed on each card.