Children's Books on Food Allergies
        "Allie the Allergic Elephant"
By Nicole Smith
"Allie" is a wonderful book written about           the perils and triumphs of an elephant that tells her life story of what it is like to live with peanut allergies. The illustrations are exceptional as the artist, Maggie Nichols, is a middle school student. Conceived and written by Nicole Smith, "Allie" is geared towards educating the pre-school to 1st grade level about peanut allergies, allergic responses and how to say "No, thank you." to foods offered by other children and adults alike.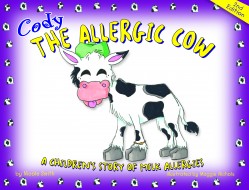 "Cody the Allergic Cow"
By Nicole Smith
"Cody" helps children learn about milk allergies and how to recognize an allergic reaction. Beautiful illustrations and a simple text make this book a must-have for your child, friends, grandparents and classrooms. This is the second book by Nicole Smith, and illustrated by Maggie Nichols.
"Chad the A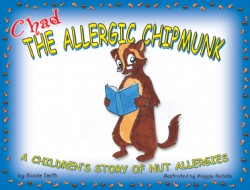 llergic Chipmunk"
By Nicole Smith
"Chad the Allergic Chipmunk" helps children and adults learn about tree nut allergies and how to recognize an allergic reaction. "Chad" explains nut allergies in a way that parents, teachers, and children themselves can talk about allergies and understand them better. Written by the author of "Allie the Allergic Elephant" and "Cody the Allergic Cow," "Chad" is her next book discussing severe food allergies.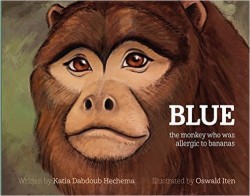 Blue the Monkey who was allergic to bananas
This charming story about a little monkey named BLUE, tells the tale of his food allergy and how he learns to live with it.
The P
eanut Butter Jam
by Elizabeth Sussman Nassau, Margot J. Ott
The Peanut Butter Jam states it's for ages 4-8,
however the content may be too advanced for young children. I feel it's better suited for ages 7-10. It is an engaging story of an anaphylactic reaction to peanut butter in school.
The Princess and the Peanut Allergy
by Wendy McClure
This is a great book to explain (especially to girls)      that one small bite of a peanut can be lethal to a child with peanut allergies. The illustrations are great, and the story is wonderful for little princesses!
Aaron's Awful Allergies
by Troon Harrison
Aaron has terrible allergies to his dog and has to find an animal suited for him. This is a sweet story geared toward ages 4-8 about pet allergies.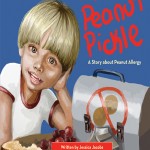 The Peanut Pickle
by Jessica Jacbos
The Peanut Pickle will help children learn how to tell others about a food allergy and explain that they need a safe environment. It will teach them how to deal with difficult and awkward situations that inevitably arise when a child has a life-threatening food allergy. It also includes a guide for parents to help their children with food allergies.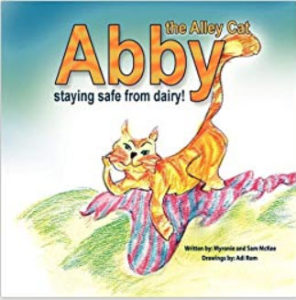 Abby the Alley Cat – Staying Safe from Dairy" (Paperback)
by Myronie McKee  and Sam McKee
"Abby" is one of the few children's books on milk allergies, and it has a nice message all in rhyme. It's very reminiscent of the Dr. Seuss tale, "Green Eggs and Ham." The illustrations aren't great, but the book will get the point across to milk allergic children.
The Itchy Kids Club: Silly Poems for Itchy Kids
This is a funny book that isn't for the overly sensitive about their eczema and dermatitis! My son thought it was hysterical.
The Bugabees: Friends With Food Allergies
An adorable rhyming book for children. Eight friends with different food allergies plus a quiz at the end to enhance the information about food allergies.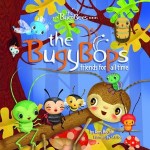 The Bugy Bops – Friends for All Time
From washing hands to reading labels, BugyBops show how a few simple steps can help prevent serious allergic reactions to Top 8 foods. Cross-contamination, Epipens, and the physical signs of an allergic reaction are also introduced.
The following are a GREAT bunch of books explaining food allergies in real-life situations. The illustrations are superb, and the story lines come right out of our experience with food allergies:
The No Biggie Bunch Sports-Tastic Birthday Party
by Heather Mehra, Kerry McManama, and Michael Kline (Hardcover – 2009)
The No Biggie Bunch Trade-or-Treat Halloween
by Heather Mehra, Kerry McManama, and Michael Kline (Hardcover – 2009)
The No Biggie Bunch Peanut-Free Tea for Three
by Heather Mehra, Kerry McManama, and Michael Kline (Hardcover – 2009)
The No Biggie Bunch Dairy-Free Dino-Licious Dig
by Heather Mehra, Kerry McManama, and Michael Kline (Hardcover – 2010)
Everyday Cool with Food Allergies 
by Michael Pistiner, MD
Dr. Michael Pistiner and The No Biggie Bunch make food allergy education enjoyable and engaging in this book. Kids and caregivers will find answers to their food allergy safety and management questions, and solutions to their everyday challenges.
For the specifics of parenting a child with severe food allergies, a few books I recommend are:
by Robert Wood, M.D.
and Joe Kraynak
This is a great book. There's so much knowledge passed on because Dr. Wood
not only is an allergist, but also has peanut allergies himself. He truly
gets it!
Allergic Girl: Adventures in Living Well with Food Allergies
by Sloane Miller
This is a great book especially for gaining tips to help your child become a self-advocate. Teens also will like this book.
Feeding Eden: The Trials and Triumphs of a Food Allergy Family
by Susan Weissman
A memoir that will remind many of you with food allergic children of the challenges and triumphs of living with food allergies.
Understanding and Managing Your Child's Food Allergies"
by Scott Sicherer
This book is especially good if your child has been newly diagnosed. Also, if you enjoy statistics and research, both abound in the book. Our experience has been different regarding schools and camps than what Dr. Sicherer suggests, and since he is a doctor and not a food allergic parent – take that into consideration.
How to Manage Your Child's Life-Threatening Food Allergies: Practical Tips for Everyday Life
by Linda Marienhoff Coss
Provides the step-by-step information you need to create a safe and enjoyable home, school and social life for your child
Parenting Children With Health Issues: Essential Tools, Tips, and Tactics for Raising Kids With Chronic Illness, Medical Conditions, and Special Healthcare Needs 
by Foster W. Cline , Lisa Greene
If you haven't yet read the Love and Logic series of parenting books, you might want to read those books prior to this one. Yet, this is a good book explaining difficult health situations with children. It does focus more on cystic fibrosis and other diseases than on food allergies. Yet, the overall tone of the book can be used in parenting a severely food allergic child.
Dealing with Food Allergies in Babies and Children 
by Janice Vickerstaff Joneja
A great book for the newly diagnosed, and written by the mother of two food allergic children. The author also has a PhD in medical microbiology and is a Registered Dietician.
Behavior Issues and Food Allergies
Healing the New Childhood Epidemics: Autism, ADHD, Asthma, and Allergies: The Groundbreaking Program for the 4-A Disorders (Hardcover) 
by Kenneth Bock , Cameron Stauth
If we lived closer to Dr. Bock and his practice, I'd be getting an appointment! This book offers some amazing possibilities for really curing allergies and other behavior issues.
Causes and Cures for Food Allergies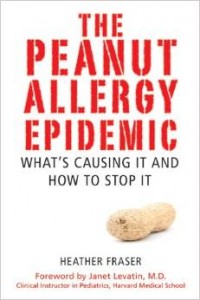 The History of the Peanut Allergy Epidemic
by Heather Fraser
This book is the most well researched one I've read about the peanut allergy epidemic. While it reads more like a dissertation, the supporting research is voluminous and necessary. The chapters on the history of vaccination and the impact on the current epidemic of peanut allergies is shocking!
The Unhe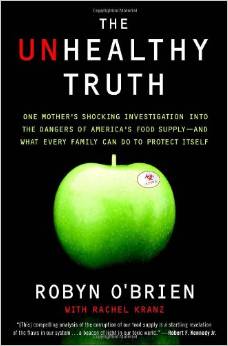 althy Truth: One Mother's Shocking Investigation into the Dangers of America's Food Supply– and What Every Family Can Do to Protect Itself 
by Robyn O'Brien
This book goes beyond food allergies into looking at the entire food supply and what's causing our children to be sick. Great read!
Food Allergi
es: Traditional Chinese Medicine, Western Science, and the Search for a Cure
by Henry Ehrlich
If you're thinking about visiting Dr. Li and participating in her research, this is the book for you!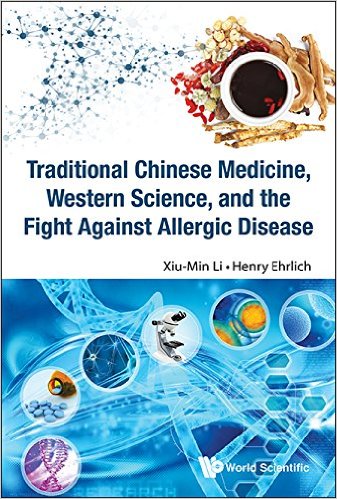 Traditional Chinese Medicine, Western Science, and the Fight Against Allergic Disease 1st Edition
Cookbooks
The Whole Foods Allergy Cookbook: Two Hundred Gourmet & Homestyle Recipes for the Food Allergic Family (Paperback)
by Cybele Pascal

All of the recipes in the book are free of the top 8 allergens: dairy, wheat, eggs, soy, peanut, tree nuts, fish and shellfish plus refined sugars. Amazing!
Go Dairy Free: The Guide and Cookbook for Milk Allergies, Lactose Intolerance, and Casein-Free Living
by Alisa Marie Fleming
This book is in conjunction with Alisa Fleming's website: GoDairyFree.org which is a great resource for the dairy allergic. The book has recipes, lifestyle suggestions and great info for all who need to avoid dairy.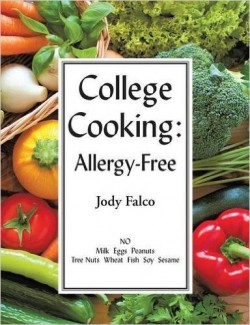 by Jody Falco
25 Easy Recipes for students and new cooks
 No Substitutions
No Hard-to-Find Ingredients
NO Milk, Eggs, Peanuts, Tree Nuts, Wheat, Fish, Soy, or Sesame
Soph
ie-Safe Cooking
by Emily Hendrix
This cookbook is written by a Mom of a food allergic child and the recipes are free of Milk, Eggs, Wheat, Soy, Peanuts, Tree Nuts, Fish and Shellfish. She does use oat flour in most of the recipes, so for those of you with celiac disease, this cookbook is probably not for you!
The Divvies Bakery Cookbook: No Nuts. No Eggs. No Dairy. Just Delicious!
by Lori Sandler
The Divvies products are amazing, and now Lori comes out with a great cookbook! I only hope that my recipes can produce the beautiful results that she creates!
What's to Eat? The Milk-Free, Egg-Free, Nut-Free Food Allergy Cookbook
by Linda Marienhoff Coss
An easy-to-use, comprehensive cookbook for those who must eliminate dairy products, eggs, and nuts from their diet.
What Else is to Eat? The Dairy-, Egg-, and Nut-Free Food Allergy Cookbook (Paperback) 
by Linda Marienhoff Coss
With an emphasis on fast and easy cooking, the book includes recipes for baked goods, soups and salads, main dishes, side dishes, and breakfast foods all based almost entirely on normal, easy-to-find ingredients.
Wheat-Free Recipes & Menus
by Carol Fenster
Hundreds of tasty, nutritious recipes and menus without wheat or gluten.
Bakin' Without Eggs
by Rosemarie Emro
Delicious Egg-free Deserts from the Heart and Kitchen of a Food-Allergic Family
The Allergy Self-Help Cookbook
by Marjorie Hurt Jones
Over 325 Natural Food recipes Free of All Common Food Allergens: wheat-free, milk-free, egg-free, corn-free, sugar-free, yeast-free.
Allergy Free For All Ages: Milk-Free, Egg-Free, Nut-Free Recipes
 by Penny L. Webster

Written by a mother of a food allergic child. The book includes recipes for salads, main courses and the most important dessert!
Dairy-free &/or Wheat-free &/or Soya-free BUT Always Totally Nut-free Family Cookbook (Paperback)
by Clare Constant, Suzanne Wood
An easy-to-use restricted diet cookbook written by two English moms, with 100+delicious recipes that everyone in your family can enjoy whether it's dairy &/or wheat &/or soya and nuts that individual members have to avoid.

The Allergy-Free Cook Bakes Bread: Gluten-Free, Dairy-Free, Egg-Free [Paperback]
Dealing with any food allergy is a challenge, especially when you find yourself coping with more than one of the common food allergens: gluten, wheat, dairy, or eggs, as well as soy, corn, tree nuts, or peanuts. Laurie has great use of alternative flours and ingredients.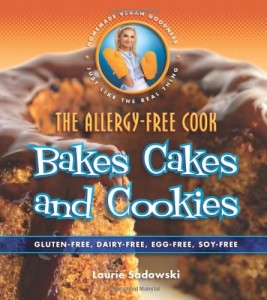 The Allergy-Free Cook Bakes Cakes & Cookies
A follow-up and companion to The Allergy-Free Cook Bakes Bread, this book is designed for anyone who needs to avoid gluten, dairy products, and other common food allergens but doesn't want to feel deprived.