Valentine's Day is traditionally a day of chocolates and candies in celebration of the day. Too many of my son, Morgan's, school parties were laden with treats. I rarely looked forward to helping plan the party.
There are so many ways to celebrate Valentine's Day without food – or at least with safe foods for everyone! Here's some ideas to help you plan a great safe party for all kids. Many of these ideas came from readers on our Facebook page here.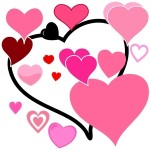 Beading friendship bracelets
Beading keychains
Bingo
Card-making party and exchange
Balloon games (if no latex allergies)
Fruit kabobs (check for allergies first)
Pin the heart on Cupid
Bowling for hearts
Decorate a picture frame for parents
Minute to Win it games
Musical chairs
Freeze dance
Morgan says: Well, Valentine's Day has been a very interesting experience, especially with school. Let's go with what worked first. In third grade, my teacher asked that all the Valentine boxes be put in the hallway. That definitely worked, so that there would be no problems with M&M's and various other candies that were brought in with the Valentine cards. My fourth grade teacher asked that no candy be brought in, and said that she would supply safe candy. This definitely worked. We had a dance that year during the school day and everyone dressed up. It was great!
In fifth grade, my teacher asked that no candy be brought in and she would supply none either. She was tired of all the sweets brought into school.
What didn't work? In second grade, a kid brought in peanut M&M's as treats with his cards. That did not go over well. He was Chinese and knew only a little English though so that was technically a misunderstanding. He brought in his cards early, so my teacher was able to send the candy and the cards home and ask his parents to help him bring in something safe.
In 6th grade, I wasn't in school on Valentine's Day because it was a teacher workday in our district. Our classrooms didn't have any parties. Students could sign up for a candy stick to be sent to a 'special someone.' I didn't sign up for one or receive one. In 7th and 8th grade, this candy stick event didn't go. Nothing really happened for Valentine's Day, besides a hat day or a fundraising event.
In high school, there are no classroom parties for Valentine's Day nor is there anything to purchase to send to someone.
Overall, it's a great opportunity for food allergic children to practice self-advocacy.
Back to Mom:
Isn't it amazing how many holidays and celebrations involve food? We never realized how much food is a part of the American culture until we had a child with food allergies. With Valentine's Day we had to always be mindful of the various ways that our son could come in contact with his allergens.
Many children at our son's elementary school brought in candy along with Valentine's Day cards. Yearly, we reminded our son and his teacher to watch for unsafe candy coming into the classroom. It's always best to prepare for such prior to the event occurring and to ensure your child's teacher knows what to do!
We've found that many candies are not safe for the peanut, nut or milk allergic. Reminding teachers to ask students to bring in safe treats, or none at all increases awareness of food allergies when students and parents may not remember. One year when my son was in preschool, a parent was asked by the teacher to please bring in safe candies, upon which she commented, "you mean he's still allergic?" Yes! Every day of the year, he's still allergic!
We hope that you can enjoy Valentine's Day this year safely and maybe without food being part of the celebration at school!