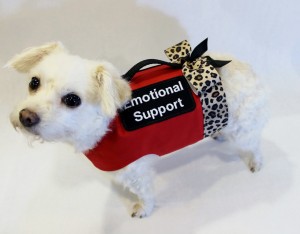 There is a new issue that I've been hearing about frequently on college campuses, and it affects our children with pet allergies: emotional support animals.
For those students who have severe animal allergies (like my son, Morgan) living in the same dorm as these emotional support animals can be hazardous. An emotional support animal differs from a service animal, according to the National Service Animal Registry in that "an Emotional Support Animal (ESA) is an animal that, by its very presence, mitigates the emotional or psychological symptoms associated with a handler's condition or disorder. The animal does NOT need to be trained to perform a disability-specific task, whereas a service animal does.
All domesticated animals (dogs, cats, birds, reptiles, hedgehogs, rodents, mini-pigs, etc.) may serve as an ESA. The only legal protections an Emotional Support Animal has are 1) to fly with their emotionally or psychologically disabled handler in the cabin of an aircraft and 2) to qualify for no-pet housing. No other public or private entity (motels, restaurants, stores, etc.) is required to allow your ESA to accompany you and in all other instances, your ESA has no more rights than a pet.
You'll also need to be prepared to present a letter to airlines and property managers from a licensed mental health professional stating that you are emotionally disabled and that he/she prescribes for you an emotional support animal.
My son lived in a college dorm for 2 years, and in that time, there was a HUGE increase in the number of students with emotional support animals. At the University of Denver, they recognize that the needs of a student with severe pet allergies are equal to the needs of a student with an emotional support animal. However, the only way that a school is going to know that your child has severe animal allergies is for the paperwork to be completed and medical documentation provided.
My son was placed in a dorm on one end, and the students with animals were placed on the other end. That way there was no shared ventilation, which could have exacerbated his asthma.
I've recently heard of two situations at two different universities where a student brought in an emotional support animal without having paperwork completed until AFTER moving in. In both cases, the roommates were unaware that there would be an animal prior to moving in. And to make matters worse, in each case, at least one of the roommates had severe pet allergies, but had neglected to tell the university of such.
Both situations have caused a large amount of stress for all involved, and the university is caught in the middle of which student needs to move out and which needs to stay.
My suggestion: if your child has severe pet allergies (and this would also include children in K-12) make sure to have the paperwork completed so that the school is aware of these allergies. This will allow for any accommodations needed, such as no contact with the animal, no field trips where the animal is present, and no shared vents with the room where the animal is located. Prior to placing a child with a pet in your child's classroom, or allowing a college roommate to have a pet, other arrangements can be made.