At the recent Food Allergy Bloggers Conference, there was an excellent session lead by Dr. Abby Herzig of WeBelay .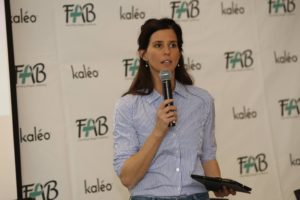 Dr. Herzig is a Child and Adult Clinical Psychologist who led one of the best discussions I've ever participated in about food allergy anxiety. The best part was the audience participation. So many Moms and Dads shared about their own anxiety, and that of their child. Some shared that their child was way too brazen creating more anxiety for them as the parent, while others were concerned that their child's recent allergic reactions were affecting their ability to enjoy food and eat.
I had so much anxiety when my son, Morgan, was diagnosed with peanut and egg allergies in 1997 at the age of 18 months old.  My anxiety was high because Morgan reacted not only foods, but also to pollens in the environment – dandelions were one of his worst reactions – and to dogs and cats. He also had weeping wounds of eczema all over his body. All of this created a fight or flight response in me every time I took him out of the house. I used to joke that Benadryl was a food group for him.
When children are too young to speak for themselves, it's the responsibility of the parent to educate others about food allergies – and any other allergies too. And that's a heavy load at times. How to stand up to extended family  was a topic in the conference session, and many different ideas were brought forth.
Having everyone in the family over to our house was how we managed it. We cooked all the food that our son was going to eat, and we asked that none of his allergens – which grew to a list of peanuts, tree nuts, sesame, fish and shellfish – be brought into the house. (He outgrew his egg allergy by middle school.)
For some parents in the session, spending a holiday cooking for other family members wasn't what they wanted to do. Some had made arrangements to go to other family's homes with the caveat that none of their child's food allergens would be served. For us, the biggest issue was the dog and cat allergies, and all of our extended family had one or the other in their homes.
At the conference, we discussed that managing extended family helps our children to learn boundaries as we set those boundaries about what is safe and what isn't safe for our child. It isn't easy to stand up to one's mother-in-law, but showing a child how to do that gives lessons that no amount of talking can provide.
Another great part of the session was the support that everyone gave and received. Too many times on social media, I've found that parenting styles can be criticized. Food allergy accommodations are questioned by others as too lenient or too strict. When you're looking someone in the eye during a conversation, it's much easier to support them where they're at, and to see their concern.
For those with children brimming over with anxiety, we spoke about the need for counseling to get underneath where the anxiety is coming from. Some children have stories in their mind about a recent anaphylaxis episode that might not actually be factual. Yet it's important to discover what the story is, and to mitigate the anxiety.
My son has never shown much anxiety over his food allergies, even when he experienced anaphylaxis during a camping trip. When my husband called me from the ER, he put my son on the phone to let me know he was fine. My son's first words were, "I'm not coming home." Of course, I was an anxious mess hearing the harrowing tale of eating his first bite of fish, and I wanted to see him in person to ensure everything was okay. However, I yielded to his sense of himself, and agreed that he could stay with his Dad watching over him cautiously. Not every kid would feel that way after experiencing anaphylaxis, and that's okay too.
If you or your child are experiencing debilitating food allergy anxiety, where depression is setting in and/or eating is becoming a difficulty for your child, I'd like to suggest: Share your feelings with a professional! You don't need to suffer, nor does your child. Some of the strongest people I know ask for help.
If you or your child are experiencing food allergy anxiety on a situational basis, there are many articles and research online that might be helpful:
Food allergies linked to childhood anxiety
Allergy's High Anxiety: How to Tame Kids' Fears of Food Reactions
The link between food allergies and childhood anxiety
and Dr. Scott Sicherer's newly updated book, Food Allergies: A Complete Guide for Eating When Your Life Depends on It also has information about how to manage food allergy anxiety.
The online food allergy community can be a great resource too. There are Facebook pages for all age ranges, and various combinations of specific food allergies that are managed. Some local communities have in-person support group meetings on a monthly or quarterly basis, where you can meet people face-to-face managing a lifestyle similar to yours.
I've found the best anxiety reliever is to talk with an understanding friend…preferably someone who has been there!