It's hard to believe that our son, Morgan, is a senior in high school already! The topic of college is coming up frequently in our house. We continue to learn more and more about what information and laws are available for students with food allergies in college.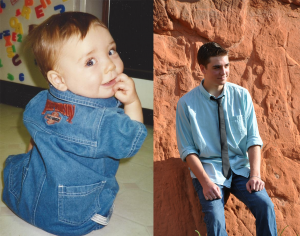 The Food Allergy Research Education (FARE) website has minimal information on sending your child with food allergy to college. They have two pages of info  here and here.
I can't find anything about the Lesley University settlement and how it pertains to food allergic students from any of the major food allergy non-profit groups. The Lesley University settlement was initiated "around October 2009, <when> the United States Department of Justice ("United States") received a complaint alleging that Lesley University ("Lesley" or the "University") violated Title III of the Americans with Disabilities Act of 1990, 42 U.S.C. §§ 12181-12189 ("ADA") by failing to make necessary reasonable modifications in policies, practices, and procedures to permit students with celiac disease and/or food allergies (collectively "food allergies") to fully and equally enjoy the privileges, advantages, and accommodations of its food service and meal plan system."
The University was requiring students to purchase a meal plan, yet the school had no way to safely feed the students. The Department of Justice determined that the University was in violation of the ADA (Americans with Disabilities Act) and mandated that they accommodate students on special diets. This settlement has implications for all colleges and universities, especially that celiac disease and food allergies can be considered a disability as defined by the ADA.
The National Foundation for Celiac Awareness has a great 2013 College Student Toolkit that explains the impact of the Lesley University settlement on students with celiac disease.
We've learned a few things in an attempt to find the 'right college' for Morgan. First off, he wanted a specific Engineering degree (Computer Science), so that helped him to narrow his choices. Then, we started visiting a few schools.
We learned that it's important to contact the University/College Disability Services Office (or whatever that office is called at a particular school) as a starting point. The timing of this contact may be best AFTER the student is admitted into the school. We have found that dealing directly with the Housing and/or Dining Services office might yield incorrect/unlawful suggestions.
In other words, the Housing Manager at a Colorado school that we visited told our family that it wouldn't be possible for our son to have a dorm room free of his allergens as a requirement/accommodation. My contact at the Office of Civil Rights stated that this is incorrect. A 'reasonable accommodation' (which is the standard that colleges are held to, not FAPE-Free Appropriate Public Education) would be an allergen-free dorm room.
You can also find out general information from the Housing and Dining Offices that would be pertinent to your child attending college: if cafeterias routinely post ingredient lists, whether their cafeteria workers receive any training about food allergies, whether the kitchen can accommodate special requests, if the dorm rooms have air conditioning (for students with asthma), whether refrigerators, microwaves or air purifiers are allowed in dorm rooms, whether freshman are allowed to live in an apartment rather a dorm. The list goes on and on – we know that there are specific items that Morgan wants in order to maintain his health and safety, and we asked each school our questions about the specifics.
We found that specifying accommodations is best left to the drafting of a written document with the Disability Service Office. Sadly, though, some of these offices have never dealt with a student with food allergies. You, the parent, and your child may be training them about what to do with food allergies.
Lastly, most Universities/Colleges that I've asked will not allow their staff/employees to administer an epinephrine autoinjector. Their only step is to call 911. The student will be either "on their own" or will have to rely upon training their friends to respond during an anaphylaxis episode. This is an important question to ask when you visit a college, and then determine how comfortable you and your child are with their answer!
Morgan has yet to decide where he's going to attend college. We'll keep you updated on his choice!