Recently, my son, Morgan, and I spoke at a FARE Community Engagement Council event in Denver on "Preparing for and Going to College with Food Allergies." It was a wonderful event with dozens of attendees – both parents and teens – managing food allergies.
We shared first about what parents can do to prepare their child for college during grades K-12. You can read that blog post here.
Then, we spoke about how to go to college with food allergies, and the necessary steps to find out the information about food allergy awareness at a school.
I am frequently asked how to begin searching for a safe college when you/your child has food allergies and/or asthma. What questions do you ask when you visit a college? When should you ask these questions?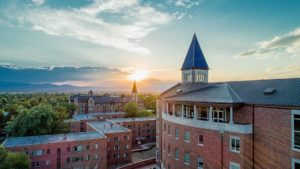 It was very important for me to remember that my son was the one going to college, so he and I had several conversations prior to visiting any college about what he wanted to learn during a college visit. I asked him to develop a list of questions that he had for college officials about living arrangements, eating in the cafeteria and academic interests. We then compared our lists and came up with the following questions pertaining to the food allergies and asthma. Your list may also include specific academic interests.
Here's a list of questions on food allergies and asthma that are useful when visiting a college:
Are ingredients listed on all foods served in the cafeteria? If not, is there an app or a website that will have the ingredients?
Is there a chef on site to take special orders?
Are the cafeteria workers trained on food cross-contact?
How many of your child's allergens are regularly served?
Can my child and I speak with a dining manager about my child's needs?
How old are the dorm buildings and cafeteria facilities?
Has there been any water damage or flooding in the past?
Are the dorms air-conditioned? (If not, what documentation will be necessary to submit for a medical necessity to live in air-conditioning?)
Are pets (such as dogs and cats or other emotional support animals) allowed in the dorms?
Can the resident adviser be trained on the administration of an epinephrine auto-injector?
Is stock epinephrine carried by security personnel on campus?
Can roommates be selected to ensure no food allergens are in the dorm room?
How is a 911 call handled on campus?
Is food allowed in classrooms and lecture halls?
Is smoking allowed on campus?
What paperwork is necessary to complete for the Disability Services Office to provide accommodations?
Yes, this is a long list of questions, yet you may have more depending upon your child's allergies and needs.
When do you ask these questions?
I'd suggest first starting with the college website. If you go to the Dining Services page on the college's website and find NOTHING about food allergies, that is your first clue that you may have an uphill battle. Schools that are aware of food allergies put that information on their website along with who to contact to ask questions.
The Housing page on a college website will generally not have any information about food allergies, but will likely have a contact person for questions.
We found that Disability Services website pages are usually geared more toward those with learning disabilities; however a few schools are starting to incorporate information about food allergies and what paperwork will be necessary. We waited until our son was accepted into his school of choice to begin specific conversations with Disability Services about our son's situation. While a school should not deny admittance because of a disability, there's no reason to give too much information prior to acceptance.
We found it best to have specific appointments set up with the Housing Office and with Chefs in the Dining Hall when we visited a campus to learn more about how they managed students with food allergies. Prior to him being accepted, we only asked general questions about what accommodations could be expected for a student with food allergies and/or asthma.
As for the Disability Services Office, we visited with a representative after my son was accepted to the school. We asked very specific questions about paperwork necessary for our son to receive accommodations. We found out that many schools will require that your child have recent testing confirming food allergies and asthma if specific accommodations are being requested. In other words, a skin prick test from 10 years ago was not going to suffice. A letter from our allergist delineated the specifics of what Morgan was going to need to safely attend college. The Disability Services office paperwork is best completed in the summer prior to the school year starting so that everything will be established once school starts. And remember that everything is completed and driven by your child once they are 18 years old. Schools expect your child to advocate for themselves.
Most colleges in today's environment have managed students with food allergies. That can be a good thing if your child expects to eat in the cafeteria. It can be a negative thing if the college expects your child to have allergies similar to other students they've encountered, and you want a different accommodation.
There are several other lists of colleges and their accommodations for students with celiac and/or food allergies that might be helpful. Of course, it's always preferable to use these lists as a guide and to visit the college yourself to ask questions specific to your child's needs.
Allergic Living's college list is here.
FARE's college list is here.