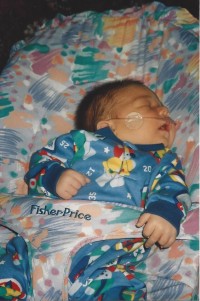 When our son, Morgan, was 3 weeks old he was diagnosed with RSV – Respiratory Synctial Virus. It was a frightening illness that landed him in the hospital with oxygen necessary around the clock and nebulizer treatments every 4 hours. The illness lasted for three VERY LONG weeks. Thankfully, Morgan fought through the illness and still gained weight like a champ!
Nine months after this occurrence, Morgan touched a peanut butter sandwich, reacted with hives, and we were baptized into the food allergy world.
At 18 months old, Morgan got a horrible cold that got considerably worse during a blizzard that we had. (We are in Colorado, so blizzards aren't uncommon occurrences). My mother was unable to get home from work, and stayed at our house that night. All through the night, I got up to check on Morgan and his breathing. I knew by the early morning hours that he needed to get to at least get to our doctor's office. My Mother thought I was crazy. She was accustomed to letting kids just battle through illnesses. I had an instinct that something was clearly not right, and listening to my Mother could have had disastrous consequences. I got into the doctor's office and we were able to thwart off the need for oxygen thankfully. Morgan was given a large prescription for nebulized albuterol to have on hand for any future similar occurrences.
Morgan continued to have bronchial spasms every time he got a cold, which was eventually diagnosed as mild asthma at about age 3. The impact of RSV, food allergies and asthma was much more problematic for me – aka Dr. Mom. I was forever scared that every sniffle was another major illness requiring an emergency room run. It was difficult to know when to get him immediately into the doctor and when to allow a virus to run its course.
Morgan also had strange reactions to illnesses. He would break out in hives during a virus, for example. Or he would be the only family member who didn't get sick when everyone else was sharing the germs. I don't understand everything with the immune system, yet I have learned that children with food allergies just don't respond the same to illness that other children do. Either Morgan's system goes way overboard, or he doesn't react at all.
In the elementary school years, Morgan would want to stay home upon the first touch of an illness. Maybe he felt better at home – almost like he didn't trust what his body was going to do and he'd rather be at home when something happens! Children at this age are sick so frequently, but I really felt better being able to watch over him.
As he aged into high school, he was more able to handle illness and go to school when he had a cold. And I've learned how to let go a little more and realize that not everything necessitates Dr. Mom's hovering presence!
This past weekend was another one of those scary illness times. Morgan had been at a Speech/Debate tournament all afternoon Friday and into the evening until 11:30pm. He was up very early and back at the tournament by 7:30am Saturday morning. I didn't see him Friday night or Saturday morning, but I had a sense that he was going to be getting sick. Call it Mom's intuition. He's been cramming a lot of activities into his schedule during his last semester of high school, and sleep is frequently missed.
He had 6 rounds in the tournament and he won every round, which no one else was able to do. This means that he will be going to the National Speech/Debate tournament in June. He was thrilled with his accomplishment and must have let out a large sigh of relief.
Then he called me and said that he was so sick that he didn't think he could drive home. He had chills so bad that his teeth were chattering. I had no idea what illness he could have that was causing such dramatic symptoms so quickly! I drove over to the tournament, which was thankfully in our same city. My husband talked to Morgan about coming home and not staying for the awards' ceremony. That was a big disappointment for him since he worked so hard, but we needed to get an assessment of what was going on and we wanted to keep the other participants healthy.
We took him to an Urgent Care facility. The doctor determined that it was possibly Strep Throat. Since Morgan had two college scholarship interviews occurring all day Monday (about 36 hours later!), we asked the doctor to put him on an antibiotic immediately even though the Strep Test came back negative. The doctor understood the situation, and graciously agreed!
Morgan slept for 16 hours, got up the next day feeling a little sluggish but knew that he was on the mend. The Strep Test never did show as positive, but the antibiotics worked and he was able to make it to the Scholarship Interviews early Monday morning.
I'm sure we will one day be able to laugh about this past weekend, but it was harrowing to watch him so sick and pale. We can add another crazy immune response to Morgan's list of odd things – he never tests positive for a strep test even though he has the illness!