I have recently begun speaking with local Colorado Springs, Colorado Allergists and their staff regarding the large number of teens and young adults who have died from anaphylaxis.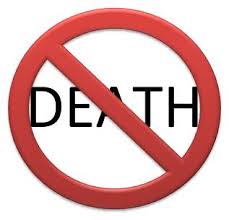 I wrote an article for Allergic Living, Teens Speak Up About Averting Food Allergy Tragedies, which showed me that too many teens aren't taking the precautions necessary to keep themselves safe; however, the teens did state that they listen to their parents and their doctors about food allergy information.
In Dr. Ruchi Gupta's newest survey of parents, which she titled, Parents in dark about using epinephrine for kids' food allergies, she found that "Less than 70 percent of parents recalled their allergists explaining when to use epinephrine and less than 40 percent said the same of their pediatricians." Therefore, I question whether teens and young adults are getting good information from their parents.
Therefore, I felt it was time to bring this information to the attention of allergists in my area.
Here is the checklist I've suggested for allergists to discuss with parents, kids, teens and young adults who have food allergies, EVERY TIME they see the patient. Similar to an asthma checklist, which my son completes each time he sees our allergist, this checklist would be given to the patient to complete and review the gaps in behavior that could potentially create a life threatening situation.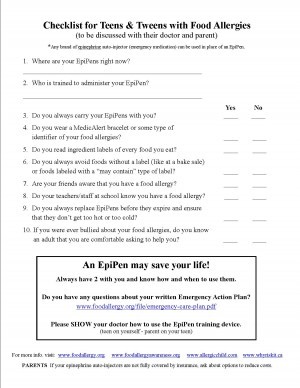 A PDF version of this checklist is available here.
From what I've found, allergists in my area are not currently reviewing these items with their food allergy patients. In an educated patient, the checklist could be reviewed quickly and rewarded with a high-five or fist bump! In patients who need more awareness, the allergist can remind the parent and child/teen or young adult which behaviors are risky and where to make changes.
If a food allergy patient isn't seen but once a year to get an EpiPen prescription refilled, then it is especially important for the physician to review these questions to ensure safety. I'm convinced this would begin to educate the patients and parents who so desperately need to hear from their doctors how to practice vigilance.
Please FEEL FREE to share this with your allergist and/or pediatrician and help to save a life!