My son, Morgan, has been living on campus for two school years, which is required at the University of Denver. We did a lot of work in preparing the cafeteria and his roommates through the years to properly address his allergens and safety-zone needs. If you'd like to read two of the blog posts we have written about preparation, please read, THE FIRST QUARTER OF COLLEGE BY MORGAN SMITH and STARTING COLLEGE – WE'VE WORKED TOWARD THIS GOAL FOREVER!
Now, it's time for Morgan to move off-campus for his Junior and Senior year. He will be studying abroad for the Fall 2016 quarter in the UK at the University of Lancaster; however, waiting until he returns in December to find a place to live will likely yield him no safe place! Therefore, time is of the essence now, 9 months in advance, to secure housing.
We have lived in our family home for over 22 years. We have ensured that the home is allergy-safe for Morgan. We put in tile floors years ago, and added Air Conditioning, which many people do not have in Colorado. We have HEPA filters on the furnace, and have no pets. Basically, our home is and has been a safe haven for Morgan, and it was the only home he lived in prior to going to college.
I hear from many parents who assume that living off-campus in an apartment is easier for food allergic students than living on campus in a dormitory. That may be true in some cities; however, Denver is seeing a population explosion and rentals are scarce and over-priced. For Morgan, living in a dorm and eating in the cafeteria has worked extremely well, especially since DU Dining Services are well-versed on food allergies. And, on-campus housing is cheaper than any off-campus apartment or shared home.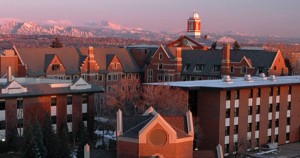 Food allergies are just one part of the equation for Morgan. He also has mild asthma and pet allergies. Therefore, he has to find a place to live that has central air conditioning, no pets, no smoking, with roommates willing to not eat his allergens, AND come in at a price that's below his scholarship stipend! That is a difficult combination!
He immediately was able to find the roommates he wanted to live with, and had a discussion about his food allergies to ensure they were okay with his needs. With that hurdle jumped, the real issue began – Denver is big on dogs. And many college students have pets, so about 85% of the available houses and apartments allow for pets in the DU neighborhood. Of the 15% remaining, most do not have air conditioning! That narrowed his selection of available apartments to about 3 buildings.
Thankfully, he started early and has just signed a lease with three other young men to live in a 4-bedroom apartment that has AC, no pets, and no smoking. These transitions are difficult for this Mama to stomach; however, I know that Morgan is making wise decisions of who to live with, and I'm hopeful that this apartment lives up to its promises!